Imagine this: you've escaped persecution in your own country. You arrive somewhere new and you don't know a soul. You don't speak the language and you can't even read the letters of the alphabet.
How do you find a place to sleep for the night? Where do you go to register as an asylum seeker? How can you tell fact from fiction when faced with rumours? Would you take advice offered at face value?
Knowing where to turn for trustworthy information is key to keeping safe in a volatile environment. For refugees and asylum seekers, that's where Refugee.Info comes in.
Powered by the International Rescue Committee and Mercy Corps, the Refugee.Info website and Facebook communities have reached over a million people - in six languages - since 2015. For many refugees, Facebook is the internet, so Refugee.Info meets them where they are. Refugee.Info also helps refugees to stay connected by providing essential Wi-Fi internet access.
Across Greece and Italy Refugee.Info moderators answer questions and provide the vital information people need. These moderators are refugees themselves, helping them to properly understand the issues people face.
They are asked hundreds of questions every day. Here are just a few of them from Greece.
How do I enroll my children in school?
Access to education enables children to learn the local language, make friends and begin to integrate into society, but accessing school is not always straightforward.  Education questions are some of the most frequently asked.
There are over 25,000 refugee and migrant children of school age in Greece, but only 10,000 are enrolled in formal Greek schools. Parents recognise the value of education but cannot always find the information on their children's rights to go to school or the practicalities of how to attend.
For two years, Refugee.Info has partnered with the Greek Ministry of Education and UNICEF to provide information on how to enroll children in school for the new academic year.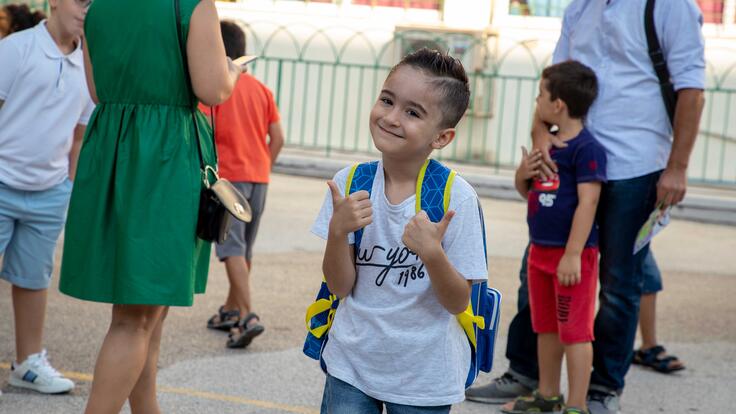 Where can I find shelter?
Refugee.Info has reached an estimated 60-70% of the refugee population in Greece, and a common question is where to find a safe place to stay in a country where there is a severe shortage of accommodation.
This need is particularly acute for children travelling in Greece alone.
Without families to protect them, they are vulnerable to exploitation and abuse.
Refugee.Info hosts information on accommodation on its website, listing the rights of asylum seekers in applying for accommodation in Greece, where accommodation is in short supply.
On Facebook, users can write a private message and Refugee.Info moderators will explain the accommodation shortage and provide information on the few available housing options for refugees and asylum seekers.
Where can I use my skills?
Refugees can find that the skills and qualifications they have spent years acquiring are not recognised in host countries.
This can mean that they are unable to contribute their expertise and put their skills to good use.
For higher-level qualifications such as medicine, getting accredited in a new country can be a complex process. 
Refugee.Info regularly assists with cases like that of this Iraqi doctor.
Moderators put him in touch with organisations that could support in learning more about the process.
This includes collecting the right documents and acquiring the accreditation to use his medical degree in Greece.
I have a disability. Where can I get support?
From issues with mobility to language barriers, refugees with disabilities can be extremely isolated without the right support.
Refugee.Info provides refugees with information about organisations like the Greek National Foundation for Deaf People, where they can access services tailored to their needs.
Long queues for acquiring residence permits and other documentation can also be a barrier for people with a disability, so Refugee.Info explain where to get priority access.
What is really happening?
Refugees' experiences can often be shaped through misinformation, rumours and a lack of trust in governments and organisations.
Refugee.Info has been able to earn refugees' trust, helping people stay safe and learn what rights they have.
88% of users said they trust the information they receive.
81% said they feel they can now make decisions about their futures – empowering them to reclaim their lives.
Refugees and asylum seekers have the right to the information they need.
Information that will help them to rescue their own futures.
Learn more
Refugee.Info is part-funded by ECHO (EU Humanitarian Aid).