"My dream is to have different branches in Abuja, the US, everywhere! So that the whole world will hear my name," 30-year-old Lydia says as she looks around at the shoes she's made hanging in neat rows along the walls of her shop.
It's another oppressively hot day in Yola, northeast Nigeria, and Lydia, who has been up since 5:00am, is busy at work. Billows of dust surround her as she files down the sole of a shoe against a wheel spinning at lethal speeds.
"I have fallen in love with making shoes. I put in all of my effort to make sure that they're the best, so that when someone wears them, they'll last a long time," she says.
Lydia's fingers move dangerously close to the spinning wheel as she carves off the edges of the sole, but her concentration never falters. "Making shoes isn't easy, but I do it without stress. If I wake up and I'm feeling strong, I can do ten pairs in a day," she continues.  
Lydia set up her shoemaking business, Emmy Quality Shoe Production, in October 2018 in a small shop next to her home.
Lydia's business has been a lifeline for her and her family. Their lives were thrown into chaos in 2014 when armed groups arrived unexpectedly in her hometown in northeast Nigeria. "We didn't know the armed men were coming. When they arrived, we ran. It was all we could do."
When she arrived in Yola nearly 100 miles away, Lydia had no money or possessions. She was struggling to find enough to eat and feed her children.
Despite having to leave everything behind, Lydia hasn't let this terrifying experience define her. An idea for a business came to her in her dreams – literally – and she was determined to turn it into reality.
"In my dreams I would see myself making shoes. The first time I had this dream, I got a piece of paper when I woke up and started to design it. I made the exact shoe from my dream."
"So I had the business idea, but no plan or money to start it," she explains.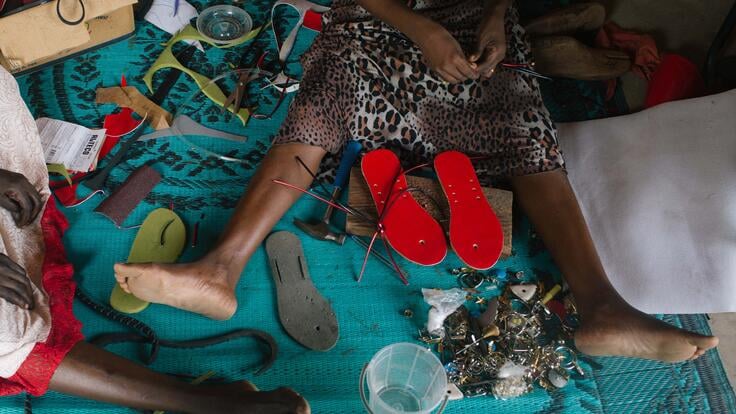 When Lydia heard about the International Rescue Committee's business training programme, she enrolled straight away. The programme, funded by the Citi Foundation's Pathways to Progress initiative, trains young people to plan, start and run their own businesses and supports the most promising candidates with grants to help them get their businesses off the ground.
"In the training, I learnt how to write a business plan. The teachers read everyone's plans and they thought that mine was the best," Lydia says proudly, breaking into a broad smile.
"I also learnt that the most important thing in running a small business is quality, and the second most important thing is how you relate to your customers. And the grant helped me to buy what I needed for my business: a generator, all the equipment and the rent for my shop."
"My life has changed a lot since the course. I am a businesswoman and I really mean business," Lydia says matter-of-factly.
And Lydia's confident approach is paying off. She has streams of customers coming in all day and many repeat customers who come back for her latest designs. 
"I used to dream of making shoes. Now, I am a shoemaker," Lydia says as she reflects on all that she's achieved. "I'm proud of myself. I feel strong."
Our Rescuing Futures programme, in partnership with Citi through the Citi Foundation, offers young entrepreneurs living in Greece, Nigeria and Jordan the chance to kick-start their businesses and reach their full potential.