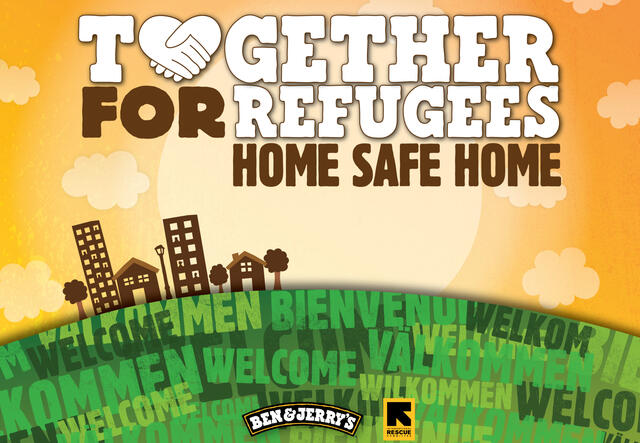 Ben & Jerry's has teamed up with the International Rescue Committee (IRC) to launch the 'Together for Refugees' campaign. 
Launching on World Refugee Day (20th June 2017), ice cream activists Ben & Jerry's and the humanitarian organisation IRC will mobilise fans and supporters to back a historic piece of legislation - one that could offer the most vulnerable refugees a safe route to rebuild their lives in Europe - through refugee resettlement. 
Right now, millions of people across the world have been forced to flee their homes due to war and violence, closing the door behind them and never knowing if they'll be able to return. Without adequate legal routes to Europe, many face the choice of undertaking dangerous journeys or staying in camps and temporary accommodation. It doesn't have to be this way.
2017 marks a defining moment for Europe: the policy currently being debated by the European Union gives our leaders an opportunity to come together and agree on a coordinated, humanitarian response to the refugee crisis. 
This year an estimated 1.19 million refugees are in need of resettlement, unable to return to their homes and in many cases spending years in limbo. Refugee resettlement allows the most vulnerable people a safe and supported journey to a new country they can call home. 
Ben & Jerry's and the IRC are urging people to email their representatives, through a simple online tool at together.rescue.org. The more people who show support, the more likely the law is to pass.
Melanie Ward, Associate Director of Policy and Advocacy at the International Rescue Committee (IRC), said: "In 2017 we have a real opportunity to give the most vulnerable refugees a chance to rebuild their lives in safety in Europe.
We know from our work at the IRC that people care about the refugee crisis, but don't always feel they have the agency to make a difference. Through this campaign we can help drive real impact that will ensure many more refugees across the world have a safe place to call home."
Rebecca Baron, Campaign Manager at Ben & Jerry's UK, comments: "We all enjoy the feeling of home sweet home, but for many people uprooted by war and violence they'd settle for home safe home. We have a huge opportunity right now to show we are together for refugees. The legislation currently being discussed could make a world of difference, which is why we're teaming up with the IRC and asking our fans to join us in taking action. This campaign is as important as any we have undertaken at Ben & Jerry's.  
It's time to come together and tell our leaders that we support less waffle and more action; it's time for solid efforts to resettle those who have been forced to flee their homes."
The launch is just the beginning: Ben & Jerry's and the IRC will be driving change across the country, scooping ice cream and encouraging fans and supporters to take action and stand together for refugees, kicking off with events with Refugee Week this week, and The Nomad Cinema throughout the summer. More campaign details will be revealed over the coming months.
For more information on the 'Together for Refugees' campaign and to take action, click here.