In 1933, Albert Einstein rallied a group of 51 humanitarians to form the beginnings of the International Rescue Committee. At a time when there were no aid agencies helping people uprooted by the Nazis, they invented new ways to support refugees. Their legacy has saved the lives of hundreds of millions of people.
Now, as then, the world needs new answers in the face of an unprecedented refugee crisis. We're calling for a new generation of philanthropists to come together and fuel inventive thinking. You'll be pooling your investment to help us reach more people, faster – and find better ways to make a bigger impact on their lives.
Why do refugees need better aid?
Today's global refugee crisis isn't just bigger than ever before, it's also more complex. Conflicts are lasting longer, making it impossible for people to return home. In an effort to find jobs as well as safety, many refugees are heading to towns and cities. All too often, their legal status means they struggle to find work and send their children to school.
To make a real difference to their lives – and close the growing gap between humanitarian needs and available support – the world must find new ways to help. At the IRC, we're determined to pioneer 21st-century solutions and prove which projects make the greatest impact.
How will my support make a difference?
It will help us solve the biggest humanitarian challenges facing the world today: reaching more people with lifesaving aid, finding breakthrough approaches for complex crisis situations and making available support stretch as far as possible.
The Fifty-One's donations are unrestricted, giving us crucial flexibility – the means to be bold, adapt and plan for ongoing and rapidly changing crises.
Whether it's helping us react quickly to an evolving emergency, fast-track a pioneering idea or gather robust evidence to share with the global humanitarian community, we'll direct your support wherever it's most needed to make the greatest difference for refugees.
How do I join The Fifty-One?
You can join The Fifty-One as either a Member or a Patron.
Become a Member by committing to donate £10,000 or more annually for at least three years. You'll receive personal updates about unfolding crises and the impact of your support, as well as invitations to private events with fellow members of The Fifty-One and IRC experts.
Or become a Patron by pledging at least £30,000 annually for three years or more. As well as regular updates and invitations to events – including our Rescue Dinner in New York and private briefings with our President and CEO – we'll invite you to join a group trip to visit projects in the field.
To find out more, contact Hamisha Ranasinghe at [email protected] or on +44 (0) 20 7692 2764.
Einstein was a physicist, humanitarian – and refugee. It was the same year he fled Nazi Germany and resettled in the US that he made his call to action to help fellow Jews escape persecution. The 51 people who answered in New York were prominent political leaders, intellectuals and artists – visionaries of their time; people who cared about the plight of millions of fellow human beings and wanted to do something about it.
The original group included philosopher John Dewey and writer John dos Passos. Eleanor Roosevelt joined soon after.
Read more about the birth of the International Rescue Committee.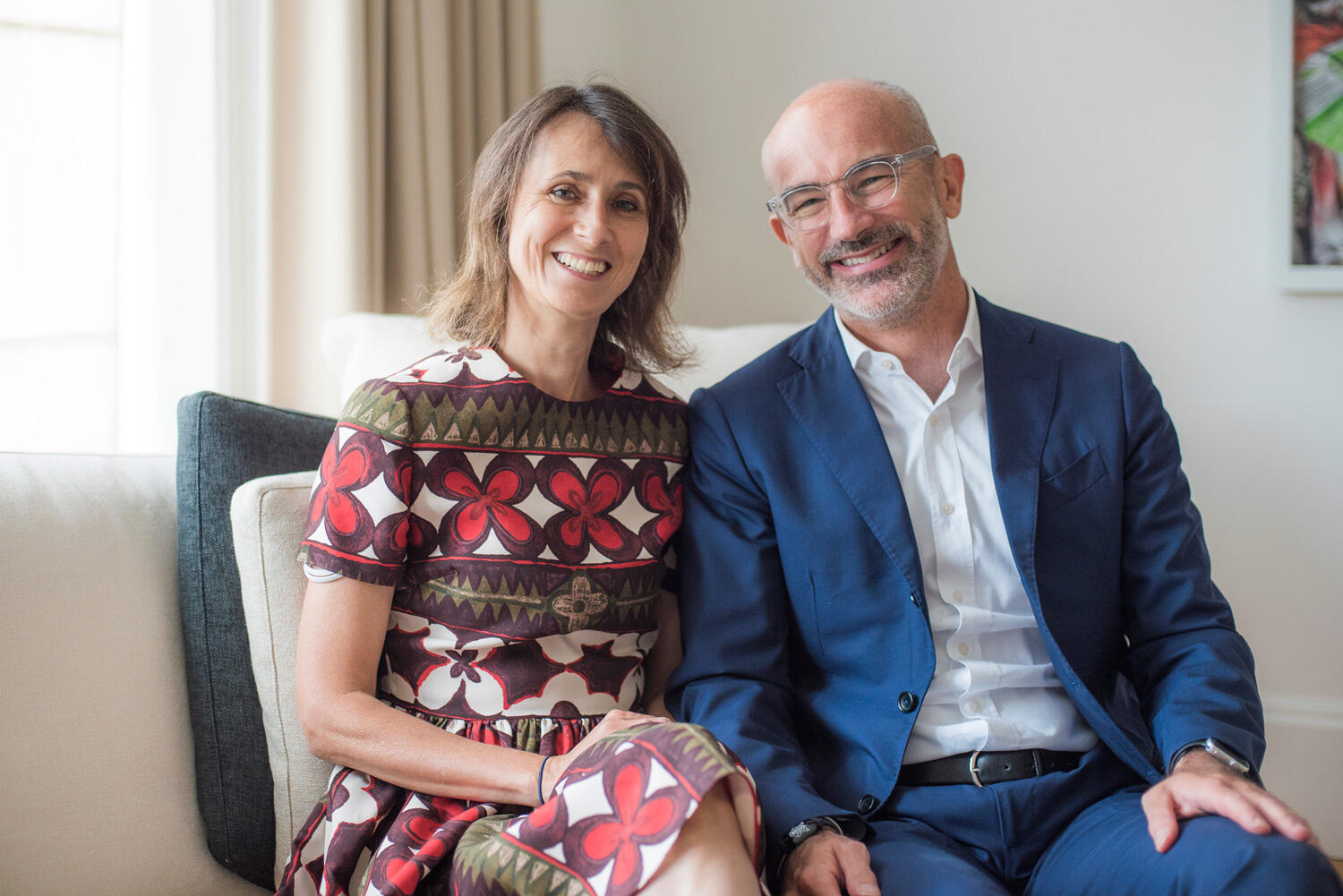 My wife Elena and I believe it's our generation's responsibility to respond to today's devastating refugee crisis. Just as Einstein knew the importance of finding better answers to global challenges 85 years ago, the IRC is uncovering new ways to drive humanitarian aid forward. Please join us and help enable their work supporting the most vulnerable amongst us."

Francesco Garzarelli and Elena Ciallie
Members and Patrons
Francesco Garzarelli,Eisler Capital and member of the IRC UK Board of Trustees, and Elena Ciallie, Independent advisor and non-executive director 
Susan Gibson, Board member, Thomson Reuters Foundation, and Mark Bergman, Partner at Paul, Weiss
Sir Michael Lockett, Chairman of Audley –The Strategic communications Alliance
Scott Mackin, Managing Partner of Denham Capital
Anita Mendiratta, Special Advisor to the Secretary General, UNWTO
Tim Musker and Alexandra Howell
Eric Salama, Director at Morning Consult, leader in global market research insights and consulting
John Stares, Non-Executive Director of Terra Firma and Catriona Stares, Steering Group and Board Member, Guernsey Literary Festival
Charles Watson, Senior Advisor with Teneo
Richard Winter, Partner at PricewaterhouseCoopers and member of IRC-UK Board of Trustees
Bill Winters CBE, Group Chief Executive of Standard Chartered Bank