Amira* wishes the world could see what's really happening in Syria. The images people see on the news and media don't transmit the hardships she and her family, and thousands of other refugees, have endured.
"Kids are born and raised in war," she says. "Their toys are toys of war. Five-year-olds only know about the guns and bombs that wrecked their homes."
Amira is a 17-year-old teenager from Hama, a city in northwest Syria where she lived with her parents and five younger siblings.  
When airstrikes hit Hama in 2013, the family fled to the countryside. They returned, but within weeks the bombs began to drop once more, and bodies littered the streets.
"Every moment was, 'This is it, we're going to die,'" she recalls. "My dad decided we had to leave at whatever cost."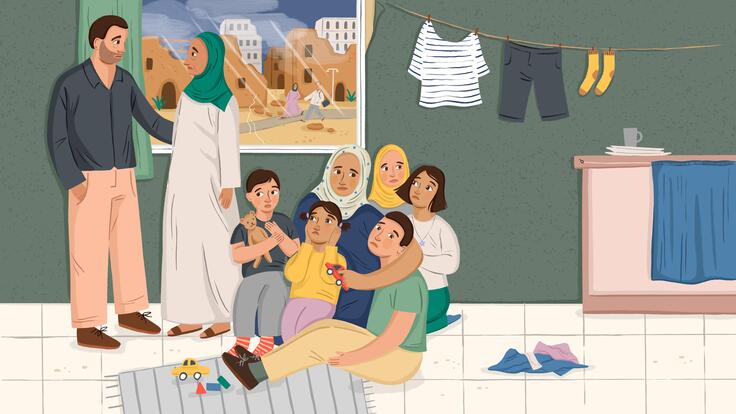 The family found a driver to take them out of the city. Then they hitched rides or walked, resting in nearby towns, until they reached Idlib, 60 miles from their home. They had brought little more than a change of clothing. Amira had packed a blanket and her favourite books, along with her identification papers, including documents for school, but lost them during the journey.
"My younger siblings were sick, it was very hot, and we didn't have a lot of water," she says. "We went to places that were deserted. Seeing an empty village was terrifying—like a ghost town."
But Amira has stayed strong for her siblings, who look up to their big sister. She comforts them with hugs and a promise that they were going to a "nice place where we will see people who love us." As she explains, "When you see your parents, you feel strong. When you see your younger siblings, you want to be like your parents so they, too, can feel the same way."
Family is everything for Amira, especially in times of crisis. "I try to help [my siblings] forget what they've been exposed to. I listen to them, ask them how they feel. I comfort them. I understand them, and they love me."
With the recent uptick of violence in Idlib and northern Hama, newly displaced people are in desperate need of shelter, food and urgent health care. Amira and her family have received medical assistance, life skills training and psychosocial support from the International Rescue Committee to cope with the violence and hardship that she has experienced. 
"They helped us to relax," says Amira.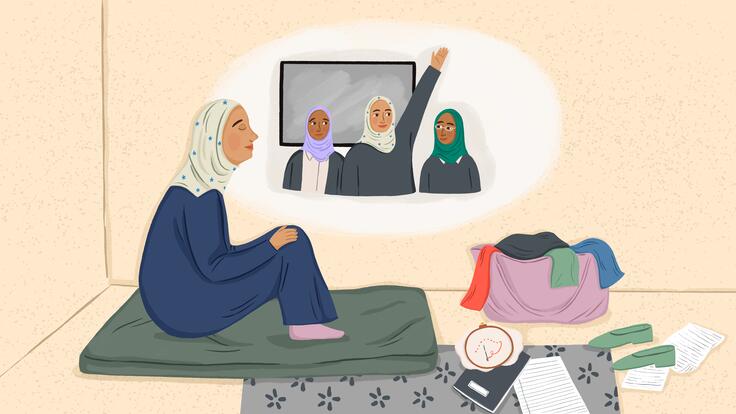 Amira holds on to her hopes and dreams, especially to return to school. She used to want to teach elementary students, but since the war began she plans to be a seamstress to help her family.
"I used to spend most of my time in my room studying," she says. "I wish to study again—and to go home. A person will always be attached to their home."
*Names were changed for protection concerns 
Illustrations by Amelia Flower, follow her on Instagram. 
The IRC in Syria
With an increase of airstrikes in Idlib and the recent Turkish military offensive into northeast Syria, children and families continue to bear the brunt of a seemingly endless war. Across Syria, the IRC provides lifesaving support to close to 1 million people—half of them are children. Learn more about our work.