This past week, we've been asking leaders at the G7 to "build back better" and ensure that people and communities affected by humanitarian crises are not left behind as we recover from the coronavirus pandemic. For the sake of future generations, we must act now. 
The issues and solutions are complex, yet when we look at the world through the eyes of a child we gain a new perspective. Often, it's children who remind us to take a step back and look at the world in a different way. That's exactly what Kamil de Chickera (who is now nine) has done, in this beautiful poem, urging us to see past the 'Specific Irrelevant Details' that can divide us.
"The poem is about discrimination and how it should be stopped," Kamil told us. "It's about how people really shouldn't discriminate about these things, because they are just irrelevant."
What started as a school assignment, to write a poem about discrimination, soon became a global collaboration between like-minded creatives and filmmakers across the world bringing the poem to life.
"It all started when my best friend shared her son's poem with me in a proud mama moment. I said this is powerful and poignant; we need to turn this into a film" said Amelia Hanibelsz, Executive Producer and Founder of Tell2C Productions, a global collective of award-winning female filmmakers for change, who believe in authentic storytelling by empowering people, especially marginalized communities, to tell their own stories.
Amelia reached out to Exile Key Films based in Kakuma refugee camp, Kenya, and run by refugee entrepreneurs, Amina and Abdul. Outstanding storytellers in their own right, Amina and Abdul's collaboration was important when bringing this poem to life to ensure the images of refugees were crafted by refugees themselves. "In this life as a refugee, no one can tell our story better than us." Amina told us.
Amina and Abdul worked with Amelia to decide what images would empower refugees and break stereotypes and preconceived notions. They then held a two day shoot in Kakuma to produce footage that would end up being part of the final film.
"My past influenced my work in so many ways," Amia told us. "I have never imagined that one day I'd be in a place where I don't have a place to call home."
"I had a home, I had a family. I had everything. But one single day, everything turned upside down." 
Amina fled the Democratic Republic of Congo in 2009. When she arrived in Kakuma refugee camp, she was alone. "From that moment I decided to stand up for myself so that I can see the future."
Today, Amina is following her dreams as an award-winning filmmaker and Ted Talk speaker.
"When I remember what I went through, when I remember what my family went through, when I remember my country, I feel so bad because I can't have them anymore. But I still have my future that gives me courage to focus, to continue to keep moving, because I am lucky to be alive now."
"The most powerful part of the poem is that it shows the other side of the story of refugees: the story of hope; of resilience; of strength and of determination. Not just vulnerability like the way they always portray us in the media." Amina told us.
"When I'm watching something that I did I feel really courageous. I feel I will really continue doing my best to reach my goals and achieve my dream." - Amina
The film was directed and produced in collaboration with production company What Took You So Long? Their work aims to dismantle stereotypes and show different perspectives. 
Riham Ezzaldeen is the head of original content at What Took You So Long? She grew up in Syria and is now based between Sweden and Greece. Identifying as queer, Riham focuses on celebrating diversity and working on fair representation both in front of and behind the camera. When she first read Kamil's poem, Riham knew "it was just perfect." She hopes the film will make people think about whether we are doing enough for the next generation. "When you hear things simplified from a kid's perspective, you can at least think about how you see the world because it translates in your actions, and your actions matter."
Director of the film, Basem Nabhan, also originally from Syria, is now based between Sweden and France. After so many different filmmakers and producers shared footage to feature in the film, he went through the donated footage to get the perfect frames to illustrate each part of the poem. 
"The most important aspect of this poem is the fact it was written by a very young kid," Basem said. "It's interesting to see how kids today see the world we live in and that we created. It's very nice to see it coming from kids, but at the same time, it feels kind of unsettling. Kids are supposed to be less concerned about those matters at this stage." 
You can read Kamil's full poem below and watch the film, narrated by 14-year-old Nayana Crowe and brought to life with imagery from around the world in a truly global collaboration.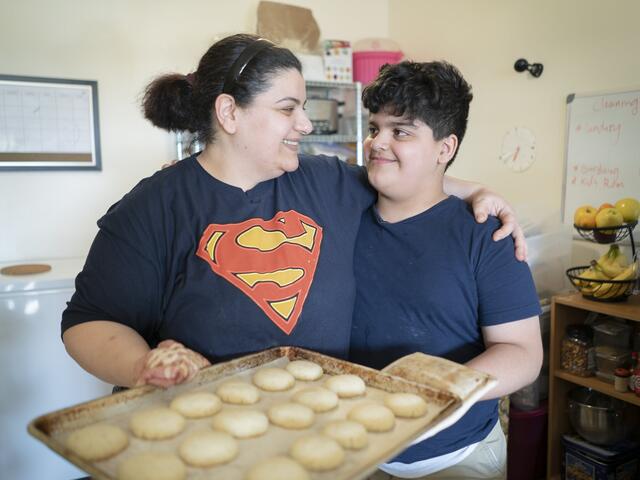 Full Poem: Specific irrelevant details
Specific irrelevant details,
What's your race?
Where are you from?
Which god do you believe in?
Your sex, your age, who do you love?
Are you blind? Can you walk?
Are you a refugee, which language do you talk?
Do you have a country? What is your name?
Specific irrelevant details,
To pick and to blame.
Specific irrelevant details,
If this is all you see,
Then you are prejudiced
You don't see the whole of me!
Ageism, ableism, racism, sexism
Xenophobia, homophobia, big words for me
They mean you discriminate, you treat people badly
They mean you don't see all that you should see.
How do we help people, break down the lies?
How do we fight prejudice? How do we open eyes?
Specific irrelevant details – what lies beyond?
A world of equality? Where we all share a bond?
This is why we must say Black Lives Matter.
This is why we must believe, love has no gender.
This is why everyone should be a feminist.
This is why we must welcome refugees.
This is why we should be known for our abilities.
Specific relevant details,
Are you kind? Would you be my friend?
Are you brave? Will you stick with me to the end?
Are you resilient? What makes you laugh?
Would you mind, if I wore an orange scarf?
What sports do you like? How do you spend your time?
Are you creative or dull? Can you make words rhyme?
What's the most exciting thing you've done?
Will you play with me under the sun?
Specific relevant details,
If you see the whole me,
Shall we fight prejudice together,
To help people see?
Kamil de Chickera