Mohamed Sarrar arrived in the UK in 2015, after fleeing his home in Sudan. He lived in 'the jungle', an unofficial refugee camp in Northern France before he reached the UK. Since resettling in the UK Mohamed has found comfort in telling his story through his music, combining genres and inspired by cultures of the people and places he experienced on his journey to safety after fleeing Sudan. He's performed in the international, award-winning theatre show 'The Jungle' and his collaborative album 'Sound of Refuge' (produced at Abbey Road studios) has had thousands of streams on Spotify. Ahead of World Refugee Day, we spoke to Mohamed about his music.
Growing up with music
Mohamed has been playing music for many years. Born into a musical family, he was inspired by his artistic family of musicians and singers, including his uncle, famous Sudanese singer Sayed Khalifa. "When you find yourself in an artistic family, you find yourself around everyone doing some musical thing. So I grew up in that, and I started making my own things as well. So I feel like it's part of my life."
When Mohamed fled Sudan he met many people from different backgrounds as he travelled across Europe to the UK. "It got me to make something of a mix of cultures, and do different kinds of music. It made me realise that music is a universal language. Everyone can understand music."
"When I play music, I feel like I'm taking care of myself." - Mohamed


How refugee experience inspired Mohamed's music
"Writing is not that difficult for me," Mohamed told us. "When I write a song the idea comes and I write straight away. Sometimes if I don't write it, I forget some of what I had in my mind."
Mohamed told us about a song he was inspired to write during his time living in 'the jungle' camp in Cali. "When we tried to get to the UK we'd go to the train station and the port. We usually have to walk, and the walk to the train station took three hours. And usually, there would be no chance to get on the train so we'd come back again, walking another three hours back to the jungle camp."
"I remember walking to the train station, and it's cold and there was no food, no water, no stuff like that. And there was no chance so I came back [to the camp]. One day when I was walking, I got something in my head. I started singing a song. And I was singing and writing at the same time. It was improvisation. When you write and sing at the same time, sometimes you'll get a verse or a few words. So I came up with the first verse. The song was about the situation [in the jungle] and somebody talking to the police there. The lyrics translated to English said 'Give us a chance to leave the jungle and go to  a better place." 
"So I was walking all the way for three hours and singing and writing at the same time. But the funny thing was that I didn't have a piece of paper and pen. So I thought that when I arrived back at the jungle, then I could charge my phone or find a piece of paper to write it down. But by the time I was able to write, I forgot half of the song and couldn't remember."
Mohamed sang the song he wrote in Cali in the international theatre play 'The Jungle', which told the story of what it was like to live in the unofficial refugee camp in Cali, France. The play was a success in London's West End, and later in San Francisco in the United States. 
Producing the album Sound of Refuge
Mohamed met his now bandmate John Falsetto during rehearsals for The Jungle. "John played an instrument called Mbira, which is from Zimbabwe. He was playing this one day, and I stood next to him and started improvising and singing a song. And he loved this. So he started singing as well. I went with the music and flowed with him. And then he told me we need to make something one day." 
Mohamed and John would continue to have impromptu musical sessions during their rehearsal breaks. They often spoke about producing music together properly but for a long time nothing came of it. "And then one day, John contacted Good Chance to ask if they knew of any places or anything that can help fund artists and help them to record." Good Chance got back to Mohamed and John straight away saying they wanted to support them in creating their album.
Good Chance theatre company collaborates with artists from across the world, connecting people, stories and cultures. They work in and around refugee camps across the world to gather and encourage people to share their stories.
"They booked the studio for us, Abbey Road Studios. And we worked on it [the album]. John had some songs and I had some songs. This was in 2018, and at that time I remember I had a song that was six years old, the track called Jar Bai Alzaman. It was composed and everything but I hadn't had a chance to record it." As Mohamed and John worked on the album they began combining their songs, writing in both English and Arabic.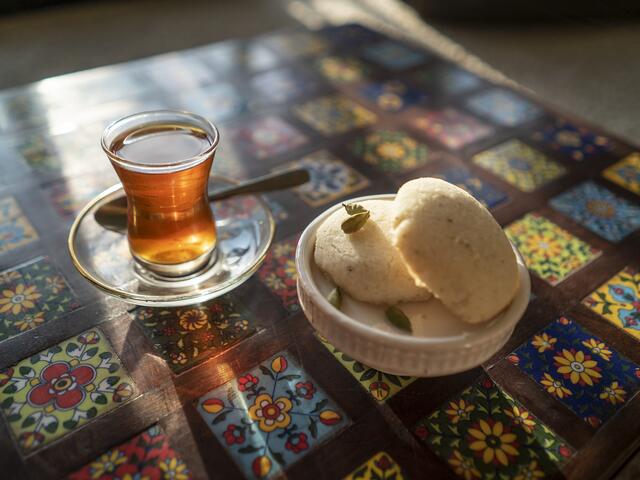 "Everyone had heard of Abbey Road studios but for me when I went for the first time, even though I knew it was the biggest studio in the UK, I didn't even know who recorded there. When I found out that some of the people that I used to listen to had recorded there, it was fun for me to know where I was recording, what the place is and how great it is!"
Plans for new music
Since lockdown, Mohamed has been working on new music, writing in English for the first time. "It's my second language so in the beginning I thought it would be impossible to write in English. And then when I sat down and I used what I have from the language I have. It took me quite a long time to complete a full song."
"I started mixing languages, with two three verses in English and then two or three verses in Arabic. That's what I love about music, mixed languages and cultures." Mohamed is planning to record another album soon and hopes to collaborate with more artists from different places around the world. 
What gives Mohamed courage in his creative work? His friends. "When you're being creative at some point you need someone to encourage you to do your best. When I started writing I would share it first with friends and even now we share everything.
"[Music] has the power to allow you to deliver your idea to everyone, and everyone will understand it. And everyone is happy to listen to your ideas. I think that's the power in the music."
Watch Good Chance's film of Mohamed Sarrar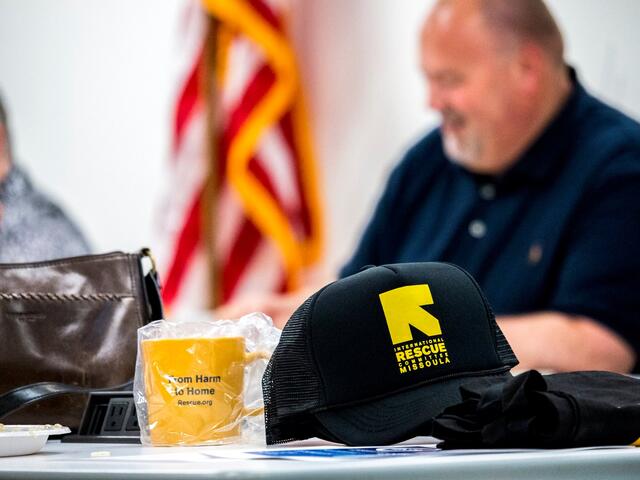 Mohamed Sarrar is a central member of the Good Chance Ensemble. Good Chance theatre company collaborates with artists from across the world, connecting people, stories and cultures. They work in and around refugee camps across the world to gather and encourage people to share their stories. Read more about Good Chance and their work.
Get involved this World Refugee Day
It takes great courage to start over, uncertain what the future might hold. Through their painting, their dance, or their song, refugee artists like Chishimba use their creativity to connect, heal and bring us together during the pandemic and beyond. They inspire us and shape their new communities for the better. World Refugee Day is June 20. Learn more and take action at Rescue-UK.org/Courage.