Step into Sophie's home and you're surrounded by her son's colourful graffiti adorning the walls, theatre props from productions and scripts scribbled with comments.
"Sometimes as a working mum with three children, things can get a bit overwhelming, a bit stressful. But when Mohand comes in the door, suddenly there's this breath of peaceful energy. He is the sweetest soul."
Sophie invited Mohand to live with her last year. In 2015, he was forced to leave Sudan when the situation became too dangerous. He made the treacherous journey to Libya and spent six days on a boat on the Mediterranean sea before arriving in Italy. Eventually, he made it across to the U.K. after staying in the so-called "Calais Jungle" in France for three months.
Sophie NL Besse, who is a theatre director and art therapist, met 30-year-old Mohand in June 2016 through one of his friends, Mohammed, also a refugee from Sudan. Mohammed was attending a theatre workshop Sophie had set up to bring refugees together and invited Mohand to come along.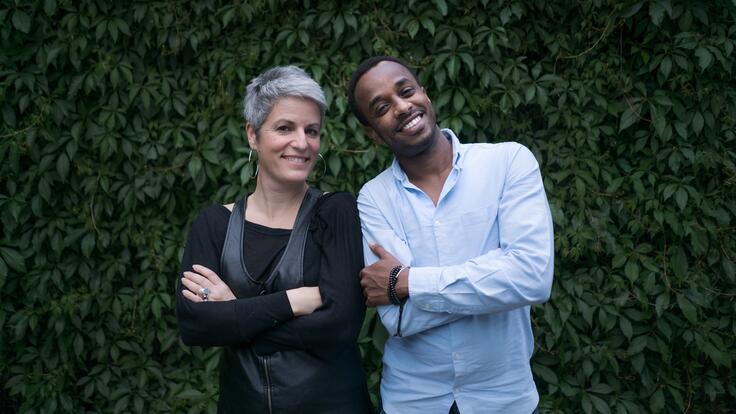 Mohand, who was living in Bradford after being located there by the Home Office, was feeling isolated and struggled to learn English. "When I first came to the U.K., I just stayed in my room in a ground floor flat. I didn't have any friends, I didn't know anyone. I spent 6 months, every day, just on my phone WhatsApping my friends in France."
He will never forget coming into King's Cross station to meet Sophie for the first time. "She smiled at me and asked how my journey was and if I needed coffee. It was the first time since moving to the U.K. that I felt welcomed."
A few months later, Sophie, who runs theatre collective PSYCHEdelight, started rehearsals for Borderline, a comedic play. The production weaves together stories from refugees and asylum-seekers about their experience of Calais Jungle. Mohand joined the cast, commuting down from Bradford to attend the rehearsals. He had his own story to tell: "In Calais, three months felt like three years. Every day, we tried to make it to the U.K. – when that finally happened, we were so happy."
With a new production in the pipeline and the commute from Bradford becoming increasingly difficult, Sophie invited Mohand to live with her in January 2018. "I remember Sophie rang me and said: 'Mohand, we're trying to do another show. Would you like to move to London? You can come live with me'." Mohand says. "I was so happy, I feel alive when I'm in London."
Since moving in, he's become part of the family – having an impact not just on Sophie but on her partner, Remy, and three children: Jules, 12, Marie, 15, and Antoine, 16.
Sophie says: "I don't believe in the idea of a 'perfect family' with two children, two years apart. Where the daughter looks like mum and the son looks like dad. For me, family doesn't look like that. For me, you need a village to raise a child.
"Antoine and Mohand have a bit of a big brother thing going on, where they like to talk about music and style. Marie's nickname is 'Mimi', which is the same as Mohand's sister's. She loves Mohand a lot – I think she sees the peace he brings into the house. Mohand is super caring, super soft. If he sees that I'm tired or I have lots of work – he'll say: 'You go to bed, I'll play a game with Jules.'"
For 12-year-old Jules, having another playmate has not gone unnoticed. "With Mohand here, it's even better because you can do more things – you have more choices. We like playing cards and games," he says.
Their dining table regularly becomes the central hub for ferocious card games. Ask who normally wins and Jules, Sophie and Mohand erupt to claim the winning title. "When we play – it's war! Of course, we get the tissues because someone will cry," Mohand says with a smile.
For Mohand, it's the little things that really mean a lot. He remembers a day when he fell sick. "I had a fever and my stomach was so bad. I couldn't move from my bed – Sophie was by my side all the time asking if needed something. She cooked for me and brought me bananas. I'll never forget that day, she gave me a feeling… I can't find the words to describe it. Here, I feel like I am home. Here, they give me love."
Stories of welcome
This summer, we are sharing stories of welcome - to show the enormous contributions that refugees have on the lives of people living in the U.K.. Show that you stand for a world of welcome. Sign our open letter.