When Adam first met John, he was doing a comedy routine with a banana. 
"Adam was in hysterics, he couldn't stop laughing at my improvisation. I thought, yeah, this guy is nice, he has a good sense of humour," John says.
It was 1999 and John was auditioning to join Adam, an actor and drama facilitator, in a production that was about to tour schools in south London. "John was easily the best person for the job – from the very beginning, he was just very good fun," Adam says. 
The production Adam and John starred in was about two refugees who had recently arrived in the UK from South America. It was an experience John knew on a deeply personal level. Five years prior, he was boarding a plane to Heathrow from Bogota in Colombia, leaving his whole life behind him. 
"I had to flee my country because my life was in danger," John explains. "There were so many attempts to kill me that if I didn't leave for sure they would murder me. After three shots to my body and one rocket to my house and one rocket to my car, they definitely didn't want anything good for me. I was a well-known actor doing TV, theatre, films and radio. I was also into politics." It was John's political associations that had put his life at risk. 
John struggled to adjust to life in the UK and it took him eleven years before he was granted refugee status. Joining the theatre company with Adam was the first time John felt a sense of belonging. "Before, all my experiences were not that pleasant. When you don't speak the language very fluently, people look at you in a way that's like 'not another one', but when I arrived at that company, I felt at home. They really valued me as a person, I was welcomed one hundred percent."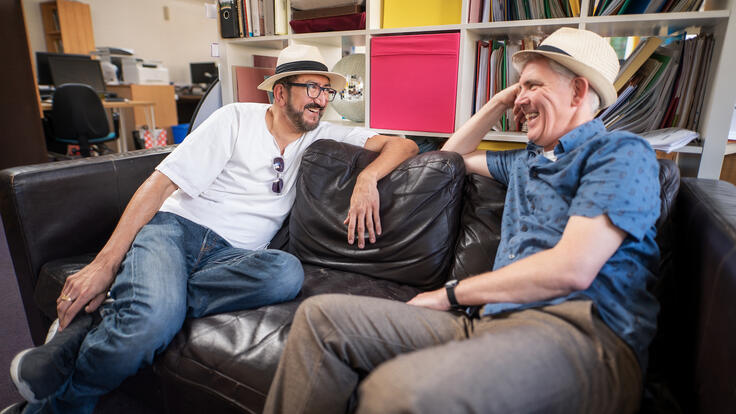 Adam's theatre company reaped the rewards of welcoming John into the fold. "The show was quite good before John, but after he joined, it was ten times better. He brought music, movement and so much joy. That's the thing about John, he's just joyful, he's always been that way," Adam says. 
Adam's noticed that John will always give his all to anything he puts his mind to – no matter what's happening. "There was one show where I could see that John looked like he was in pain, but he kept saying he was fine and wanted to carry on and finish the show. It turned out he had kidney stones – but he kept performing until the end!"
Adam and John have gone on to work together on multiple projects since that first show running theatre workshops for young people. "John is really hard-working – he listens to people's stories and finds a way to present them in a way they're happy with. I'm still trying to hire him for stuff – but he's often too busy now!" Adam says.
John currently teaches at a college in south London, where he runs theatre classes for young people with disabilities and students who want to learn English. He also teaches Spanish to people through Chatterbox, a website that provides online language lessons. 
He's very proud of his students: "I have a student that's a reporter at Al Jazeera, I have students that are at university, I have students that are parents and have come in to show me their babies. Seeing how they progress in life, that is a big reward for me – some of them even call me uncle!"
"I am disabled, so working with people with disabilities means a lot to me. In Colombia, they almost broke my spine – I know exactly how it feels living with a physical disability, after the shot-gun to my head, I suffered seizures. I've still got metal pieces in my head," John says as he lifts up his head to reveal two large indents into his skull. 
He's had to spend a lot of time in hospital due to his injuries: "My students send me cards whilst I'm in hospital. One message that I remembered said: 'thanks to you, I know what smiling is – I thought I had lost that'. There is nothing material I can get better than my students saying wonderful things."
Adam and John both share a desire to have a positive impact on society and John thinks it's this that has brought them together. "My grandmother used to say to me, 'do something that you love – don't do things that you don't enjoy'. I see that in Adam: he loves what he does. It is very inspiring to meet someone that shares the same vision for life as we had in South America."
Adam also feels inspired by John: "His humanity and integrity moves me. When we first started working together, the newspapers were full of the most horrendous headlines about refugees and migrants. His intent was always just to have fun and to raise awareness and make sure students were being listened to. I see that time and time again from him. He's always asking: what can I offer?