If you listen to the radio or stream music, you probably have heard the wildly popular song, "We Don't Talk about Bruno," from Disney's latest animated film, Encanto. The hit is the first song from a Disney musical to reach No 1 on the U.K. Official Singles Chart. But have you heard how Encanto sings the praises of refugees and their invaluable contributions to their new homes?
The movie follows three generations of the Madrigals. Years ago, matriarch Abuela Alma and her family were forced to flee their village to a safer space in Colombia (a country that today serves as a haven for people who have had to leave neighbouring Venezuela). In their new home, with the help of some Disney magic, Abuela Alma and her family thrive.
The Madrigals' story of a displaced family building a new life is also the story of the 81 million displaced people around the world. Here are five ways Disney's Encanto celebrates refugees.
(Warning, this article contains movie spoilers!)
1. The Madrigal family are celebrated for their special powers, which they use to help their adopted town, reflecting the unique contributions that refugees bring to their new communities.
The Madrigals (apart from Mirabel, who is also the film's protagonist) are all given magical gifts—the super strength of Mirabel's sister Luisa, for example, or her mother's healing powers—which they use to help their neighbours. The family's generosity mirrors that of refugees who give back to the communities that have welcomed them.
When the coronavirus pandemic hit in 2020, Rania, a refugee from Syria, jumped at the chance to help her new community in New Jersey, United States. The frontline worker helped distribute food to families struggling during the lockdown. "If I can help, I should help." she said. "In the future, somebody will help me. It's like a circle."
2. Family matriarch Abuela Alma lost her husband when they were forced to flee their home, an all-too-common misfortune suffered by many refugees in search of safety. 
Over the course of the movie, we learn exactly what happened to Abuela Alma. As she is fleeing with her three babies, her husband, Pedro, is murdered. At that moment, Abuela Alma receives a gift that enables her to protect the rest of her family—and explains why she is determined to keep the magic alive.
"Even In our darkest moments, there's light where you least expect it." —Mirabel, Encanto

The trauma and grief Abuela Alma experiences has been lived and felt by millions of refugees and other displaced people. As Charise Castro Smith, one of Encanto's three co-directors, told Backstage, "I'm Cuban-American. My grandparents on my mother's side came over when they were in their early 30's from Cuba. I understand that a new start is both a boon and a challenge." She continued, "Both opportunity and trauma influenced our family—me, my brother, and my cousins' lives. I wanted to explore that in this movie."
IRC social worker Rosa is supporting asylum seekers and migrants in Mexico. When her youngest daughter, Emily, developed a rare disease, a crippling form of juvenile osteoporosis and arthritis, she needed to be hospitalized for months, and necessary medications were in short supply. Fortunately, Emily's father is a United States citizen, so she (and her older sister) were able to emigrate to the U.S. to get lifesaving treatment. Unfortunately, Rosa was not able to obtain a visa and has been living apart from her family for almost a decade.
Despite this, Rosa has dedicated her life to giving back to her community in Mexico. She explains her choice this way: "One day, I said to God, 'You made me a mother and you took away my children." And he answered, 'I'm taking care of yours, you take care of mine.'"
3. While the Madrigal family are celebrated for their contributions to their community, Encanto also explores the intergenerational trauma experienced by refugee families.
Encanto takes a multidimensional approach to storytelling and shows all sides of the refugee experience: the film does not sugarcoat the trauma experienced by people forced to flee their homes and start over, and how that trauma can impact future generations.
We see this with Abuela Alma, who has shown resilience in the face of tragedy only to put pressure on her children and grandchildren to use their gifts for good. Abuela Alma's granddaughter Luisa sings of the pressure she feels to always be strong, and her sister Isabela later sings of the burden to be "perfect" all the time. The film's most popular song, "We Don't Talk about Bruno," illustrates the family's desire to ignore Bruno's prophetic but disturbing visions—and to never mention their missing family member. In fact, we don't meet Abuela Alma's son until well into the movie, as Bruno is so fearful of disappointing or hurting his family that he hides in the walls of their home.
We eventually learn that Abuela Alma has acted out of love—but also as a consequence of the pain of losing her husband and her previous life.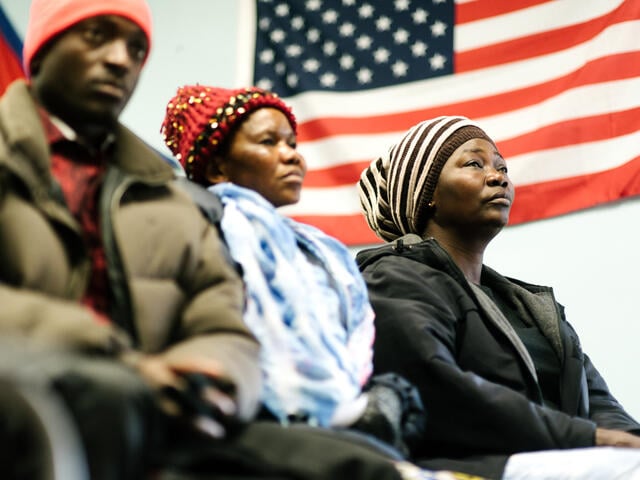 Actress Diane Guerrero, who voices Isabela, speaks openly about confronting the pressures she has put on herself after her parents were deported from the U.S. when she was just a child.
"I've been working on myself in terms of my mental health and learning a lot about familial trauma and ancestral trauma and all sorts of trauma," she told the website Looper. "I've learned that perfection has definitely been something that has been hindering me from being comfortable with who I am, fully, and really being able to express myself in the ways that I want, and ultimately bringing me down. So I'm trying to shed that perfection, much like Isabela."
4. Encanto celebrates the power of welcome and why community is so important for refugees—and for all of us.
The Madrigal family use their powers to give back to the community, but when they need help, the community is there for them. Neighbors pitch in to rebuild the Madrigal's enchanted house–their "casita," as they call it–which has collapsed as the family fractures. 
It's in times of crisis that humanity shines through. In the real world, Colombia has become a safe haven for people who have had to leave neighbouring countries experiencing upheaval and economic collapse. To date, the country has welcomed more than 1.8 million of the 6 million people who have left Venezuela, all with little funding or support from other nations.
Dr. Ariadna, originally from Cuba, found refuge in Colombia and now works at an IRC clinic in Cúcuta, supporting—and welcoming—Venezuelan women. "The best part of my job is being able to serve a population that is used to encountering closed doors," she says. "Seeing in their faces that they feel really grateful is what keeps driving my work."
5. And perhaps Encanto's most important message: every displaced person—in fact, every person—has a gift. 
Whilst the film initially focuses on magical gifts, Encanto offers viewers a grander vision of enchantment: the power that exists within every person. Mirabel ends the movie looking at her own reflection in the doorknob for the family's newly rebuilt house. "Me. Just me," she says, reminding us that ordinary people are extraordinary, if we just look.
There is nothing more powerful than families and communities accepting and supporting each other. And when this happens, and when refugees are welcomed, the potential of the gifts they bring to their new homes are endless.
How the International Rescue Commitee helps refugees around the world
The IRC's mission is to help people whose lives and livelihoods are shattered by conflict and disaster to survive, recover and gain control of their future. We are at work in over 40 crisis-affected countries as well as communities throughout Europe and the Americas. 
In Latin America, the IRC is responding across the arc of the crisis, including in Colombia, Ecuador and through local partners in Venezuela; in northern Central America (Guatemala, Honduras and El Salvador) and along the main migration corridors in Mexico, from the southern to the northern borders. 
The IRC's current programming consists of supporting women's protection and empowerment, including prevention and protection of women and girls and members of the LGBTQI+ community who have been survivors of gender-based violence; economic recovery and development; primary, sexual and reproductive health, mental health, psychosocial support; cultural orientation; and access to critical information through InfoPa'lante in Colombia, CuéntanNos in northern Central America and InfoDingna in Mexico, all of them part of the Global Signpost project.