Afghanistan has been experiencing an unprecedented economic shock since the government takeover in August. Skyrocketing food prices mean families are unable to afford the food they need to survive. 
Twenty-four million people are in urgent need of aid. Unless people are able to access food, the cycle of malnutrition cannot be broken, and Afghanistan faces the real risk of famine. 
Afghan women and girls increasingly bear the brunt of violence and of a hunger crisis that threatens to overwhelm the country.
We spoke to Noor* and Zulaykha* who fled with their families to Kabul. The IRC was able to provide them with cash assistance to help them prepare for winter in Afghanistan. 
Afghan women prepare for winter
Noor, 38
We had to leave our home because of war. We had no choice. Except for our clothes, we took nothing. Later, I learned that my husband was killed. 
Now, winter is coming. Money-wise, we are struggling. And we do not have a breadwinner. 
[Before the IRC] I did not have enough money to fill up my gas cylinder. I thank them for whatever they have done for us so far. 
Yesterday, I bought two blankets. Today, I want to make a Sandali (a set up with a wooden table and charcoal that people without a heater use to stay warm in winter) and to get winter clothing. I also want to buy tea and sugar, onions, and things like that we need.
It means that my kids will not starve to death. I can get them medicine if they are sick. And my kids have gotten better now. They will be fine for now. 
Right now all I am thinking about is a loaf of bread for them. A shelter. That is enough! But my dream for my children is that they can go to school. They could be successful, not forced to wander around like this.
Zulaykha, 43
Three months ago, fighting broke out where I lived. We escaped through mountain valleys and came to Kabul with my three youngest children. My husband stayed behind. 
Eventually, I went back the first woman brave enough to go back there. Everywhere the walls were broken down and the houses were destroyed as well. I searched everywhere but could not find him. 
I later learned my husband was killed, and the local people buried him. 
I used to conduct human-rights programmes, helping people to raise their voices and advocating for women's rights. Women are most affected by the conditions in Afghanistan. We are the ones who suffer and endure the pain at all times—if there is any problem or hardship, it falls on women all the time in Afghanistan.
At the moment, we have no income. Whatever we had was lost. Here in Kabul, I do not have a salary or other means of income. I cannot even go outside. My kids are too young to work.
If [the IRC] had not helped us, we would have no idea what to do or how to survive. And the help they provided enabled me to buy the most essential items for winter. I stockpiled coal and wood, and bought mattresses and blankets. The remaining money that I have not spent will be used for my one-year-old baby. 
Thank you for helping us when we need it the most. If we get a little help from everyone, we can survive.
How the IRC is helping people in Afghanistan over winter
Thanks to the generous help of our supporters, the International Rescue Committee is providing families in Kabul with emergency assistance. This includes direct cash payments that allow families to prepare for the coming winter and purchase what they need most. 
Cash assistance: providing cash to families in Afghanistan
Cash assistance gives people the power to buy what they need most and support local markets and economies in the process. This aid is especially important now as more than half of all Afghans face hunger and one million children are at risk of dying from malnutrition. 
"People are not able to put food on the table and that is very difficult," says Awesta, an emergency support officer for the IRC's cash distribution programme. "They do not have enough money in their pockets. The food prices are also very high. Everyday, the situation is getting worse."
With money in their pockets, those in need can begin to have some hope.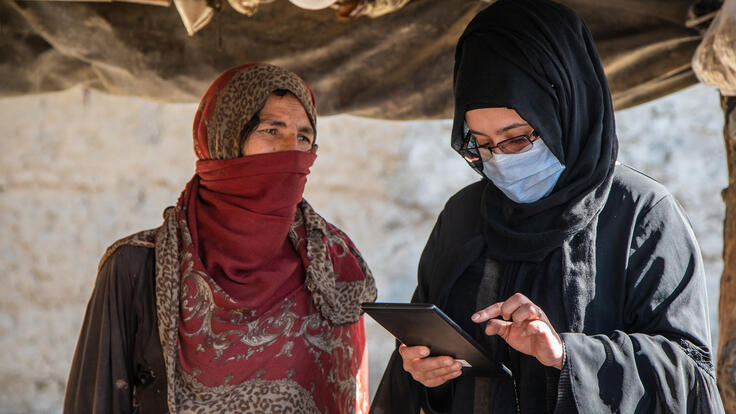 "From the moment they receive it, they can buy medicine, or food," says Awesta. "They can use the money for school and things needed for classes. They are happy with the cash assistance because it helps their families."
The IRC has delivered aid in Afghanistan for over 30 years, reaching thousands of communities with vital services like emergency cash relief and economic recovery programmes. But more support is needed from humanitarian agencies and world leaders to prevent famine and address the ongoing humanitarian crisis in Afghanistan.
"My message for the international community is please do not forget Afghan people," Awesta says. "Do not forget Afghan children, Afghan women. They need you."
Nutrition Response: beating the hunger crisis in Afghanistan
As well as cash assistance, the IRC is scaling up its nutrition work in Kabul. IRC trained community health volunteers are educating mothers and distributing information to help mothers recognise and screen their own children for malnutrition, and to educate them on how to help their children avoid becoming malnourished and getting sick with other diseases. 
The IRC is also launching mobile health teams focused on nutrition. These teams will travel to areas where communities have no other access to healthcare to screen and treat malnourished children.
"I ask the mothers about their children who are malnourished. I educate them how to prevent this and what to do. I teach them to feed their children properly. Give them lots of water and liquid," says Nazo* an IRC community health volunteer. 
Nazo goes door to door to visit mothers living within her community to educate them about how to prevent their children from becoming malnourished and from contracting other diseases.
"Many of them did not know the things we told them and now they know. Now, they have learned how to care for their sick, " she added.
"I took this job to serve my country. My goal is to help as many people as I can.
*All names have been changed for the safety of IRC clients and staff.