Russia's attack on Ukraine has the potential to be the biggest humanitarian crisis Europe has seen since WWII. Over 5 million people have now fled the country. The International Rescue Committee is on the ground working with partners in Poland and Ukraine to support refugees. Get the latest from our teams on the situation in Ukraine and how you can help.
Quick Links
What is happening in Ukraine | How to help Ukraine | Donate | Sign our petition 
Live updates
April 6, 2022
7.1 million people are now internally displaced in Ukraine. As violence continues, the IRC is calling for an immediate ceasefire.
The IRC's Ukraine team lead, Nora Love said:
"There is no doubt civilians are under attack. The Continued violence against health care facilities, with over 85 destroyed or damaged as well as schools and homes destroyed, it seems there is no safe place for Ukraine's population to take shelter with. As people attempt the dangerous journey west, pressure will mount on the already fragile systems and infrastructure in cities now hosting growing populations. The humanitarian needs across Ukraine are immense; the IRC is calling for an immediate ceasefire and an end to this senseless violence."
---
April 4, 2022
The IRC's Global Communications Officer Nancy Dent has been in Poland with our Emergency Response team since the beginning of the crisis. She describes her experiences confronting the largest European refugee crisis since WWII.
"Here in Poland, I have been heartened to witness an entire country mobilising to make sure people fleeing Ukraine have access to everything they need. From grassroots activists to local officials, civil society organisations to the national government, everyone has gathered to provide refugees with a warm welcome."
---
March 29, 2022
The IRC has joined sister organisations in writing a joint letter in the Times to call on the UK government to immediately waive visa requirements for Ukrainian refugees.
Sir, A month after the conflict in Ukraine began, millions of mainly women and children have fled violence in desperate search of safety. Yet those who want to come to the UK are having to navigate a complex web of bureaucratic paperwork to get visas, leaving them facing protracted delays without any information about the status of their application.
While it is welcome that our country is offering sanctuary, the visa process is causing great distress to already traumatised Ukrainians and increasing frustration to tens of thousands of Britons who want to welcome them into their homes.
The government must urgently review the use of visas and waive them as an immediate short-term measure, as has been done by the EU, and look to introduce a simplified emergency humanitarian visa process. It also needs to rethink the Nationality and Borders Bill to ensure all refugees fleeing conflict and persecution can be protected in the UK. Now is not the time to put paperwork and bureaucracy before the needs of people who have had their lives shattered by war or to weaken our commitment to protecting refugees.
Find out more here.
---
March 24, 2022
Today marks one months since the crisis in Ukraine began. Since then more than 3.5 million people have fled, with millions more trapped inside the country. It has already become the fastest displacement crisis Europe has seen in decades.  The IRC is calling for a ceasefire and humanitarian access to areas most in need. We demand peace for the people of Ukraine and everyone around the world facing conflict.
---
March 21, 2022
The IRC warns that the Ukraine conflict will worsen hunger in the world's worst crisis zones. 
Humanitarian needs in countries such as Afghanistan, Yemen, Syria and Somalia could rise as global grain exports are disrupted, food and fuel prices increase, and critical attention is diverted to Ukraine. Countries across East Africa, including Somalia, Ethiopia and Kenya, which are already facing the worst drought seen in decades, bring over 90 percent of its imported wheat from Russia and Ukraine. Yemen, which remains chronically underfunded, relies on Ukraine and Russia for just over a fifth of its wheat consumption, providing a bleak picture of what families across this region could suffer if the situation is left unaddressed. As Ukraine's crop production cycle this year is disrupted due to the conflict, countries heavily reliant on grain imports from Ukraine are likely to be impacted in the coming year. 
The IRC's Vice President of Emergencies Bob Kitchen said:
"People living in Afghanistan, Yemen, Nigeria, Syria, and other countries enduring vast and deteriorating humanitarian needs, must not be left behind. Donors must at the very least, commit to channelling 50% of total international aid to fragile and conflict affected states and using diplomatic means to find political solutions to conflicts driving humanitarian need."
---
March 15, 2022
As the number of people forced to flee Ukraine reaches over 3 million, the IRC's Senior Vice-President for Europe, Herlem Désir shares a message from the Poland-Ukraine border.
---
March 14, 2022
The IRC UK responds to the UK Government sponsorship scheme to support refugees fleeing Ukraine:
The Government's decision to support the communities in the UK to help refugees from Ukraine is a welcome step. However, according to the Government announcement today, refugees from Ukraine without a link to the UK will not be supported in the scheme's initial phase. Therefore, the scheme will struggle to meet the scale and urgency of needs arising from the conflict - more needs to be done to protect people fleeing.
---
March 11, 2022
The number of people fleeing Ukraine reaches 2.5 million.
The IRC continues to be alarmed at the rate of displacement and growing humanitarian need inside #Ukraine and in bordering countries as 2.5 million people become #refugees in 2 weeks.

We call for an immediate cessation of violence to avoid further human suffering. https://t.co/QS70OebJTT

— International Rescue Committee - UK (@RESCUE_UK) March 11, 2022
---
March 10, 2022
The IRC is calling on Home Secretary Priti Patel to ensure safe passage for people fleeing Ukraine, and for the UK Government to work with other countries so that those fleeing the conflict– including non-Ukrainian nationals– are offered sanctuary in Britain. Add your name to send Home Secretary Priti Patel one clear message: refugees welcome, always.
---
In response to Russia's bombing of a children's hospital and maternity ward in besieged Mariupol today, David Miliband, President and CEO of the International Rescue Committee, said:
"The bombing of a children's hospital in Mariupol, Ukraine is a horrifying testament to illegality and impunity as well as inhumanity. The IRC condemns this attack in the strongest possible terms, alongside the targeting of evacuation corridors, the breaches of ceasefires and the sieges of urban areas that have been widely reported.  This conduct speaks to a global syndrome where the age of impunity reigns supreme.
---
March 8, 2022
From International Women's Day the IRC spoke with, Lena, a writer in Kyiv, Ukraine. Watch her message: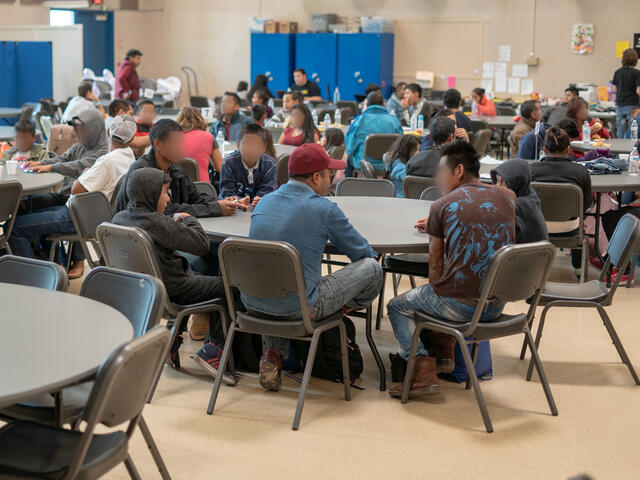 ---
The number of people fleeing Ukraine reaches 2 million.
---
March 7, 2022
The IRC warns that of the over 1.5 million refugees that have fled Ukraine since the Russian invasion, the vast majority are women and children at grave risk of violence, exploitation and abuse. The speed of displacement seen in this crisis is unprecedented. We have not seen displacement taking place at such a pace since the Rohingya crisis.
"Women and girls, especially those travelling alone from and in Ukraine, could be at risk of exploitation and abuse, including sexual violence, gender-based violence, and trafficking. The lack of disruption of essential services, such as emergency medical services, health care, and social services, puts women and girls at a greater risk of adverse health outcomes. An estimated 80,000 women will give birth in the next three months in Ukraine – many of them without access to critical maternal health care if the crisis continues to shut down essential services. For some, childbirth will be a life-threatening rather than a life-changing experience.
- Lani Fortier, Director of Delivery in Emergencies at the IRC.
---
IRC's Global Communications Officer Nancy Dent is with our Emergency response team at the border in Poland. She shared an update on our twitter:
March 4, 2022
In just one week after the Russian invasion over 1 million people fled Ukraine, making it the fasted exodus of refugees this century. The IRC's Madiha Raza gives us the latest update.
---
March 3, 2022
The Disasters Emergency Committee (DEC) - of which the IRC is a member - has launched an urgent appeal to respond to the rising humanitarian needs. All donations will go directly to our emergency response for Ukraine.
---
March 1, 2022
IRC's Global Communications Officer Nancy Dent has arrived in Poland and will be sharing updates of the IRC's work on the ground.
---
February 28, 2022
The IRC is extremely alarmed by the targeting of civilian residences and public infrastructure as the war continues in Ukraine.
"Ukrainian authorities suggest that if the war continues at the current pace, 5 million people could become refugees. In Poland, which is preparing to receive up to 1 million refugees, the IRC is working to scale up support to the government and civil society and to provide for the basic needs of people fleeing the conflict. The IRC has connected with partners to establish a response that will provide critical support to civilians forced to flee their homes."
- Lani Fortier, Senior Director of Delivery in Emergencies at the IRC.
The IRC strongly supports the UN Secretary General's call on Russia to adhere to International Humanitarian Law, especially the protection of civilians and vulnerable groups such as women and girls. Read our full statement.
---
February 26, 2022
IRC President and CEO David Miliband spoke to Channel 4 news about the humanitarian situation in Ukraine.
"Britain needs to behave like a responsible humanitarian power."

David Miliband, the head of the International Rescue Committee, tells @cathynewman all European countries need to "step up in a practical way" to help Ukraine.https://t.co/Cz2WtHJBvX

— Channel 4 News (@Channel4News) February 26, 2022
Watch the full interview here.
---
February 25, 2022
The IRC UK, along with other organisations, signed a joint letter to the UK government urging them to take action with an evacuation and resettlement programme for Ukrainians.
We're calling on the UK government to #WelcomeRefugees from #Ukraine.

We've joined other organisations in signing a joint letter to the UK government urging them to take action with an evacuation and resettlement programme for Ukrainians.

Find out more: https://t.co/0zGWtFc7Cg

— International Rescue Committee - UK (@RESCUE_UK) February 25, 2022
---
What needs to happen:
People must be protected and allowed to move freely
Countries must welcome people fleeing Ukraine
Aid workers must be granted access to help
The world must unite in calling for an urgent end to this conflict
---
February 24, 2022
The IRC is launching an emergency appeal to help support displaced families with critical aid.
War has been steadily waging over the last eight years in Ukraine, leaving more than 850,000 people internally displaced and almost 3 million people in need of humanitarian aid. The current escalation in conflict will have devastating consequences for the civilian population in Ukraine and humanitarian needs are expected to rise.
While we truly hope we can avert disaster and avoid human suffering, the IRC is ready and preparing for the worst. We are already on the ground working with local partners in Ukraine and Poland, mobilising resources to provide life-saving support to people and families forced to flee their homes.
Statement from the IRC's President and CEO David Miliband on IRC's response on the Russian attack on Ukraine.