2018 can be seen as a year of division: politics has become ever more hostile, families have been torn apart and the world's worst crises continue to force millions of people from their homes.
But in the face of all of this, we've also seen the best of humanity: people standing with refugees at a time when it's never been more needed. Here are eight moments which gave us hope.
1. The Twittersphere gets Mohamed a job

In August of this year the Twittersphere leapt into action for Mohamed – a rocket scientist and refugee on the hunt for a job. IRC staffer Mary Engleheart happened to bump into Mohamed at Canary Wharf whilst he was bravely holding a sign reading 'Came as a refugee, just graduated from UCL in ROCKET SCIENCE. Looking for a career in finance. Ask for CV.' She posted his photo on Twitter and within hours, Mohamed was being inundated for requests for his CV and ended up being given a role at a Venture Capitalist firm! Job done.
2. Pedro Sánchez welcomes The Aquarius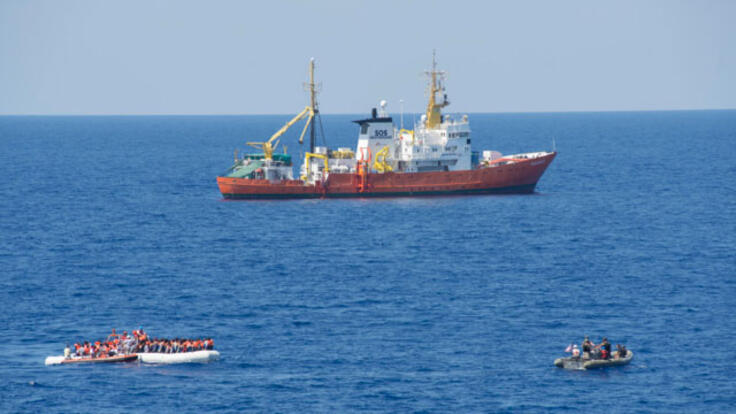 The Aquarius, a special-purpose ship built to rescue migrants and refugees, has dominated headlines this year. The SOS Méditerranée and Médecins Sans Frontières ship has saved hundreds of people from drowning at sea, but where it's permitted to dock has been shrouded in political controversy. In early June, after other countries refused to let the ship dock, Spain's Prime Minister took a stand to "avoid humanitarian catastrophe". His act to give safe habour to the 629 people aboard sent a clear message to other leaders to stand with refugees.
3. Nadia Murad and Denis Mukwege win the Nobel peace prize
It's heartening to know that in history it will be the names @NobelPrize Nadia Murad & Denis Mukwege who are remembered for their work against sexual violence in conflict and not those who perpetrate these acts who will always be nameless @IRCEuropehttps://t.co/P4ksqw2dHL

— Sanj Srikanthan (@SanjSrikanthan) October 5, 2018
In October, Nadia Murad and Denis Mukwege were awarded the Nobel Peace Prize for their work 'to end the use of sexual violence as a weapon of war'. Murad is an Iraqi Yazidi human rights activist and refugee. In 2014, Murad was tortured and raped by ISIS, and has used her story to campaign to end sexual violence in war. Mukwege is a doctor in the Democratic Republic of Congo who has spent years caring for victims of sexual assault. Both have committed their lives to raising awareness and combatting war crimes and are an inspiration to us all.
4. Shakespeare's rallying cry for humanity lives once again
True, William Shakespeare was not alive in 2018 – but in a new film the IRC bought his words to life for this year's World Refugee Day. 'The Strangers' Case' is a little-known speech written in the 1600's that is seen as one of the world's most compassionate defences of a welcoming refugee policy. And today it is still a rallying cry for humanity. Actors and refugees such as Kim Cattrall, Lena Headey and Noma Dumezweni performed his powerful words at the Shakespeare's Globe Theatre in our film.
5. Lena Headey and Marwa reunite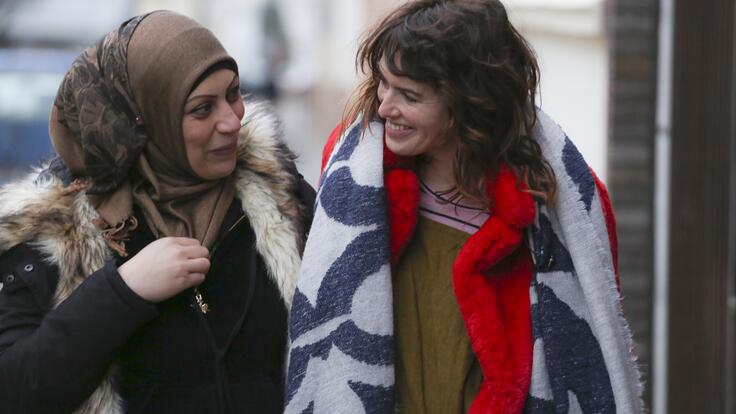 The emotional reunion between Game of Thrones star Lena Headey and Marwa, a Syrian mother, was a heart-warming start to our year. Lena met Marwa when she was living in a refugee camp in Lesbos in 2016. The pair were reunited in Germany, where Marwa has now found asylum with her family. The reunion was even more special as Lena was able to meet Marwa's newest member of the family: baby Werner, who was named after a German man who befriended them when they arrived in Germany.
6. Thousands celebrate Harry Leslie Smith's legacy

War veteran Harry Leslie Smith was a champion of refugees everywhere, spending his final years raising awareness about the crises and visiting refugee camps around the world. When he sadly passed away in November, an outpouring of love followed with people remembering his legacy to create a fairer world using #IStandWithHarry across social media. His legacy lives on.
7. Tolassa takes on the NYC marathon

Refugee Tolassa Elemaa came to the US in 2018 and less than a year later, he was crossing the finish line at the New York City marathon! He's always dreamed of becoming a world-class runner but his career was cut short after he was imprisoned in Ethiopia for speaking out against the government. Tolassa was resettled in Dallas by the IRC and linked up with a local running club to start training. He had an army of #TeamTolassa supporters cheering him on at the race in November.
Read Tolassa's inspiring story.
8. The UN signs the Global Compact for Refugees
On Monday, the UN General Assembly adopted the Global Compact on Refugees #GCR with an overwhelming majority of UN Member States in favour.
The IRC welcomes this pact of international solidarity & cooperation for refugee protection.
Read More:https://t.co/rzvDEKivKG

— International Rescue Committee - Europe (@IRCEurope) December 19, 2018
Last week, the UN General Assembly overwhelmingly adopted the Global Compact on Refugees. Currently 80% of refugees live in developing countries, rather than wealthier countries like those in Europe. The compact came as a welcome first step to ensure richer nations accept their responsibility to host and protect more refugees. If the right actions are taken in 2019, this could have a huge impact for people fleeing violence and the communities hosting them.  
Read David Miliband's Washington Post piece on this positive step forward. 
These moments give us hope for 2019. As have you: our supporters. You have continued to stand with refugees as they've faced some of the toughest conflicts and political backlash. Whether it's getting behind our campaign to resettle vulnerable refugees in Europe, calling for a cease fire in Yemen or supporting our cause through kind donations: your support has shown that humanity can win out.