This week, Game of Thrones star Lena Headey travelled to Germany with the International Rescue Committee. She visited our programmes which assist refugees as they adjust to their new lives in Germany, from the classroom to the workplace to the broader community. Read on to find out what made the trip so special.
Day 1: An emotional reunion
Lena began her trip by fulfilling a promise. She met Marwa, a Syrian mother, in a refugee camp on Lesbos in 2016. Marwa has now found asylum in Germany.
Lena's reunion with Marwa was incredibly emotional for them both. Hugging Marwa, Lena told her: "It's extraordinary to look into your eyes!"
Marwa said she felt loved by Lena. "It's not easy to find someone like you."
Having been kept apart for over a year, Marwa was reunited with her husband Aiman and her three girls were reunited with their father.
Lena learnt that Marwa's children are doing well in school. They now speak German, and Marwa has set herself the same task. "It's the first challenge I want to achieve. And I will learn from my children," she said.
Starting a new life in Germany has not been easy. Truth be told, the family - although relieved to be safe - feels quite isolated. Until they made an extraordinary friend in Germany. His name is Werner.
Werner, and his wife, Hanna, have been the rock this family needs. They have offered them friendship.
"Even if we speak different languages, we can all speak the language of the heart," Werner said.
Aiman was particularly struck by Werner's generosity and humanity. "I love him," he said. "I lost a brother [in Syria] but have gained a new one here."
In Germany, Marwa gave birth to a baby boy.
"I wondered, how can I ever repay Werner for his kindness?" Aiman asked. "Then I thought - naming a child is a gift that lasts forever."
And baby Werner was to be.
Day 2: Hope for the future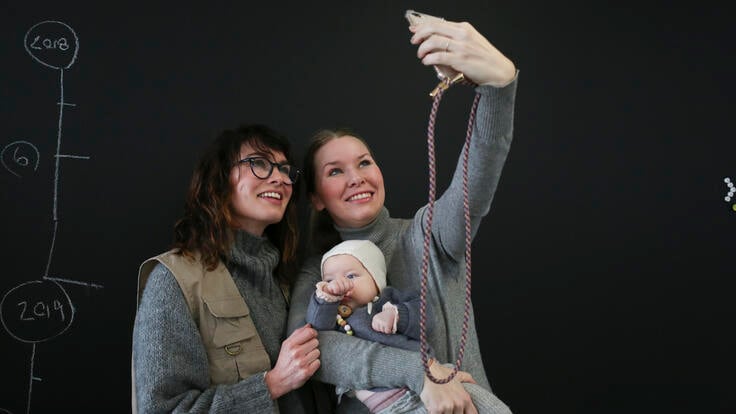 In Berlin, the IRC is supporting Devugees to train refugees in the tech skills they need to find work. Trainees take part in a 12 month web development programme, after which the Devugees team helps them access the job market. All graduates from their first cohort went straight into work.
There's also a buddy system, that brings together people like Sacha from Germany with Ayham from Syria.
"I wanted to support refugees," Sacha said. "It's a mutual thing. We ended up being friends. We hang out.
"[Through these programmes] Lots of young fearless men and women are embracing each other," added Lena. "And everyone benefits."
Day 3: Rebuilding lives
The final visit saw Lena meet women forging careers in the care industry. The IRC partners with Care.com to provide training courses and match graduates with jobs in the sector.
Refugees like Asma, who hopes everyone can have this opportunity.
"When we came here it was a completely different system to the one we knew in Syria. This course has helped give us perspective and knowledge of this culture."
"We are good people, a lot of us have studied. We want to work. We came to contribute."
With more people displaced by crisis than ever before, Europe must stand with refugees and create a future where everyone can work, integrate and contribute to society.
Stay tuned for more updates from the trip over the coming weeks.
Refugees welcome
Learn more about refugees in Europe and how you can welcome them.
Donate now to help families fleeing crisis.