On August 15, 2021, the Taliban took power in Afghanistan. Decades of conflict and the impact of climate change had already left the country's infrastructure shattered and displaced millions. The rapid economic downfall that followed has left ordinary Afghans to pay the price, with many families unable to afford food and relying on humanitarian aid.
Amidst these challenges, International Rescue Committee staff—99% of whom are Afghans—have continued to provide critical support. The IRC operates in numerous villages across 12 provinces and also supports Afghan refugees in neighboring countries as well as those resettled in the United States. 
Below, explore the ways that the IRC helps in Afghanistan.
 

Health
Since August 2021, the IRC has responded to the rapid decline in healthcare in Afghanistan by ramping up health and nutrition efforts across ten provinces, and prioritizing remote communities that can't access healthcare. Our staff support 67 health facilities and runs 35 mobile health teams across the country.
Malnutrition
Afghanistan has one of the highest rates of malnutrition in the world, affecting nearly 3.2 million children and 840,000 pregnant and nursing mothers. With drought and soaring food prices that contribute to food insecurity, IRC teams deliver support to families living in remote areas where healthcare services are often out of reach.
We also empower pregnant and lactating mothers with essential knowledge on malnutrition through community-based counseling led by staff and community health volunteers. These sessions typically cover everything from breastfeeding techniques to weaning and crafting nourishing meals for their children.
Education
Education can be a lifeline for children in crisis or conflict and help them cope and build a brighter future. The IRC recognizes this and provides informal learning for children who are unable to access formal education.
Since August 2021, IRC has reached almost 85,000 children with community-based education classes across six provinces in Afghanistan. We provide learning kits, which include notebooks and stationery, deliver teacher training and establish community-level school management committees. 
Helping people make a living
The economic crisis in Afghanistan has left numerous families in financial distress. Providing cash assistance is an effective and efficient way to aid families in making their own decisions regarding their needs.
Our cash assistance program also includes providing start-up grants for small businesses across five provinces, particularly those owned by women. This could involve providing cash to start a pickle-making business or purchasing livestock to expand farming
In addition to cash assistance, IRC teams also provide training on climate smart agriculture and distribute drought-resistant seeds to help farmers build resilience to climate shocks.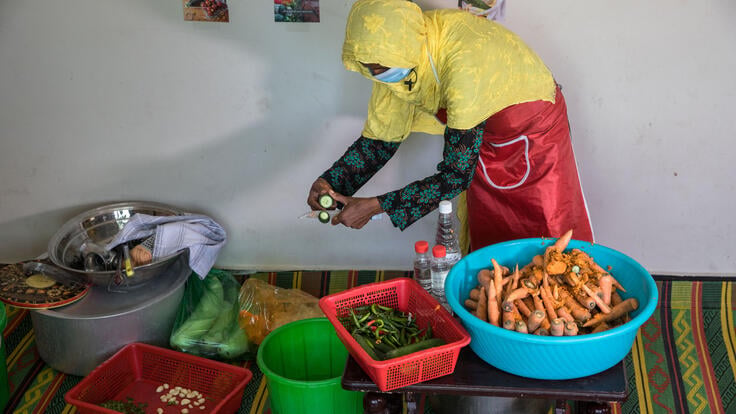 Resettlement and integration
In 2021, the IRC resettled more than 11,000 Afghan refugees in the U.S. who were relocated through the Afghan Adjustment Act, providing immediate aid, integration support, and employment services.
We provide a range of resettlement and integration services for refugees, asylum seekers and humanitarian parolees, including housing, school enrollment for kids, English language and job training classes for adults and connection to medical services.
How can I help people in Afghanistan?
The IRC has worked in Afghanistan through three decades of crisis, providing millions of people with shelter, education, clean water, health support and other aid. We are committed to remaining in Afghanistan and helping those in need.
Donate now to help the IRC support Afghans in crisis.