In late September Angelina Jolie spent three days in Pakistan meeting with residents who are persevering after severe flooding submerged a staggering one-third of the country. Among those affected are some of the many Afghan refugees hosted by Pakistan. The disaster has affected 33 million people, killed more than 1,600, destroyed 3.6 million acres of crops and caused $10 billion in damages.
The International Rescue Committee (IRC) welcomed Jolie's visit, one of several trips she has made to Pakistan to increase visibility of the growing humanitarian crisis afflicting the country, and to elicit humanitarian support. As Special Envoy for the U.N. High Commissioner for Refugees (UNHCR), Jolie has visited and supported Pakistan many times, including after the 2010 floods and 2005 earthquakes racked the nation.
Jolie's most recent mission took her to Pakistan's Sindh Province, one of the regions most ravaged by the floods. Countless homes have been destroyed as well as 90 percent of the province's crops, making it difficult for survivors to feed their families.
A rapid needs assessment conducted by the IRC and the Medical Emergency & Resilience Foundation found that women and girls impacted by the floods, including over half a million pregnant women, are facing high levels of vulnerability. Many live in areas inaccessible to humanitarian workers. Most find themselves at increased risk of violence and abuse as displaced families shelter in camps or makeshift roadside huts and lean-tos.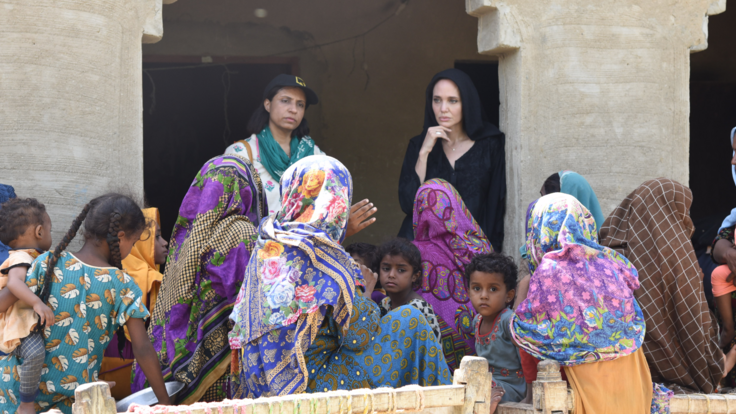 Jolie called for action against the global environmental crisis. Pakistan is one of the countries most affected by climate change—without having contributed much to its root cause.
"The devastation in Sindh has been shocking," Jolie said, recounting her visit. "In all my life, I have never seen anything like this. Families are sleeping under open skies and have lost everything in these floods.
Climate change is not only real, and it is not only coming, it is very much here," said Jolie. "The real tragedy is that Pakistan contributes less than one percent of the world's carbon footprint, and yet millions have been displaced or lost loved ones. It is time for the world to wake up to the crisis and take action on climate change—we cannot ignore the consequences any longer."
The IRC's work in Pakistan
The IRC launched an emergency response in early July to provide humanitarian support to those impacted by flooding in Pakistan. Since then, we have reached over 175,000 clients, establishing medical camps and safe places, and distributing food baskets, emergency nonfood items, and dignity and hygiene kits.
The IRC thanks Angelina Jolie for her visit and continued support to the people of Pakistan. We hope that her work will inspire world leaders to take action against climate change and support the humanitarian relief efforts in Pakistan.
Find out more about the situation in Pakistan and what the IRC is doing to help.