In 2015 world leaders gathered at the United Nations in New York made an audacious pledge. They vowed to work together to create a world in which there was: no poverty, zero hunger, good health and wellbeing, quality education, action on climate change, and gender equality.
What they envisioned was no less than equality for everyone on the planet by the year 2030.
To this staggeringly ambitious end, the leaders adopted these and 11 other "Sustainable Development Goals" (or SDGs) and agreed to work together to achieve them. But even as many countries take real strides, a global crisis is unfolding. 
More people are being forced from their homes by war and persecution than ever before. As UN member nations work to create a world where there's equality for all, we need to make sure refugees—most of whom are women and children—are not forgotten.
A plan to "leave no one behind"—but refugees are missing
When they adopted the Sustainable Development Goals in 2015, world leaders pledged to "leave no one behind." But according to a new report by the International Rescue Committee (IRC), refugees—who have crossed borders to seek safety—are missing in the crucial data and tracking countries use to determine how close they are to achieving these goals. The problem is not just that the data is incomplete; leaving out refugees means that some of the world's most marginalized people are left out of plans to achieve quality education, an end to poverty and gender equality in these nations. 
A call for countries and corporations to help
We need bold government action to ensure refugees count in the SDGs. The IRC is calling on leaders around the world to measure how refugees living in their countries are faring, and then put policies in place that don't leave refugees out.
Companies also have a role to play. The IRC is calling on businesses to create economic opportunities and jobs for refugees—especially refugee women—and to advocate for policies that welcome and support refugees.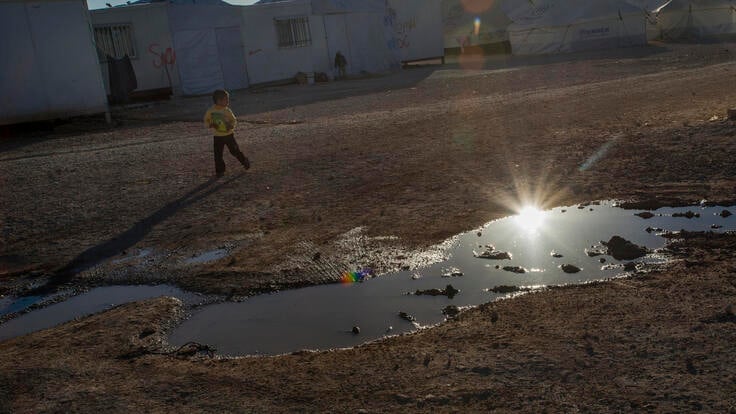 How the IRC helps
Beyond our advocacy, the IRC's innovative humanitarian programmes help move us closer toward the SDGs and a truly equal world: 
Zero poverty
The IRC helps people in crisis both survive and thrive by providing cash relief as well as support for long-term economic wellbeing. Our innovative RescueWorks programme helps refugees find sustainable and dignified options for work, whether they are starting a business in a refugee camp or learning new skills to launch a career in a developed economy.
Zero hunger
Over 50 million children around the world suffer from acute malnutrition and 80 percent of them don't have access to treatment. The world is in need of new solutions and the IRC has developed several that together offer the potential for transformative change. With these new approaches, we believe we can save the lives of over 1 million children in the next decade. 
Quality education
Refugee children are more than five times as likely to miss out on school than other children. To help the next generation thrive, the IRC provides children, youth and adults with safe, high-quality educational opportunities. We've even partnered with Sesame Street on a programme called Ahlan Simsim, or "Welcome Sesame," to support children in Syria, Jordan, Lebanon and Iraq. 
Gender equality
Gender equality is a cornerstone of all of the IRC's programmes, as we work to ensure women see real improvements to their safety, health, education, economic wellbeing, and influence over decisions that affect their lives. And because we know that we can't achieve these goals if women in our own organization are not empowered, we've also released our own gender action plan.  
Action on climate change
The warming of the planet drives conflict and displacement, and contributes to extreme hunger. To support those already on the frontlines of the climate emergency, the IRC works with communities that are displaced or at risk to strengthen their resilience and capacity to adapt through innovative technology, disaster risk reduction training, and other tools.
What you can do
To ensure refugees are not left behind, we need everyone to act. Speak up for refugees and encourage your elected officials to support refugee-friendly policies. You can even welcome a refugee into your home and community.
When refugees are included, the benefits are clear. We see vibrant communities, stronger economies and greater opportunities for us all.  
We see a more equal world.