To celebrate International Youth Day, the International Rescue Committee and its partner organisation in Libya, Y-PEER, held an event bringing young people and local officials together to discuss the importance of bringing peace to Libya. Our Communications Manager, Jehad Hassan, attended the event and shares his reflections below.
PLAY For Peace project
"For more than a decade now, there has been conflict in Libya. Coming from Bani Walid, one of the cities particularly affected by the crisis, I can say from experience that the displacement, killing, and destruction have created deep divisions within our communities and country.  
"For many years I have wondered how we will heal these divisions, and I have always believed that young people will need to play a strong role if we are to be successful.
 "Surely, if youth from different places could just meet and get to know each other, then the extraordinary energy they have could be what Libya needs to create a future where security, stability, and prosperity finally prevail. Yet, if youth are the future of the nation, why is it that nobody listens to them? 
International Youth Day
"On International Youth Day, 12 August 2021, I was very fortunate to visit the International Rescue Committee's (IRC) youth focused activities in the city of Misrata and my home city of Bani Walid. In these two cities, as well as neighboring Tawergha, the IRC are implementing a powerful project that seeks to support peacebuilding efforts, and the role of youth in these efforts, in Libya, a country that is exhausted by years of war and chaos, and where we have all unfortunately for too long witnessed the spread of violence instead of love and peace. 
"The Promoting Leadership and Activism of Youth for Peace (PLAY For Peace) project, funded by the United States Agency for International Development (USAID) and led by IRC and partner organization Y-PEER, aims to build the capacity of youth leaders so that they can actively contribute to peace and reconciliation in their communities. As part of the project, Y-PEER provides workshops that prepare and train young people who want to increase their understanding of the issues they face and acquire the technical and leadership skills needed to address them.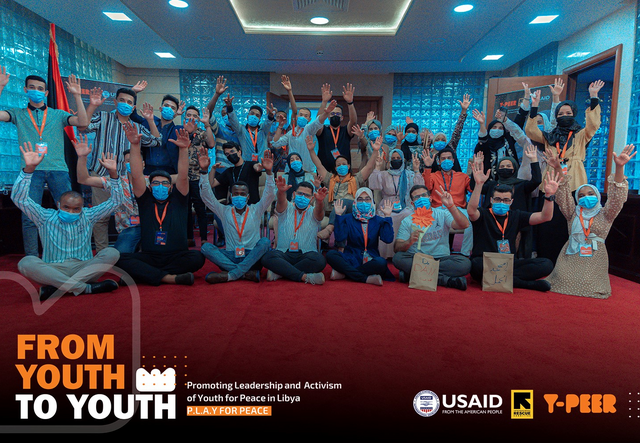 "To mark International Youth Day, youth from across Bani Walid, Misrata and Tawergha, as well as representatives from the local administrations of these three cities, came together to exchange ideas and put forward different visions about the important, active, and positive role youth can play in the peace and national reconciliation efforts.  
Stories from youth participants
"When I asked one of the youth participants, Sarah, why it is important that youth participate in their communities, she told me: 'I see that the youth are the ones who will lead the country in the future. They are the rising generation. Indeed, sometimes our voice is not heard, but we're trying to change that. If young people had no civil participation other than their participation in wars, they would not have a voice or a role in rebuilding the country. Ensuring the success of the peace project in the first place lies in placing trust in the youth.' 
"Sarah was not alone, I heard strong views and ideas from many other youth on how to bring about societal peace, ensure national reconciliation, and combat destructive hate-speech that leads to violence and extremism. With everyone I spoke to I sensed the spirit of initiative, ambition, and a desire to work to improve their communities, clean up their cities, and to rid Libya of the effects of environmental pollution and remnants of war.  
"Likewise, the officials present from the local municipalities all spoke of their belief in the pioneering role that youth should play. The youth and local officials alike highlighted the importance of engaging youth in local administrative responsibilities, civil society, and politics particularly through participation in the upcoming parliamentary and presidential elections. 
"As I reflect back on the day, I am even more certain of the need for Libya's youth, who constitute 60% of the population, to play an important and pioneering role in the nation's search for peace.  
I am even more certain of the need for Libya's youth, who constitute 60% of the population, to play an important and pioneering role in the nation's search for peace.  
"My time in Bani Walid and Misrata has increased my understanding of the role that young people can play in shaping society, and I truly believe that if we can succeed in empowering the youth in these three cities, then there is no reason we cannot do the same for the whole of the country."  
Promoting Leadership & Activism of Youth (Play) for Peace
The USAID funded Promoting Leadership & Activism of Youth (Play) for Peace project aims to increase youth participation in Libyan reconciliation efforts by providing engaged youth with safe spaces for dialogue and skills development, and greater opportunities for engagement with their communities and local decision makers. The two-year project will benefit youth and their communities in Bani Walid, Misrata and Tawergha in western Libya, and includes training workshops, debates, public service projects, and other awareness, skills-building, and outreach activities. The program is being implemented in close partnership with Libyan NGO Y-PEER, who have created youth groups in each city.