He's just a few months old, but Baby Bello has already won many hearts—not least, those of his parents, 20-year-old Hussaini and 24-year-old Ibrahim. After a difficult pregnancy, the couple are proud to introduce their new baby to their community in Gwoza, northeast Nigeria, and to the world.
Photos by KC Nwakalor.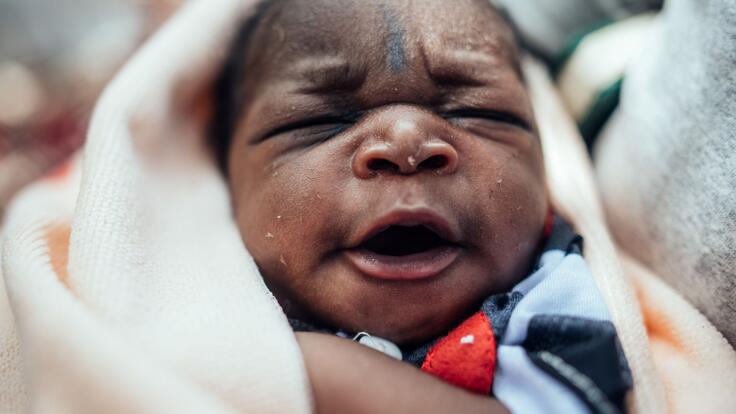 Born in September 2021, and pictured here at just seven days old, Baby Bello has brought hope and great joy not only to his parents but to their community, which has been traumatised by the ongoing conflict affecting this region of Africa.
Their road to parenthood was not easy. As Hussaini recalls, "the pregnancy gave me a lot of problems." She received antenatal care at the IRC facility in Gwoza where, during one routine visit, the medical staff diagnosed her with pregnancy-induced hypertension, or high blood pressure. The condition requires monitoring to ensure the health of both the baby and the mother. "The IRC provided me with medicines and tests", Hussaini says.
An IRC midwife, Murna, played a critical role in helping the young mother welcome her newborn. Murna helped Hussaini adjust to breastfeeding, and explained the benefits of good nutrition and the importance of child spacing.
Ibrahim was keen to support his wife while she was expecting Bello. "I provided everything I could when she was pregnant", he remembers, ""And the IRC have helped not only us but the entire community. There is nothing I can say to the IRC other than to thank them".
"He's a very kind and nice person", Hussaini says of her husband. "That is why I agreed to marry him and choose him as the father to my children".
"I see the respect she has for herself", Ibrahim says. "That is why I love her". He is confident that Hussaini will teach Bello "the ways of life—she will put him on the right track".
Bello's relatives have been happy to meet him (above) - and the little one is even named after Ibrahim's brother. "I saw how kind my elder brother is", Ibrahim says, "that is why I named [the baby] after him.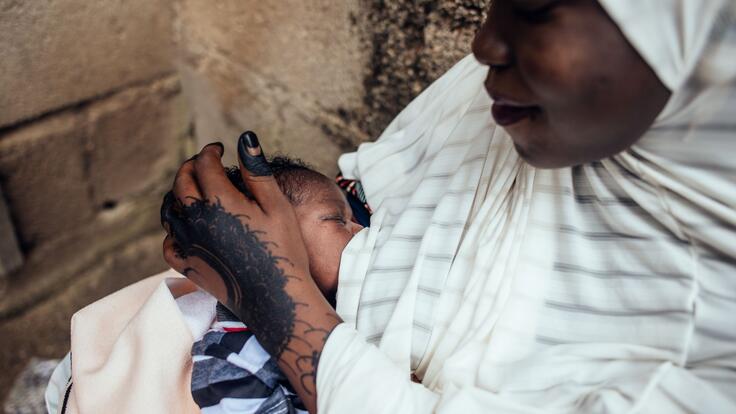 As for her role in this and other happy births, Murna describes it as a blessing. "I enjoy serving people," she says. "There's this joy that you have afterwards. They really appreciate you."
Sharing such an important moment as the birth of a baby makes Murna "feel complete".
Ibrahim says he'll be happy seeing Bello grow into a man that helps his community:
"I pray that Bello grows up into a healthy adult. I'll be proud of him, and he'll be proud of me as a father".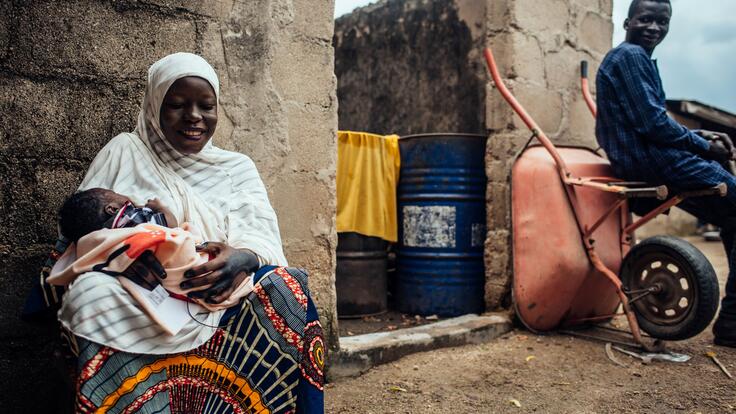 Adds Hussaini, "I hope Bello becomes a good person to help people, the community—and me, his mother."
Welcome to the world, little Bello! Here's to a bright future.
The IRC's work with the European Union
Hussaini gave birth to Baby Bello at an IRC clinic funded by the European Union in northeast Nigeria. IRC midwife Murna helped deliver the baby. The IRC provides access to reproductive health clinics, with support from the European Union, supplying midwives to help mothers through pregnancy, birth and beyond. 
This publication was produced with the financial support of the European Union. Its contents are the sole responsibility of the IRC and do not necessarily reflect the views of the European Union.