Myanmar returns to the IRC's Watchlist after the military seized power in February 2021, leading to unrest and conflict throughout the country. Here's what you need to know about the growing humanitarian crisis in Myanmar.
Escalating conflict in Myanmar since the military seized power has resulted in a violent deadlock between the military government and multiple opposition forces. While the military leadership continues to use violent tactics to quell protests, opposition groups have engaged in both peaceful protests and a campaign of assassinations and bombings. In parallel, armed conflict has re-emerged in areas that were previously relatively stable. This vicious cycle of repression and armed resistance is driving up needs, constraining humanitarian access and contributing to both the collapse of basic services and an economic crisis. Meanwhile, humanitarian actors face limited access and funding from international donors. Against this backdrop, climate-induced volatility puts Myanmar, which relies heavily on agriculture, at risk of economic hardship and food insecurity.
The economic impacts of the military taking power and COVID-19 have been enormous...

"The economic impacts of the military taking power and COVID-19 have been enormous; public services are failing, and more than 14 million people will need humanitarian assistance in 2022," says IRC country director for Myanmar Alan Moseley. "Many people continue to face severe constraints in accessing services and support."
Humanitarian risks in 2022
Political tensions will drive continued conflict, increasing needs.
Conflict and civil unrest have spread throughout the country since the military seized power, displacing nearly 285,000 people. Street protests and civil disobedience have disrupted major cities, leading to increased crackdowns by the government—over 8,000 people have been arrested and 1,100 killed according to the United Nations. As the military's rule continues to be strongly contested, the cycle of unrest and violence will persist, displacing additional people and exacerbating humanitarian needs. An estimated 14.4 million people—up from about 1 million prior to February 2021—need humanitarian assistance, and this number will rise if instability persists.
The collapse of basic services like health care will compound risks for millions.
Following the military's seizure of power, thousands of health care workers walked out in protest as part of a nationwide Civil Disobedience Movement (CDM). Physicians for Human Rights reported almost 300 attacks and threats against health workers and facilities between February and October 2021, most carried out by the military. These developments have led to a near-complete collapse of the health sector, including disruptions to medical supply lines. Meanwhile, Myanmar has one of the lowest COVID-19 vaccination rates in Southeast Asia—currently 21% are fully vaccinated—leaving people (particularly those without access to health care, for example in conflict-affected areas) vulnerable to outbreaks.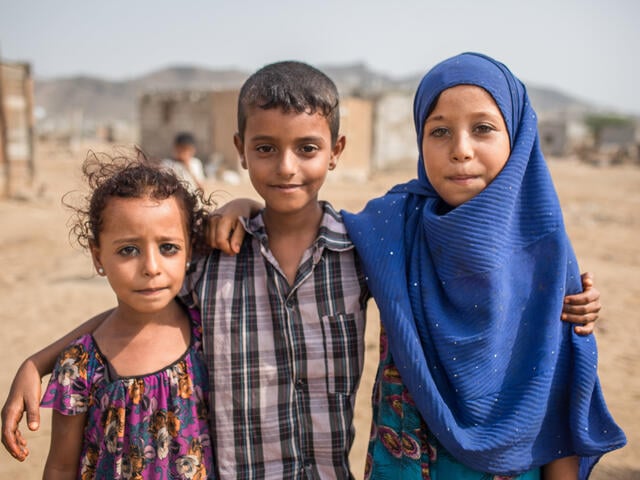 A free-falling economy plunges people further into poverty, exacerbating food insecurity for millions.
Myanmar is also experiencing a socioeconomic crisis worsened by COVID-19. The Kyat has lost more than 60% of its value since September 2021, driving up the cost of food, fuel and other essential goods. While the Central Bank has made progress in addressing the crisis, a significant reversal is unlikely, increasing the likelihood of high unemployment and spikes in poverty, particularly in agricultural areas and among garment factory workers in informal urban settlements. Agriculture contributes 38% of Myanmar's GDP, meaning any disruptions to food production and availability will increase the needs of the millions already facing food insecurity and poverty.
The international backlash to the military taking power is deepening the economic crisis, as Myanmar finds itself increasingly isolated. Myanmar's military leader was blocked from attending an October 2021 ASEAN summit over his failure to bring an end to conflict. The United States responded to the removal of the previous government by announcing new sanctions, while many foreign companies have said they will pull out of the country—moves that will further compound the economic crisis.
 Restrictions on humanitarian actors could leave tens of thousands of those in need without access to lifesaving aid.
The humanitarian community is responding to the multidimensional crisis in Myanmar, but restrictions on both aid workers and people in need are impeding access. ACAPS describes Myanmar as having extreme constraints on humanitarian access, reflecting the limitations on humanitarian responders' ability to travel to those most in need, as well as the collapse of public-service provision in areas affected by conflict.
Read more about the top 10 crises the world can't ignore in 2022, learn how the IRC selected these countries, and download the full 2022 Emergency Watchlist report for data citations and profiles of all 20 crisis countries on the IRC's list.
How the IRC helps in Myanmar
The IRC began work in Myanmar in 2008, providing humanitarian relief in response to Cyclone Nargis. Since then, we have expanded our work to support communities affected by conflict and disaster and provide services directly and in partnership with local organisations and service providers.
The IRC currently works in six states across the country to provide health care, protection, women's protection and empowerment, and water and sanitation, as well as shelter materials and other emergency relief to newly displaced populations. Learn more about the IRC's Myanmar response.
The IRC also assists refugees from Myanmar who have sought safety in countries including Bangladesh and Thailand.
How can I help in Myanmar?
Donate now to support the IRC's life-changing work in Myanmar and worldwide. We are on the frontlines providing critical aid to crisis-affected people in more than 40 countries, including places on the 2022 Emergency Watchlist.