Country facts
Population: 11 million
Refugee population in Greece: 62,000+ (over half of them women and children)
Rank in Human Development Index: 29 of 188
IRC response
Started work in Greece: July 2015
People assisted: 31,000
Greece crisis briefing
During the past two years, 1.3 million people fleeing conflict and persecution have traveled through Greece in search of safety and a better life in Europe. With the closure of the Balkan borders and the implementation of the EU-Turkey agreement in March 2016, refugees can no longer continue their journeys.
What caused the crisis in Greece?
The majority of refugees who have traveled to Greece by sea come from Syria, Afghanistan and Iraq, countries roiled by conflict. Over half of them are women and children desperate to find a safe place to live or to reunite with family members scattered by war. Having endured years of conflict and months making the dangerous journey to Europe, often in the hands of smugglers, they now find themselves stranded for the foreseeable future.
The legal path available to refugees in Greece—either asylum in the country or relocation elsewhere in Europe—is a long one: The relevant authorities don't have enough staff to process asylum claims quickly. Refugees have been forced to wait in temporary camps, with limited access to crucial information and available services. The psychological toll is immense. Many suffer not only from the trauma of witnessing the death of loved ones, but also the profound sense of powerlessness of a refugee's life in limbo.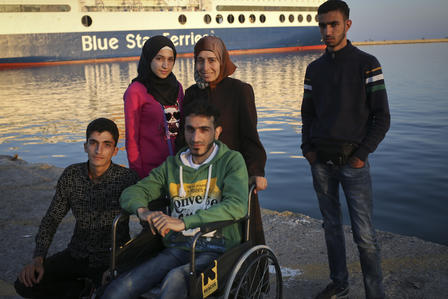 What are the main humanitarian challenges in Greece?
Refugees have been traumatized by the conflicts they seek to escape. In Greece, they endure the added stress of uncertainty and constant waiting. They need mental-health counseling and other psychological support. 
Refugees also need reliable information about their prospects and available asylum services. Women, many traveling alone with children, need protection from sexual violence and trafficking. Children need places to learn, play and heal from trauma. Unaccompanied children, many waiting  to reunite with family already in other countries in Europe, fall victim to exploitation.
How does the IRC help in Greece?
The IRC provides refugees in Greece with credible, up-to-date information about available services, legal rights, options for asylum, relocation and family reunification. One way we do this is through Refugee.Info, a mobile-phone friendly website available in Arabic, Farsi and English that reaches over 20,000 people per month.
The IRC also works to ensure that refugees have access to counseling services and theurapeutic and recreational activities. We have provided tailored and one-on-one support services to nearly 3,000 people living with illness, disability or trauma, or who are unable to protect themselves against exploitation and other harm. 
Each day, an average of 270 children visit IRC-run safe learning and healing spaces at five refugee sites (Alexandria, Veria, Eleonas and Skaramagkas on the Greek mainland, and Kara Tepe on the island of Lesbos) where they draw, sing, play games…and heal.
The IRC, working in partnership with the Greek humanitarian agency Metadrasi, also provides shelter, protection and foster care to unaccompanied children hoping to reunite with family in other European countries.
The IRC also runs women's safe spaces at six refugee sites (Alexandria, Diavata, Veria, Eleonas, Skaramagkas and Kara Tepe), providing a place for respite and recovery for more than 170 women daily.
Environmental health
The IRC responds in three refugee camps in northern Greece and Kara Tepe on Lesbos to ensure that people have what they need to stay healthy and live in dignity. We provide access to drinking water, toilets, hot showers, laundry facilities and basic hygiene supplies like soap, shampoo and toothpaste. We also teach handwashing techniques that can help prevent the spread of disease, and ensure that trash and recyclable items are regularly collected.
Economic recovery and development
Refugees leave almost everything behind when they flee, and their savings are depleted by the time the reach Greece. The IRC provides monthly emergency cash relief in the form of prepaid debit cards to help them purchase the items they need most from local shop owners. This enables refugees to regain some financial resilience and autonomy in their lives, and also contributes to the local economy.
What still needs to be done?
As more and more refugees are relocated from camps to Greece's towns and cities, the IRC is adapting our response, making sure that they can meet their basic needs, are protected from exploitation and violence, and can build a better future for their families. We will also work with local partners to ensure that refugees are integrated into their new communities.
17,690
people with aid packages that include soap, toothpaste and other items to help them stay healthy and comfortable in crowded refugee sites.
The ongoing violence in Syria and other countries in crisis has pushed over 1 million desperate people to seek safety and a new start in Europe.
Learn how the IRC helps.
1,400
vulnerable refugees, including women survivors of violence and children suffering emotional distress, with one-to-one support.
Each year, millions of people—particularly women and children—are subject to violence and abuse, and struggle to feel safe in their homes and communities.
Learn how the IRC helps.
8
safe spaces providing tailored support and activities for vulnerable women and children.
Fifteen-year-old Shaimah, from Syria, has found a special place where she can heal from the pain of war with help from her teachers and friends.
Read Shaimah's story.