Country facts
Total population: 94 million
Refugees: Nearly 740,000
Rank in Human Development Index: 174 of 188
IRC response
Started work in Ethiopia: 2000
Ethiopia crisis briefing
Ethiopia, located in the Horn of Africa, is still coping with the effects of its worst drought in decades. Today some 5.6 million Ethiopians are in need of food and aid as a new drought takes hold of the region. The IRC delivers clean water and sanitation, essential supplies, and other emergency assistance to vulnerable Ethiopians while supporting government-provided health services.
What caused the crisis in Ethiopia?
Ethiopia has suffered from drought for decades, but 2016 saw the worst in 50 years, affecting more than 10 million people. Many were forced to walk more than 12 hours in a desperate search for water.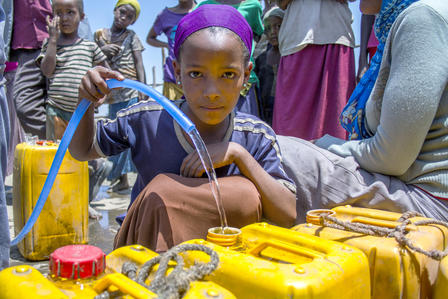 What are the main humanitarian challenges in Ethiopia?
While the Ethiopian government is leading the ongoing drought response, more support is needed to reach millions of people in need of food and emergency assistance.
As drought intensifies across East Africa in 2017, below-average rains have left 5.6 million people in Ethiopia in need of food aid while over 9 million lack access to safe drinking water. More than 300,000 children are expected to need treatment for severe acute malnutrition as the crisis continues.
Children often miss school in order to search for water. Women and girls, in particular, are in need of clean and accessible health centers and protection from abuse and exploitation.
How does the IRC help in Ethiopia?
The IRC's mission is to help people whose lives and livelihoods are shattered by conflict and disaster to survive, recover and gain control of their future.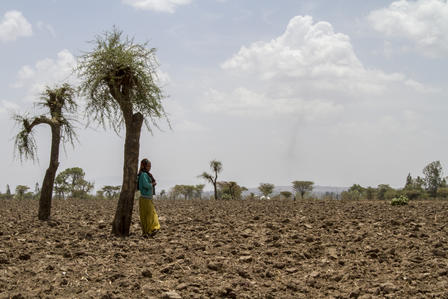 We first began assisting people in Ethiopia in 2000, providing essential aid to over 100,000 refugees from neighboring countries and more than 500,000 Ethiopians affected by previous droughts. Since then, the IRC has expanded to provide a wide range of assistance for refugees living in camps and for vulnerable Ethiopian communities throughout the country. In 2013, the IRC opened the largest water system for any refugee camp in the world.
As Ethiopia hosts approximately 800,000 refugees and asylum seekers, and works to recover from the effects of drought and other economic shocks, the IRC is focusing our efforts in affected communities by:
building and maintaining safe water supply systems and sanitation facilities;
educating communities on good hygiene practices to prevent the spread of disease;
supporting government partners and community workers in primary health care clinics on preventing and treating common childhood illnesses and addressing family planning needs;
distributing basic emergency supplies such as household kitchen sets, blankets, and buckets and jerrycans, as well as supplies to meet the specific needs of women and girls;
constructing classrooms, training teachers and ensuring access to safe, high-quality, and responsive education services;
introducing new livelihoods-related skills and job opportunities to youth and vulnerable households.
 
What still needs to be done?
The IRC will continue to provide a wide range of emergency assistance and long-term support for vulnerable refugee and Ethiopian communities—including at-risk groups such as unaccompanied children and people with disabilities—to help them cope with and recover from crises. This includes building the capacity of local governments and nonprofit organizations as we work with these partners to increase people's access to quality health care and clean water and sanitation services; educate communities about ways to prevent disease; raise awareness of family planning and reproductive health services; and enhance the literacy, numeracy, social and emotional, and job-related skills of youth.
Download the IRC's Ethiopia strategy action plan to learn more about our program priorities through 2020.