Country facts
Population: 22.25 million
People displaced by crisis: 191,000
Rank in Human Development Index: 153 of 188
IRC response
Started work in Cameroon: 2016
People served: 96,000 in 2015
Crisis briefing
Cameroon, a country vulnerable to natural disaster and a chronic food crisis has been further destabilized by the recent influx of people displaced by Boko Haram militants in Nigeria and civil war in Central African Republic. The IRC has responded with aid and support to Cameroon's hard-hit Far North region.
What caused the current crisis in Cameroon?
Cameroon borders two countries plagued by insurgency and civil war: Nigeria and the Central African Republic.
Since 2014, the world's deadliest militant group, Boko Haram, has forced more than 65,000 Nigerians to flee to Cameroon, which has been drawn into the regional conflict. The group has attacked scores of towns and villages in the Far North: many have died from car bombings and indiscriminate killings, and 190,000 people have been displaced from their homes. In 2016, Boko Haram pledged allegiance to ISIS, which affirmed the group's aim to establish a West African caliphate.
Meanwhile, the vicious civil war in neighboring Central African Republic has forced more than 200,000 people to flee to Cameroon. CAR's transitional government is weak, allowing a variety of militant groups to prosper. The number of refugees crossing into Cameroon will likely increase in the event of renewed violence following presidential and legislative elections, scheduled for late 2016.
What are the main humanitarian challenges in Cameroon?
Humanitarian needs are enormous and growing: 1.4 million people are estimated to be food insecure in the Far North.
Government-run camps suffer from a shortage of shelter and clean water. Education has been disrupted.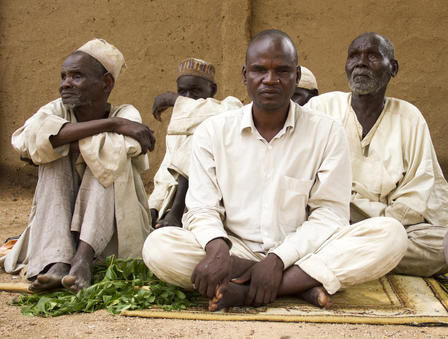 Protection issues are a concern for children who have lost parents or have been separated from their families. Armed groups are increasingly recruiting children. Women remain vulnerable to exploitation and abuse and lack the financial resources to care for their families.
How does the IRC help in Cameroon?
The IRC's mission is to help people whose lives and livelihoods are shattered by conflict and disaster to survive, recover and gain control of their future.
We began working in Cameroon in early 2016, focusing our efforts in the Far North region by:
Providing emergency cash to the most vulnerable families, up to $113 per month for three months;  
Working with the community to build and maintain safe water supply systems and sanitation facilities for 46,000 people;
Distributing emergency hygiene supplies to women and girls, and educating people on good hygiene practice to prevent disease;
Providing counseling services and support to survivors of sexual violence.