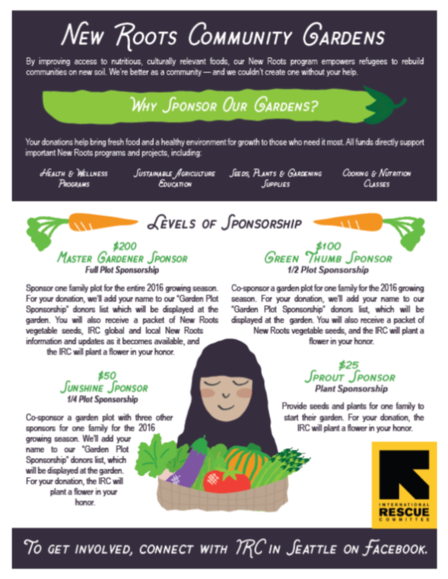 The IRC's New Roots program focuses on food access and the nutritional needs of families upon arrival in the U.S., and builds on the agricultural experience of many new refugee and immigrant families by providing access to land, materials, and education for program participants to grow healthy food. 
New Roots is about healthy families, secure communities and a more sustainable future. It's about dignity, determination and the boundless possibility of human connection. And it's about the power of people to heal and nurture positive change from the ground up. 
Through environmental education workshops, food justice programming, volunteer and community engagement, and the facilitation of leadership empowerment and peer-learning, the New Roots program in Seattle enables the sustainable development of safe, inclusive, and healthy green spaces for refugees in South King County. 
Become a New Roots Seattle Garden Plot Sponsor - email Seattle [at] Rescue.org (subject: Information%20on%20becoming%20a%20New%20Roots%20Garden%20Plot%20Sponsor) to learn more.