The IRC in Oakland is pleased to provide our local and national partners with opportunities to engage meaningfully and directly with our work. All activities can be paired with an education session that teaches participants the basics of refugee resettlement. 
New Roots Garden Day 
The IRC New Roots garden in Oakland reconnects refugees with the traditions of their home countries and provides fresh produce for their families. Spend a half or full day helping the gardeners get the most out of their plots by planting, weeding, watering, composting, and general garden maintenance, as well as improving the site further with special projects such as planting native plants, wetland restoration, murals, and more. 
Details: Up to 20 volunteers; approx. 4-6 hours 
2016-2017 Schedule: Six slots per calendar year with scheduling as requested; booking advised 6 weeks in advance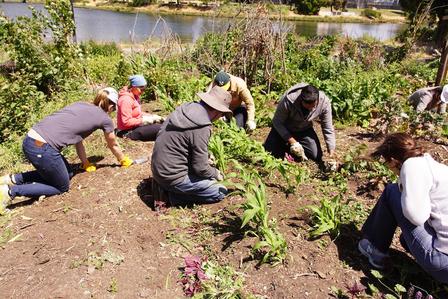 Learn & Lunch at the Garden 
For those with less time, but an interest in experiencing New Roots, join us for lunch catered by a refugee-owned local restaurant. A New Roots gardener will be on site to give tours of the garden and share their experience and staff will lead a short garden activity. 
Details: Up to 20 employees; 2-3 hours 
2016-2017 Schedule: Six Friday opportunities available per year; booking advised 4 weeks in advance 
Career Coaching 
Play a crucial role in a refugee's steps towards self-sufficiency by speaking to your expertise, conducting mock interviews and helping with cover letters. This is an important step in building their confidence as they work to secure their first job in the United Sates. Most events are held weekday mornings and it is requested that groups contribute items that will help refugees with their job search, such as pre-loaded Clipper cards or Chromebooks. 
Details: 5-10 volunteers; 2-3 hours 
2016-2017 Schedule: As requested; booking advised 6 weeks in advance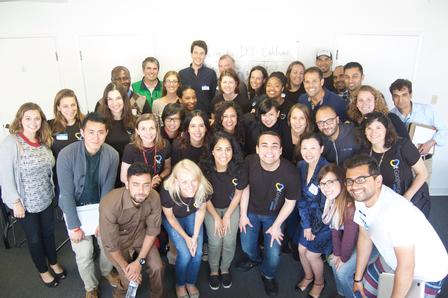 Company Visits 
Expose refugees to a new workplace environment by hosting them at your organization. Job seekers have the opportunity to learn about the industry, jobs offered by your company, and pathways to employment there. 
Details: 2-4 hours; generally 5-10 clients participate 
2016-2017 Schedule: As requested; booking advised 6 weeks in advance
The required donation amount varies depending on group size and project type. The minimum required donation begins at $1,000. Know you're interested? Please fill out this form and we will get back to you as soon as possible to discuss options. For more information on how your company can get involved, contact the IRC in Northern California's Development Manager by email, Maggie.Berkemeyer [at] Rescue.org, or by phone (510) 452-8222.
Companies We Have Worked With: