International Women's Day: "A global day celebrating the social, economic, cultural and political achievements of women. The day also marks a call to action for accelerating gender parity." – Internationalwomensday.com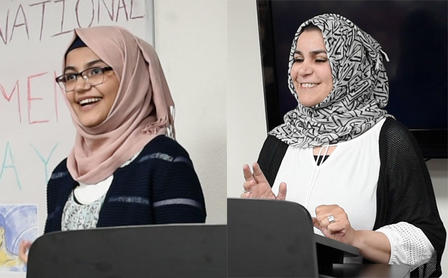 On March 8th 2017, the IRC in San Diego hosted its first official International Women's Day celebration. Refugee women and girls shared their personal journeys and future goals through poems and stories that illustrated their incredible strength and resilience. Having survived war and conflict, they are now rebuilding their lives and looking toward the future in the US.
Presenters wrote and practiced their pieces with the support of the IRC in San Diego's Women in Action and Girl's Academy programs. These two programs arose out of the need for dedicated space for women and girls to process the unique experiences and challenges they face as women in a new country and culture, and also offer opportunities for participants to engage with their new community through service projects and activities.
We have raised 31% of the funds needed to run the next sessions of Women in Action and Girls Academy - help us reach our goal >
At the event this month, community members, IRC staff, and program participants gathered to hear five poems by Mariama, Paw Lay, Nada, Muhubo and Merveille, and two short essays by Shams and Wissam, a mother and daughter who shared how they have inspired and encouraged each other throughout their journey.
"I am Hope"
I connect with my old memories of Africa and I feel invincible because of what I overcame
I overcame fear of bombs that hurt and killed innocent people
I overcame loneliness as I saw my family get torn apart
I overcame the sadness of missing my mother
I overcame adversity to stand here today
I came to America as peace
I am a student
I am woman with a big ambition
I have a dream as big as the ocean to become a doctor
I want to stop the monster diseases that swallow up people's lives
I am capable of achieving any dream I dream
I am strong like an elephant
I am kind like a mother
I am hope.
- Muhubo
Click here to read more poems.