Preethi Nampoothiri, the former deputy director at the IRC in Silver Spring, became the executive director of the IRC in Maryland on September 18th.   
Since joining the IRC Silver Spring office in 2016, Preethi has built high-quality programs for clients while maintaining a strong commitment to staff care and wellbeing. Preethi's warm personality and humor has helped her build great working relationships with staff, clients and community partners. Her ability to take tough challenges efficiently has also engendered a culture of trust and accountability in the office and the community. 
Preethi replaced Ruben Chandrasekar, executive director of the IRC in Maryland since 2015, who IRC promoted to the role of regional director.  
"I am certain Preethi's deep knowledge of our work and context, coupled with her immense leadership skills and caring personality, will help the Maryland offices navigate the numerous opportunities and challenges that lie ahead of us. She is the next generation of leadership that we need! "- Ruben Chandrasekar 
Preethi began her career as a special education middle school teacher in New York City and then pursued her interest in international education working with the IRC and other humanitarian organizations in Liberia, South Sudan, Iraq, Afghanistan, Mali, Syria, Lebanon and the Philippines. She also worked with the Brookings Institution and USAID focusing on education related issues facing refugees and internally displaced populations globally. She returned to the IRC in November of 2016 as the deputy director for the Silver Spring office and spent the past year as acting executive director.  
Preethi has an Ed.M. in International Educational Development from Teachers College at Columbia University, MS in Urban Education from Mercy College, and a BA in International Relations from Boston University.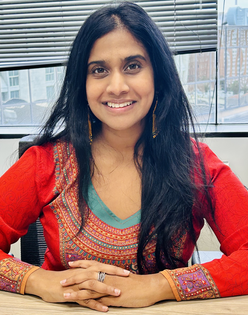 "Maryland continues to be an incredibly welcoming place for refugees and other immigrants. This has been instrumental in ensuring that the hundreds of refugees who arrive each year are equipped with the knowledge and resources needed to build their lives here.  With these tools our new neighbors are on the path to become future leaders, contribute to the local economy and become actively engaged in the community.  I am honored to lead the IRC offices in Maryland alongside some of the most generous and supportive community members to help as many individuals as possible thrive and become integral parts of our community." - Preethi Nampoothiri