On Saturday, July 25 the IRC in Miami and the Church of Jesus Christ of Latter-day Saints hosted a food and personal item donation drive benefiting survivors of human trafficking. As part of World Day Against Trafficking in Persons, the IRC in Miami invited members of the church, community partners and members of the South Florida Human Trafficking Task Force to donate essential items as the impact of the COVID-19 pandemic continues to exacerbate the economic instability of many survivors.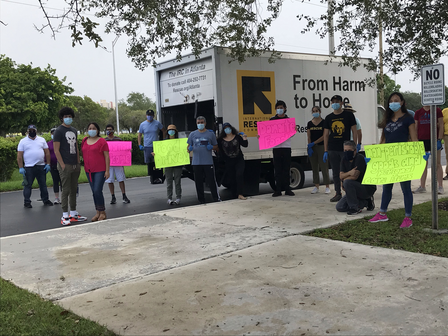 "Survivors of human trafficking are disproportionately affected by the impact of COVID-19," said South Florida Human Trafficking Task Force Coordinator, Caridad Mas-Batchelor. "Our clients are working hard to continue on their path to self-sufficiency, but for many survivors the pandemic has adversely impacted their financial, psychological and physical wellbeing, particularly due to social distancing and shelter-in-place orders. The generous donations we received from the Church of Jesus Christ of Latter-day Saints will be essential in helping us to meet the basic needs of survivors of human trafficking in South Florida as we continue to navigate this 'new normal.'"
The donation drive was hosted at a church that is part of the Church of Jesus Christ of Latter-day Saints, located in Northwest Miami. Members of its congregation volunteered and donated additional items; other members of the community also participated. 
The national body of the Church of Jesus Christ of Latter-day Saints is a long-standing supporter of the IRC's domestic and international programs. On July 23, the Church of Jesus Christ of Latter-day Saints donated over 3,000 lbs. of non-perishable food and other personal items through its Bishops' Storehouse in support of the IRC in Miami's donation drive. The storehouses are filled with commodities provided by donations from its members. Food and supplies from the Bishops' Storehouses are sent to those affected by natural disasters, wars, or economic crises at a moment's notice. Donations received by the IRC in Miami will be directly distributed to survivors via contactless delivery to ensure the safety of survivors and volunteers.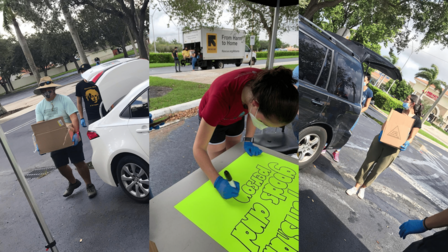 To report suspected human trafficking or to obtain resources for victims, please call 1-888-373-7888; text "BeFree" (233733); or live chat at HumanTraffickingHotline.org. The toll-free phone, SMS text lines, and online chat function are available 24 hours a day, 7 days a week, 365 days a year. Help is available in English, Spanish, Creole, or in more than 200 additional languages. The National Hotline is not managed by law enforcement, immigration or an investigative agency. Correspondence with the National Hotline is confidential and you may request assistance or report a tip anonymously. 
To learn more about the work of the IRC in Florida and for information on how you can get involved with the IRC as a donor or volunteer, please contact Development Manager, JC Torres, at Juan.Torres [at] Rescue.org or 786-325-6257. Gift cards can be sent to P.O. Box 453504 Miami, FL 33245.
Stay connected to the IRC in Florida! Like us on Facebook for announcements and upcoming events!