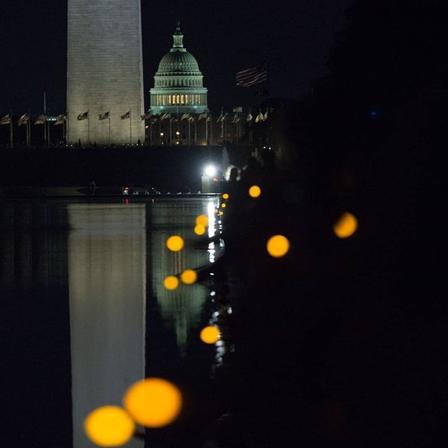 This year, the IRC in Silver Spring was proud to be a partner of the Sunset Run for Refugees. This special event took place on World Refugee Day, Thursday, June 20 and brought together runners, walkers, and the greater community of the D.C., Maryland, and Virginia areas to celebrate refugees. This free 5k run, or 2 mile walk, brought out over a thousand people despite the rain.
The event began at the George Washington University Elliott School of International Affairs and culminated with a candlelight vigil at the Lincoln Memorial Reflecting Pool. The Lincoln Memorial Reflecting Pool was an appropriate setting for the conclusion of the event as it has been center stage for some of the greatest assemblies of humankind, gathering the name of love and humanity. With candles in hand, attendees formed a caravan of light and hope in support of refugees around the world as the sun set on our Nation's Capital. We were fortunate that as the sun set, the rain cleared, making way for a beautiful sunset on this important day.
What is World Refugee Day?
Established by Resolution of the United Nations General Assembly in 2000 and occurring each year on June 20th, World Refugee Day is an international observance intended to call attention to the plight of refugees and individuals displaced from their homes due to war, violence, and persecution. The first World Refugee Day was observed in 2001, coinciding with the 50-year anniversary of the 1951 Convention relating to the Status of Refugees.  Each year on June 20th, there are numerous events around the globe designed to raise awareness of the tremendous struggles refugees face and urge action toward resolution.
We would like to thank Sunset Run for Refugees and DC Runs for their support.