By Aden MacMillan; International Rescue Committee Journalism Intern
The IRC in Los Angeles is excited to welcome a new team member to the office.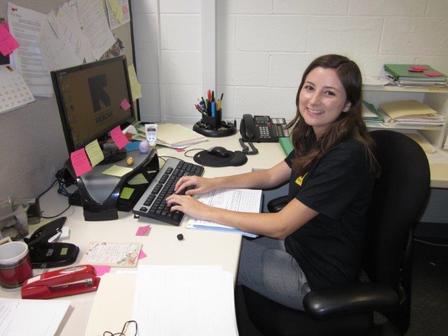 A recent UCLA graduate, Alex Ray is the IRC Los Angeles's newest caseworker. 
At UCLA, Alex majored in international development and minored in Arabic. She was also an involved member of Model United Nations, a simulation program that allows students to act as diplomats and engage in real world international issues and disputes. 
Alex spent one semester studying abroad in Jordan, where she had the opportunity to work with many refugees. These encounters served a major role in inspiring her to make a career out of helping refugees find and build better lives away from the ones they were forced to leave behind. 
She learned about the IRC while she was studying abroad, and decided that the IRC's work was the perfect fit for the hands-on assistance that she wanted to provide refugees. 
"I get to see the effects of my work from working directly with refugees, and I also get to be a welcoming face and place for them," said Alex. 
Though she is just getting accustomed to a new office and work environment, Ray is already looking forward to being assigned a refugee family to work with. 
"I just can't wait until I have a first family that I can work with and really see them integrate into the community here and feel safe and prosper."