It's still dark outside, but Zain Younus quickly rolls out of bed. He jolts his two older brothers and sister awake, urging them to get ready or they'll be late. The slender 13 year old brushes his teeth, buttons up a clean, pressed shirt and pulls on a pair of fitted jeans before rushing out the door to catch the Q subway train around the corner from his home in Sheepshead Bay, Brooklyn.
Zain's excited but anxious as he fidgets with the glasses covering his luminous brown eyes. He's on his way to the first day of summer classes that will help him get ready for the start of the school year in the fall.
Originally from Karachi in southern Pakistan, a populous city prone to violence, Zain and his siblings were forced to stay indoors, unable to go to school for more than a year.
"In Pakistan, our life was fearful," says Enosh, 20, the eldest brother. "Every day, there's a bomb blasting. Hundreds of people are killed."
There was a point where Zain's mother, Shafqat Naz, was concerned that one day her children could very well go to school and not come home. In 2011, she sought refuge in the United States, forced to leave her children behind with their father due to financial obstacles. After four years working as a nanny in Manhattan, she had saved enough money to have her children join her.
"I wasn't scared coming here [alone]," Naz says. "But leaving behind my children scared me. As a mother, that was a very tough decision."
Now the family is together again, but when Zain stepped back into a classroom for the first time, last November, he struggled with English and lacked the confidence to communicate with other students.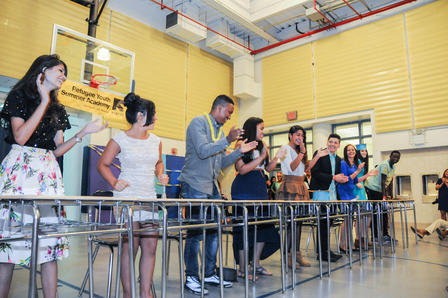 Today his classmates are other young immigrants who were just as nervous. But they all were made to feel at home at the International Rescue Committee's Refugee Youth Summer Academy (RYSA), a program to help newly arrived refugees, asylees and other immigrants prepare for public school in New York. Some of the students have fled war-torn villages while others have lived in fear as ethnic or political minorities in their home countries.
This summer, 114 students from 29 countries enrolled in the six-week program that offers classes in English, math, social studies, dance and music taught by teachers from the New York City public school system. Field trips help students find a footing in their new country. Events such as the talent show and spelling bee develop their confidence, social skills and foster friendships.
"What we're really trying to do is create a mock school and help kids understand what are the expectations that are going to be put on them in September. We don't want them to be reserved and quiet. We want them to grab this city by the shoulders and shake it for all it's worth."
— Kira O'Brien, Refugee Youth Summer Academy director
Becoming an American
For a 13-year-old, Zain has remarkable charisma. Beloved by teachers and classmates alike, it doesn't take long before he charms you with his intelligence and eloquence and effervescent energy.
When asked what it means to be American, Zain responds: "To be a good man, to help your people," he says proudly. "I tell everyone I'm American. It means I'm living here so I'm American. I don't feel like I'm coming here new, I feel like I was born here."
Zain often picks out outfits to make him look more American and enjoys American music, books and movies. He wants to be an actor like Tom Cruise. His favorite singer and dancer is Michael Jackson.
"I love Michael Jackson. I like his dance, I like his voice, I like his moonwalk. My brother would show me books about him and bring his CDs when I was little. My friends say I am like Michael Jackson."
At the RYSA talent show Zain performed "Billie Jean" with his brothers, his first time dancing in front of a large crowd. "Everyone was clapping and cheering," he recalls, as he moonwalks his way to class. "I felt really good. I felt confident."
But it was in the classroom that Zain truly blossomed, according to his English teacher, Stacey Ward. He was always the first one to raise his hand, the first to help a peer struggling with an assignment.
"I think [Zain's] going to adapt very well, as will all of his siblings, because they are not afraid of failure, they are not afraid to take chances, they are willing to put themselves out there," Ward says.
"I love learning English," Zain explains, before admitting, "My English is not good." He and his sister both attend IRC tutoring sessions every Saturday to hone their language skills. "We listen to songs to learn vocabulary. We have to guess what different things in the songs means, like stoop means step."
For 14-year-old Zarnum, a creative and bubbly teenager who loves spending her time drawing and designing fashion accessories, RYSA has given her the opportunity to improve her English and interact with other students from many different cultures.
"Every day, there's always something new to learn and I feel like I can be myself," she says. "Everyone respects you."
The Academy drew to a close on Aug. 14 with a graduation ceremony marked by student dance and drama performances. The day was filled with emotional embraces.
"I don't want to leave RYSA," says Zain, fighting to hold back tears. "I'm really sad, but thankful for my teachers and my friends. I'm going to miss it, but I will come back."