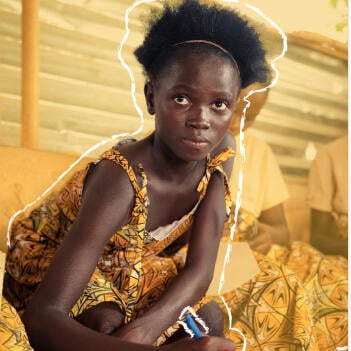 I feel so good to see myself the way I am today. The EAGER program has helped me gain knowledge and be a useful person in society. Today, not any person, especially the boys, will be able to carry me away because of my knowledge and life skills.
This timeline highlights the key stages, learnings and pivots on the EAGER journey. It shows how the project team responded to what was learned in order to deliver the most impactful programming for adolescent girls in Sierra Leone. Discover more details about all of our work in our timeline below.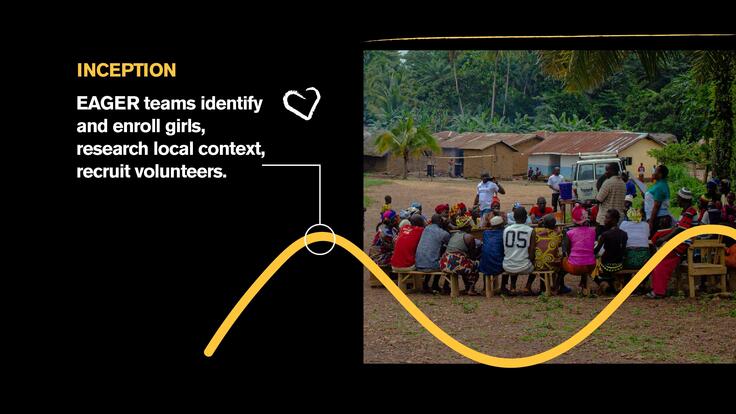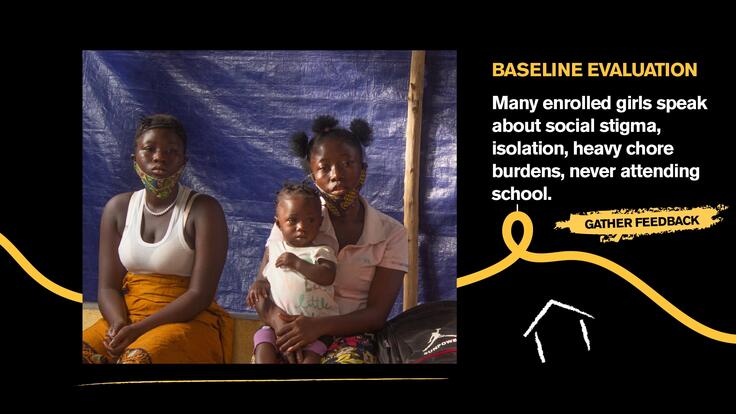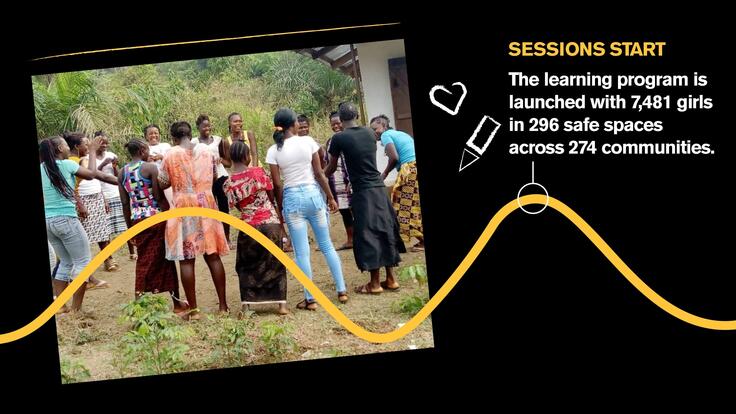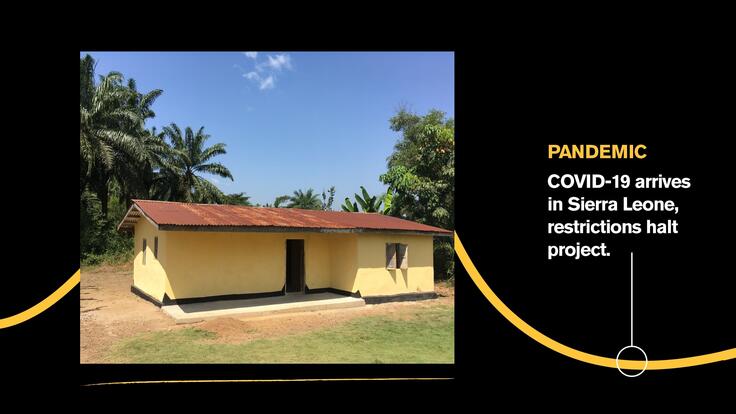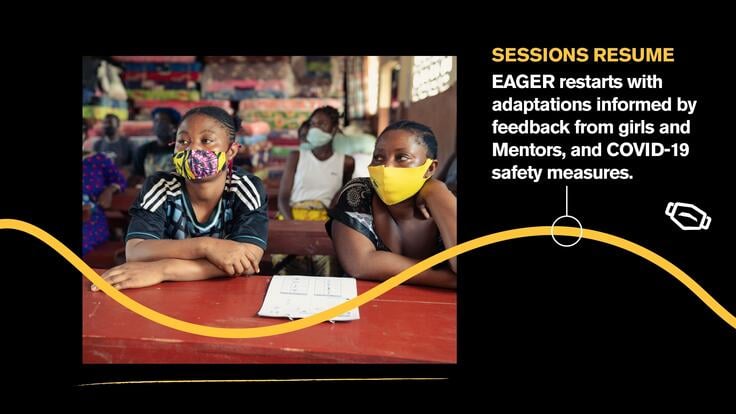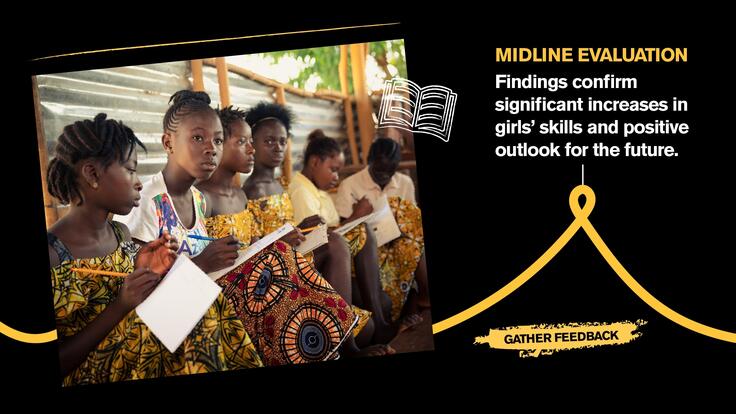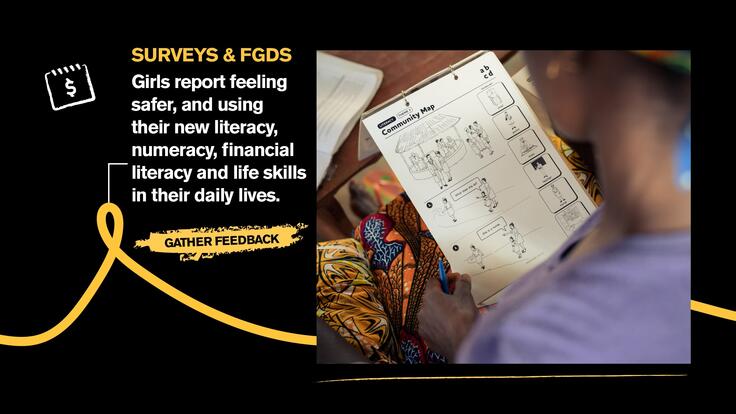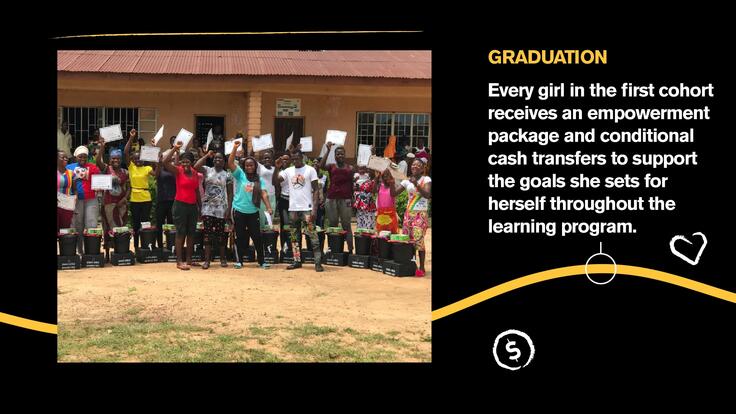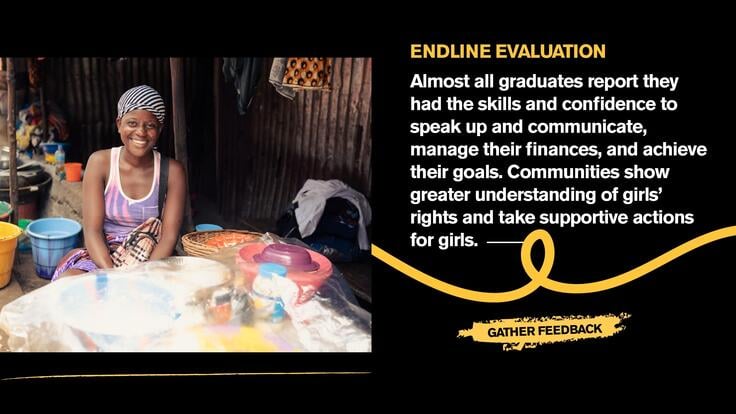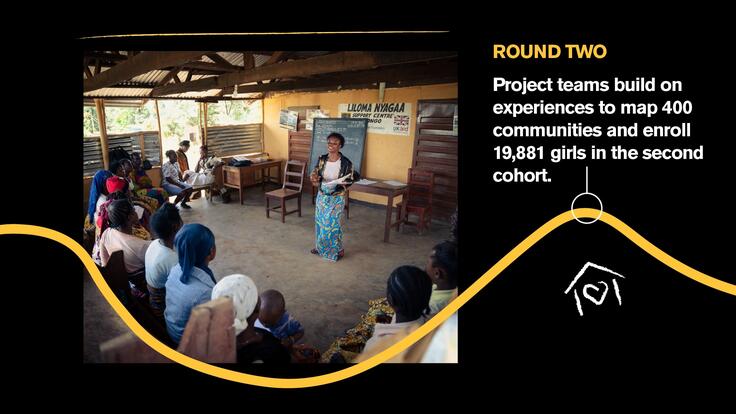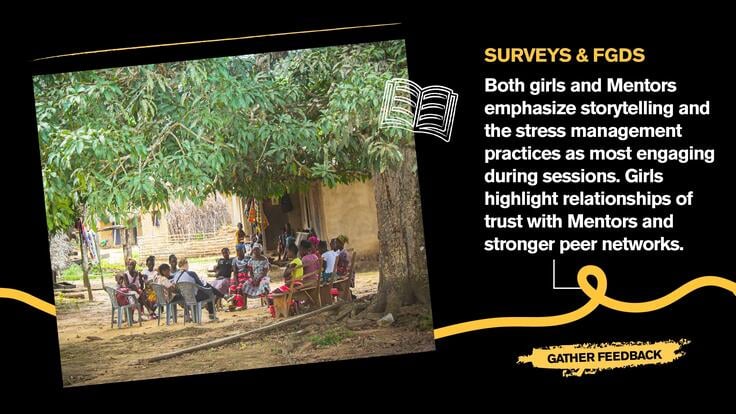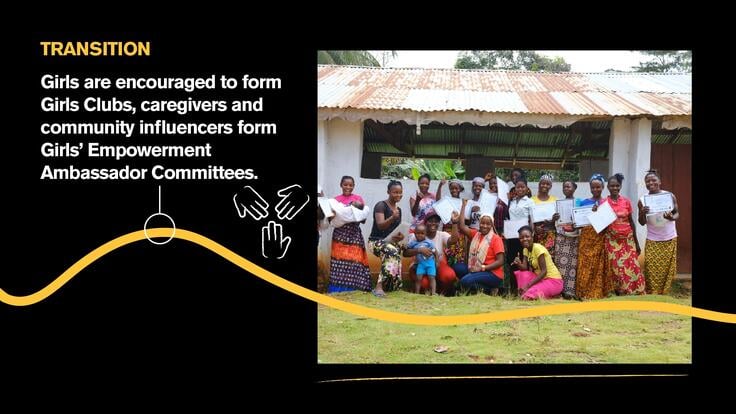 During the inception phase,

EAGER teams set out to "map" communities, volunteers and out-of-school girls

.

Aiming to leave no girl behind, the project

identified remote communities where girls have had limited access to education

. This made the recruitment of qualified community-based volunteers—particularly female Mentors—especially challenging because few women had literacy skills, let alone experience facilitating groups.

After extensive engagement,

300 communities agreed to participate in the project and provide buildings to be rehabilitated and used as safe spaces for learning

; 600 female Mentors and 300 male Facilitators were vetted and trained to lead sessions.

A curriculum including literacy, numeracy and life skills was phased in based on early findings and continual feedback.

The resulting data further illuminated the effectiveness of community-based volunteers, guided the second phase of sessions, and informed a model for professional development of the volunteers.
Sep 2019-Mar 2020 – Baseline Evaluation
An external Baseline Evaluation that included girls, volunteers and community members was initiated to

help the EAGER team better understand all stakeholders in the project

.

EAGER learned that

91% of enrolled girls had never attended school or dropped out before completing primary school

; and that 89% achieved a "non-learner" score during the assessment. Many girls faced social barriers including stigma, isolation and heavy chore burdens:

44% were married; 58% were mothers; 9% were heads of households; 15% were living with disabilities, of which 60% said they experienced anxiety or depression daily

.

The

girls said they wanted to acquire practical literacy and numeracy skills

to help them achieve greater independence, generate income and care for their families.

In response,

EAGER further tailored learning materials for both girls and volunteers

, using simple English vocabulary, short sentences and clear step-by-step instructions, and rooting content in local context.

It also placed greater emphasis on supporting girls' psychosocial well-being

across all aspects of programming.

In response to findings about the many barriers that social and gender norms create for girls at the household and community level,

EAGER began shaping a series of Community Dialogues in response with the aim of engaging key influencers with the power to lead change.
Jan-Mar 2020 – Sessions Start
Following the rehabilitation of safe spaces and training of volunteers, the EAGER learning program was launched with the first cohort of

7,481 girls in 296 safe spaces across 274 communities

.
When COVID-19 shut down schools and gatherings across Sierra Leone,

EAGER was obliged to close its safe spaces

.

While sessions were paused, the

team established a protocol to maintain safe contact with girls

. Mentors were equipped with mobile phones, and supervisors guided them on how to conduct safe house-to-house visits.

Continuous communication with girls ensured that they felt cared for and knew they were still part of the project

.

At the same time,

EAGER adapted its curricula and adjusted schedules and group size to COVID-19 restrictions

, and prioritized protecting and supporting girls in this time of crisis
Apr 2020 – Surveys and FGDs
A survey of girls and Mentors in June 2020 to understand the impact of COVID-19

informed the EAGER team that girls faced a lack of food (70%), a lack of money (67%), challenges accessing health care (48%), and increased household responsibilities (41%).

Girls faced

greater pressure to support their families despite limited work opportunities, skills and education

. They also said they experienced an increase in negative coping mechanisms, sexual exploitation, and early marriage and pregnancy;

19% of girls and 20% of Mentors reported increased levels of gender-based violence

, with early marriage most frequently cited; 82% of girls reported an increase in stress or anxiety.

In response, the

project prioritized girls' safety and protection by training Mentors on Psychological First Aid

[ja2]

and providing directories for gender-based violence response services. To get the girls back into routine as quickly as possible, the project reduced the number of sessions per week; broke up learning groups into smaller sessions for social distancing; and provided masks and equipped safe spaces with handwashing facilities and clear safety protocols.

Life-skills sessions were reorganized to prioritize sexual and reproductive health topics

so girls would have information to support their safety during this time of heightened risk.
Sep 2020-Aug 2021 – Sessions Resume
With everything in place to protect girls from COVID-19,

learning sessions resumed and eventually ramped up to full scale

—but now only three days a week instead of the initial four based on feedback from girls.

EAGER team

continued to collect data and input from girls to track their progress

, as well as to evaluate the practice of Mentors and Facilitators in order to adjust further training and support.

EAGER teams

engage community leaders in structured Community Dialogues

. As girls started their learning sessions in the safe spaces, key community members started to attend the series of Community Dialogues. A listening session was organized with the girls prior to the series to gather the girls' reflections on issues that affected them in the community. Project teams took note of these and brought them into the Community Dialogues to encourage collection action in support of girls and accountability to girls.
Mar 2021 – Midline Evaluation
The Midline Evaluation analyzed conversations with girls, volunteers and community members to

confirm significant increases in girls' skills and in their outlook for the future

: 94% of girls reported believing they could achieve important goals (compared to 79% at Baseline); 94% of girls also reported being able to express their opinions in their households (up from 85% at Baseline).

The Midline highlighted

ongoing barriers to learning, including girls' chore burdens at home and work outside the home

, and gender norms that continued to place the heaviest workload on girls.

In response, the

project expanded Community Dialogues to engage with caregivers as well as community leaders

, incorporated more conversations about gender into life-skills content, and reinforced training content for volunteers on gender and social norms.
Jun-Jul 2021 – Surveys and FGDs
A second round of surveys and FGDs in June-July 2021

enabled the EAGER team to hear directly from girls and Mentors about their experiences in the program

.

All girls reported using their new skills in their daily lives

; 93% reported sharing what they had learned in the life-skills sessions with others; 93% felt safe coming and going from safe spaces; 96% felt safe during their sessions.

It was clear that a relationship of trust had developed between girls and Mentors

, with 99% of girls reporting that they felt comfortable speaking with a Mentor, and 99% of Mentors reporting that they felt comfortable being a "safe person" for girls.

Girls reported feeling welcomed and included in sessions by both Mentors and Facilitators

, and 99% of girls reported feeling confident to ask questions when they didn't understand something.

Nearly all Mentors (99%) believed that the Community Dialogues would bring positive change.

The survey results prompted the EAGER team to expand the dialogues still further to reach more people and continue working toward increased safety and opportunities for girls over the long-term.
Aug-Nov 2021 – Graduation and Transition
After a period of nearly two years (due to COVID-19),

7,278 girls graduated from EAGER

. Every girl was coached to develop her own Empowerment Plan outlining the household and community goals she planned to work on during the transition period.

Every girl received an Empowerment Package with a few key items and conditional cash transfer to support her financial goal

. The project developed tailored guidelines for safe cash and in-kind distributions to support these activities in a way that would keep girls safe and supported by their families and communities.

During the eight-month transition, Mentors checked in with girls twice to record their progress and offer support

, and they were encouraged to follow up with girls informally as well. During the first check-in, 98% of girls reported feeling safe with their cash and 98% felt empowered. (In fact, 92% had spent most of their cash as they were encouraged to buy their planned items right away).

Six months after receiving their cash and Empowerment Package, most girls had either taken three steps toward their goals or reported reaching their goals (75.31% and 79.77%, respectively).

The EAGER team used this data to further refine their approach for the second cohort:

increasing the amount of the cash transfer and simplifying the Empowerment Plan. During this time, the team built on all learnings to map new communities and girls for the second cohort.
Jan 2022 – Endline Evaluation
The

Endline Evaluation explored the project's impact through conversations with girls, volunteers and community members midway through the first cohort

. Findings confirmed significant increases in girls' skills and in their outlook for the future: 94% of girls reported believing they can achieve important goals (compared to 79% at Baseline); 94% of girls also reported being able to express their opinions in their households (up from 85% at Baseline).

At Endline, 77.5% of girls were saving money (compared to 31.5% at Baseline).

A much higher proportion of girls (85.7%) were working in one or more sectors (as compared to 39% at Baseline),

while the proportion of girls who were neither working nor attending school drastically deceased (from 59.6% at Baseline to 9% at Endline).

Key barriers to girls' success continued to be girls' ongoing chore burdens

at home and work outside the home, with gender norms continuing to place the heaviest workload on girls.

Key learnings were incorporated into materials shared with Sierra Leone government ministries and other actors

working in the areas of girls' education and empowerment.
Jan 2022 – Cohort 2 Begins
Project teams built on their experiences and learnings to

map 400 communities and enroll 19,881 girls for the second cohort

.

The

curriculum was streamlined

and integrated into an 8-month timeframe.

Project staff supported Mentors and Facilitators

with trainings, coaching and ongoing supervision.

Tracking their facilitation enabled the project to pinpoint areas for growth and foster best practices through coaching

, such as increased support for girls with disabilities.

The

Community Dialogues were scaled up to two groups:

one for community leaders and influencers, and one for caregivers of EAGER girls.
Jul-Aug 2022 – Final Surveys & FGDs
Toward the end of the learning program,

the project carried out surveys and FGDs with girls, Mentors and community members

, complementing ongoing monitoring and feedback.

The project was able to

better understand the effectiveness of the curriculum by hearing directly from the girls about how they used their new skills

. A total of 99.5% of girls reported using their literacy and numeracy skills daily; 55% noted their new knowledge of menstruation and body changes; 48% cited assertive communication; 39% specified sex and pregnancy education (with 93% of this group reporting that their learning fostered important conversations with others).

Both

girls and Mentors felt that storytelling and stress management practices were effective teaching techniques

, and reported improvements in their emotional well-being.

Girls' understanding of the content and their confidence in engaging or asking for support during learning sessions significantly increased

from the previous cohort, pointing to improved quality and inclusive facilitation practices.  

The surveys and focus groups also explored changes in attitudes:

local leaders said they better understood how the role of girls in their communities could be expanded to reduce barriers to education

; they reported a newfound commitment to reducing the household workload of girls in order to give them more time for their studies; and they emphasized that they now understood the connection between girls' individual development and that of the entire community.
Aug-Nov 2022 – Graduation & Transition for Cohort 2
19,841 girls graduated and developed their own Empowerment Plans

, setting goals for their future and key steps to achieve them.

Building on learnings from Cohort 1,

each graduate received an Empowerment Package and cash transfer of a slightly increased amount.

Mentors checked in with each girl a month after they received their cash transfer to assess progress and any need for support.

At the time of the check-in,

99.8% of the girls reported feeling confident that they could reach their goals within the 1 year timeframe

, which was supported by the high rates of girls having completed either two (34%) or three (37%) steps toward their goals.

Graduates were encouraged to form Girls Clubs to nurture the friendships

they built during the learning sessions, aided by feedback collected during the first round of Clubs.

381 communities completed the series of Community Dialogues and created Community Action Plans.

To keep up momentum,

the project encouraged the creation of Girls' Empowerment Ambassador Committees

to ensure there would be a continued focus on the needs of adolescent girls.
This project met the girls "where they were" and led them on an eight-month learning journey to build foundational literacy, numeracy, financial acumen and life skills. After graduation, each girl began an eight-month transition period guided by an Empowerment Plan that she created for herself with her own learning, household, community and financial goals.
99.5%
use new skills. Findings confirm significant increases in girls' literacy and numeracy skills, and noted girls value their new knowledge of life skills as well.
Upon graduation from EAGER, 94% of girls reported being able to express their opinions, and 77.5% reported saving money. A much higher proportion of girls said they were working by the end of the learning sessions compared to the start (85.7% to 39%).
99.8%
report feeling confident that they can reach their goals, and that they could ask questions when they don't understand something.
EAGER graduates develop their own Empowerment Plan, where they set goals for their future and key steps to achieve them in the coming year. Mentors check on the girls to assess progress and any need for further support.
90.3%
feel they can play an active role in their community.
EAGER encouraged the creation of Girls' Empowerment Ambassador Committees to ensure continued community focus on the needs of adolescent girls; 300 communities agreed to participate and provide buildings to be rehabilitated as safe spaces for learning.
Even though I have never been to school, the EAGER project gave me the courage to see the power within myself that despite my age, I will be able to go to formal school.
- Mariatu, EAGER Graduate
Experts on their own futures
EAGER was built on the premise that girls are resilient, resourceful and experts on their own futures. The project has demonstrated that investing in girls' education in a way that is responsive to their needs, context and lived experiences strengthens their agency and power to shape their lives and increases the overall well-being of families and communities.