Why I support the International Rescue Committee
IRC Celebrity Ambassadors share why they are proud supporters of the IRC's work with refugee families in the world's toughest places.
Featuring Keegan-Michael Key, Sting, Morena Baccarin, Mandy Patinkin and Kathryn Grody, Zeeko Zaki, Sepideh Moafi, Piper Perabo, Noma Dumezweni, Kal Penn, Ebony Obsidian, Sam Mendes, Sarah Wayne Callies, Jay Ellis and Aisha Tyler.
Rashida Jones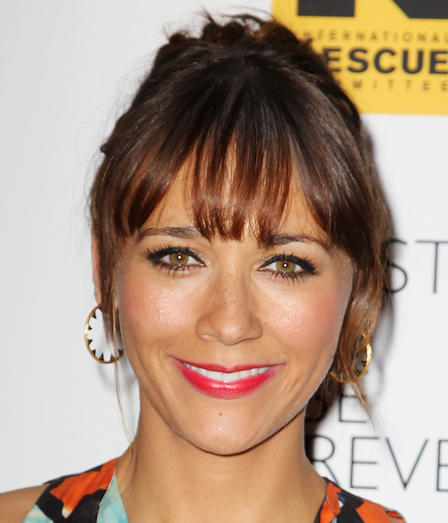 "I had seen and read about the Syrian refugee crisis, but I wanted to know more. I simply couldn't understand the entirety of the situation unless I saw for myself. And I couldn't stand my ground against all this fear and misinformation without personal experience. So I went with the International Rescue Committee to Lebanon..." —Rashida Jones
Actor, writer and producer Rashida Jones has starred in television and film productions including "Angie Tribeca," "Parks and Recreation" and "Celeste and Jesse Forever." As an IRC Voice, Rashida collaborated with the IRC on a virtual reality experience in Lebanon, where she saw how and where Syrian refugees are living. She has also traveled to Thailand to visit the Tham Hin refugee camp, where the IRC provides lifesaving health care and clean water, and visited our New Roots community gardens in San Diego and New York where resettled refugees literally plant new roots in their new communities.
Twitter: @iamrashidajones
Facebook: Rashida Jones
Instagram: @rashidajones
Mia Farrow
In her new role as an IRC Voice, actor and humanitarian Mia Farrow is calling for improvements to the global system for treating acute malnutrition. She recently visited IRC programs in South Sudan and Chad. Read more.
Mandy Patinkin
Tony and Emmy award–winning star of stage and screen Mandy Patinkin (Evita, "Homeland," The Princess Bride) recently traveled to Jordan to meet Syrian refugees. He also recently traveled Italy, to meet with asylum-seeking families and unaccompanied children, as well as see local Italian integration initiatives and businesses run by refugees and their local hosts. In November 2015, he traveled to the Greek island of Lesbos and witnessed firsthand the refugee crisis gripping Europe. Alongside International Rescue Committee aid workers, he met families who had fled Syria and other war-torn countries in hope of finding a better life for their children. Mandy was deeply moved by the mountains of lifejackets left behind by refugees who had risked their lives in flimsy boats to cross the Aegean—a symbol of the desperation and despair afflicting millions across the region. He has since revisited IRC programs in Greece and traveled with the IRC to Serbia, Germany and Uganda.
Piper Perabo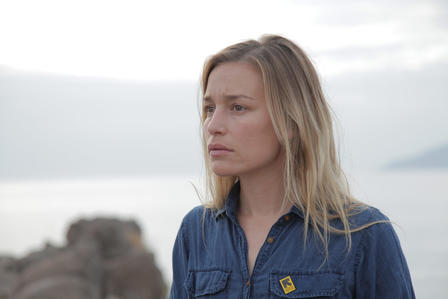 "Whether assisting refugees who have been forced to flee the Syrian conflict or guiding refugee youth through the New York public school system, the IRC impacts and transforms lives." —Piper Perabo
The Golden Globe–nominated star of USA's "Covert Affairs," Piper Perabo became an IRC Voice to help those displaced by conflict, religious persecution and political oppression around the globe. Piper has traveled to Greece with an IRC emergency team to raise awareness of the refugee crisis in Europe. In June 2019  she visited IRC programs in Arizona that assist Central American families seeking asylum at the U.S. southern border.
Lena Headey
Game of Thrones actress Lena Headey — who plays Cersei Lannister on the HBO drama — returned to Greece in March 2019 with the International Rescue Committee to meet with refugees fleeing from Syria and other war-torn countries, and to spotlight a growing mental health crisis. She has spoken out against the "dehumanizing" treatment of refugees seeking safety in Europe. With the IRC, also Lena produced a series of portraits of refugees stuck on the Greek island of Lesbos to raise awareness of the conditions faced by those living in the camps.
"These people aren't "them"—they're us. They're daughters, sons, mothers, brothers, fathers, sisters, and grandparents who just want to return to their culture and to their neighborhoods. They want their children to continue their educations. They want to continue their university studies. And they're STUCK. They're stuck. They are sad and frustrated and tired, understandably so," Lena writes in an 2016 opinion piece published by Marie Claire. 
Morena Baccarin
"The IRC has a real impact on people's lives. From programs to protect and empower women and girls around the world to programs that help refugees adjust to their new lives in the U.S., the IRC is focused on giving refugees the tools they need to thrive." —Morena Baccarin
Following her Emmy-nominated performance in Showtime's "Homeland," Morena Baccarin can be seen in Fox's hit series "Gotham." She also starred on the big screen in Marvel's smash hit Deadpool. Inspired by her mother's work as an activist for women's rights in Brazil, Morena is a strong advocate for the protection and empowerment of women and girls. As an IRC Voice, she has visited our refugee resettlement programs in Baltimore, New York and Colombia.
Andrew Zimmern
Jan. 30, 2019: Celebrity chef, television personality, restaurateur, and entrepreneur, Andrew Zimmern, named an IRC Voice
Andrew Zimmern and the IRC are working together to help raise awareness of the global refugee crisis, with a special focus on food security and nutrition.
George and Amal Clooney
"These aren't people who have left their country for no reason at all. These are people who have left because of incredible tragedy. And they are people who had real lives, normal lives, and their worlds were destroyed." —George Clooney
Academy Award–winning actor and producer George Clooney and his wife, international human-rights lawyer Amal Clooney, met with Syrian refugees who resettled in Germany. The refugees shared stories of their lives in war-ravaged Syria and the Clooneys shared their own families' histories of exile.
A decade ago, George Clooney and his father, Nick, traveled to southern Sudan and eastern Chad where they met with IRC aid workers and spoke with dozens of people who fled the brutal conflict in Sudan's Darfur region.
Sarah Wayne Callies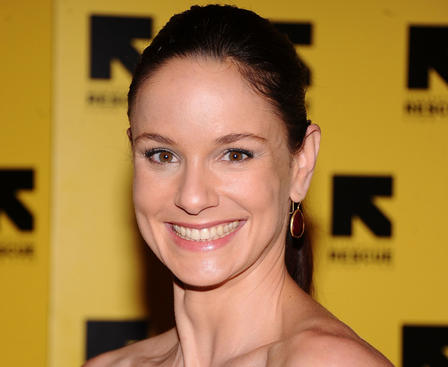 "The IRC has been doing its work quietly and modestly for a long time, and I'm proud of them, but my job as a Voice is to speak loudly so we can get more people to help. It's an honor to be a part of something like this." —Sarah Wayne Callies
Actress Sarah Wayne Callies, star of "Colony," "The Walking Dead," "Prison Break" and Warner Bros.' Into the Storm, is from a refugee family: Her grandfather fled the White Terror in Hungary in the 1920s. Today, she is a dedicated supporter of the IRC. Sarah says she is always impressed by the bravery, dedication and generosity of the people she meets during her visits to countries such as Thailand, Jordan, Iraq and Serbia.
Instagram: @sarahwaynecallies
Danielle de Niese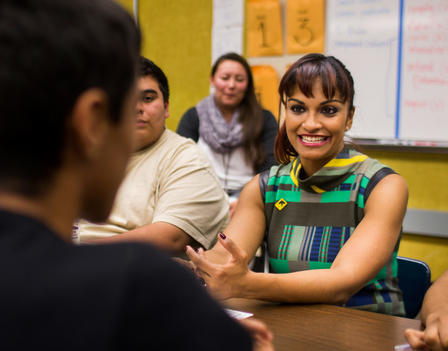 "I am honored to be able to use my voice to help raise awareness and support for some of the world's most vulnerable, the challenges they face, and their incredible resilience and determination to build a better future for themselves and for their families." —Danielle de Niese
Acclaimed opera star Danielle de Niese has been using her voice offstage to advocate for refugees and those displaced by conflict around the world. The famed soprano has traveled with the IRC to Tanzania, visiting our child-protection programs focused on ending child labor. She also visited refugees resettled in the San Francisco area, meeting with music students at the Oakland International High School.
Twitter: @Danielledeniese
Facebook: Danielle de Niese
Romola Garai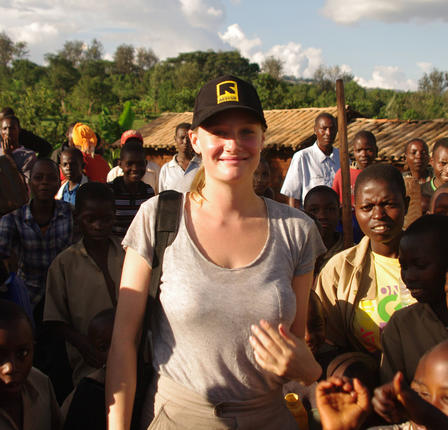 "The most important thing I learned in Burundi was how vital it is to empower people to help themselves. Gone are the days where we, the developed world, can swoop into countries and spend money on short-term "emergency relief" and believe that is enough. Long-term solutions are the real answer." —Romola Garai
English actress Romola Garai, known for her role in BBC's "The Hour" and the film Suffragette, has been an IRC Voice for several years. She has traveled to Burundi to visit IRC youth and livelihood programs focused on giving women the tools they need to start businesses in their communities.
John Legend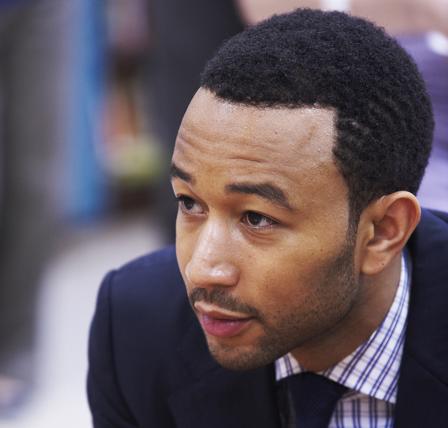 "In visiting the IRC's Refugee Summer Youth Academy, I really connected with the Leaders in Training [high school refugee students who serve as youth counselors]. It's wonderful that, after learning from the program and going on to become successful in their own schools, they choose to come back and give their summers to help other students through the same process. I find that inspiring." —John Legend
Ten-time Grammy Award–winner and Academy Award–winner John Legend is a long-time IRC supporter and IRC Voice. He believes that every child deserves a quality education and commits much of his time making sure children have the chance to thrive in school. John has visited the IRC's Refugee Youth Summer Academy in New York, a program that helps prepare refugee and immigrant children for school in the fall.
Twitter: @johnlegend
Facebook: John Legend
Instagram: @johnlegend
Joshua Redman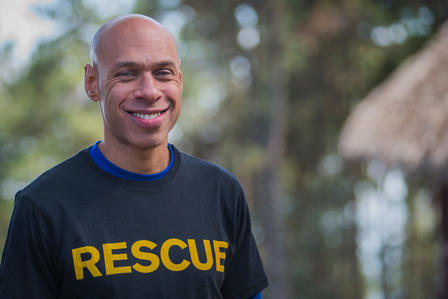 "I've been greatly impressed with the depth of the International Rescue Committee's devotion to human beings, and the breadth of its work in defense of human dignity." —Joshua Redman
Two-time Grammy-nominated jazz saxophonist and composer Joshua Redman has been a dedicated IRC Voice for many years. Josh has visited the IRC's programs in Myanmar, where we are providing vulnerable people living in remote villages with health care, clean water and other vital services and resources.
Twitter: @Joshua_Redman
Instagram: @joshuaredmanmusic
Facebook: Joshua Redman