Athens, Greece, July 1, 2016 — Game of Thrones' Lena Headey, Maisie Williams and Liam Cunningham called on EU leaders to do much more for the approximately 57,000 refugees currently stranded in Greece, during a visit to see International Rescue Committee programs in Greece. Earlier this week the three actors met with refugees who have been impacted by the EU-Turkey deal implemented in March on the island of Lesbos, and at two sites in the north where the IRC runs programs in protection and environmental health.
On the island of Lesbos, Headey met with a young Syrian woman traveling alone with three children under the age of 11.
Her husband, who has cancer, is in Germany. She has not seen him in eighteen months and, because the process to reunite with him is so slow and so drawn-out, she may wait another 5-6 months before she sees him again.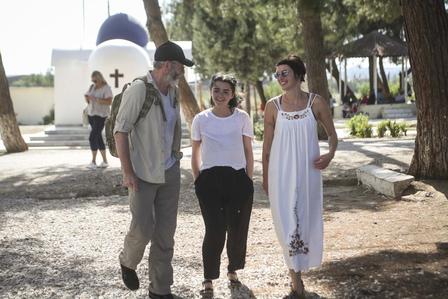 In northern Greece, at Cherso, one of the sites which has been constructed by the Greek army, Williams met a young aspiring actor, from Syria, who wants nothing more than the chance to live out her dreams in safety. Cunningham met with Afghan and Syrian fathers, who talked about their reasons for leaving their countries, the constant fear in which they lived, and what life is like for them now as they spent the hot summer months living in a refugee camp in Europe.
These smart, hardworking people want to go home. They want to return to their communities and to their neighborhoods. They want their children to continue their education. They want to continue their university and they are stuck. They're stuck. And they're unbelievably sad. Understandably. We can do better for them. We must do better for them.
 - Lena Headey
For me it is about the children…children with so much potential, so many hopes and dreams. Where is the humanity that makes it acceptable for them to languish in refugee camps – in Europe?
- Maisie Williams
This is not an earthquake, this is not a tidal wave. This is a man-made crisis. 57,000 stranded in Greece. Refugee camps in Europe? Is this truly the standard EU leaders want to set as the way to respond to the global refugee crisis?
- Liam Cunningham
Panos Navrozidis, country director, IRC Greece said: "The truth about this crisis is that there are options for the family members Lena, Maisie and Liam met in Greece. There is no reason why 57,000 people should be forced to put their lives on hold."
Photo of HBO' Game of Thrones cast members Liam Cunningham, Maisie Williams & Lena Headey visiting IRC programs at Diavata refugee site in northern Greece here.
Photo credit: Tara Todras-Whitehill/IRC.
See updates from the Game of Thrones cast in Greece in our #RealmToTheRescue: Rescue has no boundaries Storify feature.
 
About the IRC
The International Rescue Committee responds to the world's worst humanitarian crises, helping to restore health, safety, education, economic wellbeing, and power to people devastated by conflict and disaster. Founded in 1933 at the call of Albert Einstein, the IRC is at work in over 40 countries and 29 U.S. cities helping people to survive, reclaim control of their future and strengthen their communities. Learn more at www.rescue.org and follow the IRC on Twitter & Facebook.
The IRC in Greece
The IRC has been responding to the Europe refugee crisis in Greece since July 2015 and deployed their emergency response team to Greece's northern borders in March 2016. Leading the NGO coordination of water and sanitation programs the IRC played an instrumental role in completing the technical assessments and providing recommendations at the new sites in northern Greece.
The IRC is active in seven sites across Greece - Kara Tepe on the island of Lesbos, Cherso, Diavata, Giannitsa and Alexandria in northern Greece and Skaramagas, Schisto and Eleonas in Attica, the region that encompasses Athens. The focus of the IRC's response is three-fold: protection and information, environmental health, and economic recovery and development.
For more information about the IRC's work in Greece see here.
IRC advocacy briefing on Europe Refugee Crisis here.
About the IRC and HBO
Earlier this year, the International Rescue Committee (IRC) teamed up with HBO's Game of Thrones to launch the multi-platform RESCUE HAS NO BOUNDARIES campaign to bring attention to the global refugee crisis and raise emergency funds to help rescue the millions of people displaced by conflict and natural disaster.
The RESCUE HAS NO BOUNDARIES campaign, led by Emmy-winning actress Lena Headey, along with other Game of Thrones cast members (past and present), including Liam Cunningham, Maisie Williams, Nikolaj Coster-Waldau, DeObia Oparei, Sophie Turner, John Bradley, Tom Wlaschiha, Eugene Simon and Oona Chaplin, urges that the time is now to rescue refugees no matter where they are in the world.
According to the most recent UN figures, there are currently more than 65 million refugees and displaced people throughout the world, and nearly 1 million people per month are on the move due to the fallout of the Syrian civil war alone.
The IRC is currently providing support to Syrian refugees in Syria, Jordan, Lebanon, Iraq, Turkey, Serbia and Greece. Inside Syria, the organization has reached almost 2 million people with medical care, shelter, emergency supplies and cash assistance, and is also providing classrooms, child-friendly spaces and counseling services for survivors of violence.
For more information about the IRC's collaboration with HBO see here.