Cox's Bazar, Bangladesh, October 23, 2017 —  Her Majesty Queen Rania Al Abdullah called on the international community to respond "effectively, quickly, and generously" to alleviate the suffering of Myanmar's Muslim Rohingya minority, decrying global inaction in the face of "shocking escalation of violence against the Muslim Rohingya minority in Myanmar." 
Queen Rania gave remarks to the press during a visit on Monday to the Kutupalong Refugee Camp and its surrounding in the Cox's Bazar region of Bangladesh. Her Majesty spoke of the "unimaginable acts of violence," which caused over 600,000 Muslim Rohingya to flee from Myanmar's Rakhine State since August.
"With no respect or regard for the principles of humanitarian and international law, the discrimination against and the persecution of the Rohingya minority has continued unabated, in full view of the world," the Queen said in a statement she gave at the camp.
In her capacity as a board member of the International Rescue Committee (IRC) and as an advocate of the work of UN humanitarian agencies, Her Majesty toured the Kutupalong Refugee Camp, meeting with several Rohingya women and children, who recently crossed into Bangladesh from Rakhine State in Myanmar. 
"Before coming here, I had braced myself to witness some desperate conditions, but the stories I heard today were heartbreaking and harrowing,"" Her Majesty said. "Just walking around the camp today, the residents have spoken to me of unimaginable acts of violence that they have witnessed… Children have been orphaned, women brutalized, family members butchered, villages burned to the ground," she added. "This is something that is unacceptable."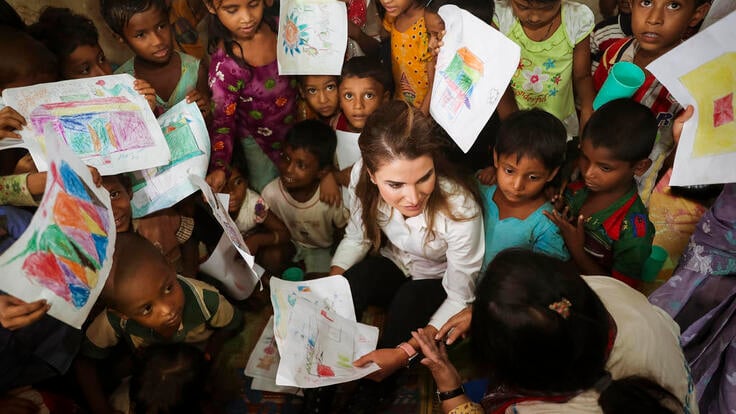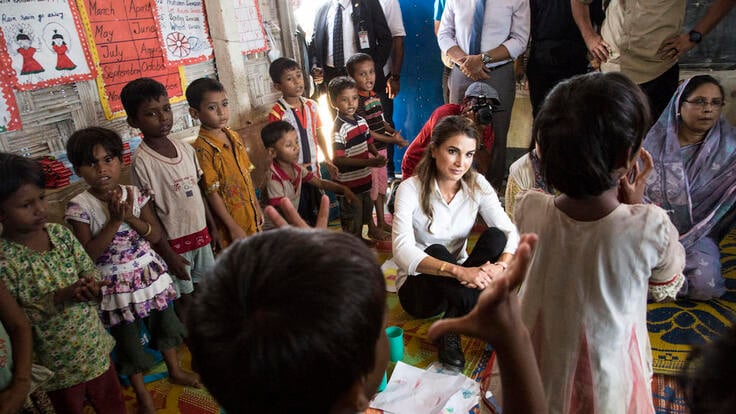 "I urge the UN and the international community to do all that they can to stop the suffering and the violence that is being committed against the Rohingya Muslims, not because it is our job to do so, but because that is what justice demands," she explained.
Queen Rania visited emergency services offered by humanitarian agencies at the camp, as well as surrounding makeshift settlements, which were recently haphazardly set up to provide additional shelter to incoming refugees. In her statement, Queen Rania stated that 95 percent of Muslim Rohingya refugees do not have access to safe water and more than three quarters lack food. 
The sheer number of new arrivals has overwhelmed pre-existing service providers, leading to significant challenges in the provision of essential lifesaving services and highlighting the need for greater concerted urgent international response.
Queen Rania's visit to Bangladesh coincides with a high level pledging conference taking place in Geneva on Monday, aiming to mobilize international resources for the Rohingya Refugee Crisis Response Plan. The plan, which calls for USD 434 million to help 1.2 million people through February 2018, is currently only 26 percent funded.
Commenting on the humanitarian situation, IRC's Asia Regional Director Sanna Johnson explained that "the IRC is scaling up in both Cox's Bazar and Rakhine State to save lives of thousands of vulnerable Rohingya men, women, and children today, and prevent a further deterioration in this conflict. With up to 300,000 more Rohingya expected to flee in coming weeks, the number of refugees will exceed 1 million – the fastest mass exodus we have seen since Rwanda." 
"In a crisis of such unprecedented scale, we need the full weight of the international community to save lives in Bangladesh and Myanmar, and take concerted action in what is undoubtedly the most urgent refugee crisis in the world," Johnson added.
For images and b-roll from Queen Rania's visit, see below:
For images, click here.
For video, click here.