October 11th marks the International Day of the Girl - a day to commemorate and celebrate the advancement of girl's rights and the empowerment of women everywhere. However, there is still much work to be done and progress to be made. This year, under the theme "My Voice, Our Equal Future", girls were asked to share their visions for a betture future and ideas for positive social change.
In honor of International Day of the Girl, the IRC in Los Angeles is excited to share with you the artwork, hopes, and dreams from girls in our Unaccompanied Children through this virtual 'art show':
B.: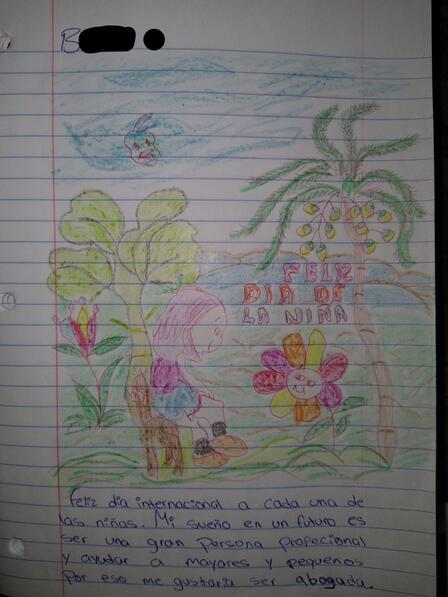 "Feliz día internacional a cada una de las niñas. Mi sueño en un futuro es ser una gran persona profesional y ayudar a mayores y pequeños. Por eso me gustaría ser abogada."
"Happy international day to every girl. My dream in the future is to be a great person professionally and to help the young and the old. That is why I would like to be a lawyer."
A: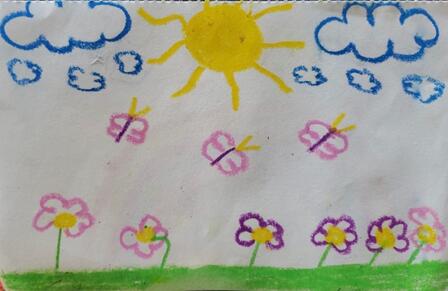 "Lo dibujé porque estaba tranquila, así que imagine que está caminando en un paisaje y habían flores y mariposas volando y que está el sol y las nubes se movían. "Lo que me gustaría ser en el futuro es tengo una lista de cosas de mis metas que es ser abogada, astronauta, doctora, policía, bombera, científica y licenciada. Y ir a la universidad de Harvard."
"I drew this because I was calm, so imagine that you are walking through scenery and there are flowers and butterflies flying, and that there is sun and that the clouds are moving. What I would like to be in the future, is that I have a list of things of my goals, which is to be a lawyer, an astronaut, a doctor, a police officer, a firefighter, a scientist and a graduate. And to go to Harvard University."
Ani.: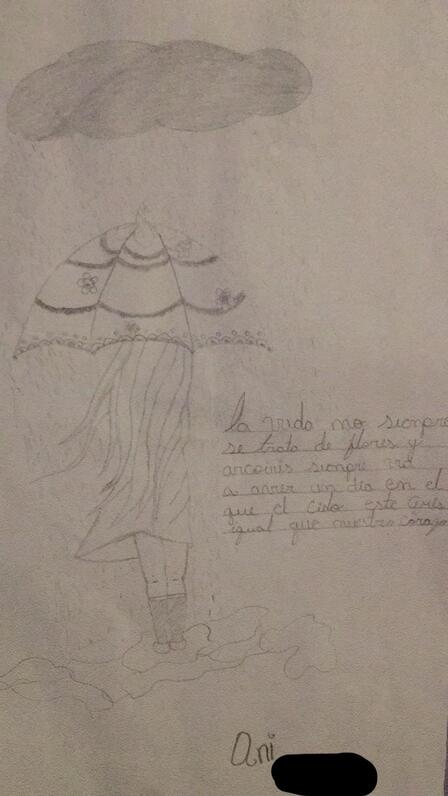 "La vida no siempre se trata de flores y arcoíris siempre, va haber un dia en el que el cielo esté gris igual que nuestro corazón. La vida no siempre es sonrisas porque pasan cosas. A pesar de todo tenemos que superarlo."
"Life is not always about flowers and rainbows, there will be a day when the sky is gray just like our hearts. Life is not always smiles because things happen. In spite of everything we must overcome this."
A: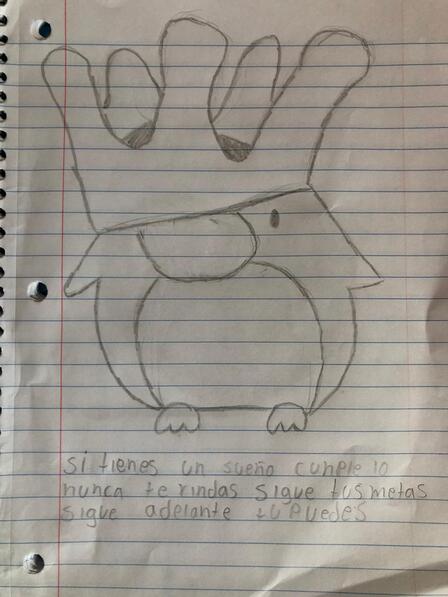 "Si tienes un sueño, cúmplelo. Nunca te rindas, sigue tus metas, sigue adelante, tu puedas."
"If you have a dream, achieve it. Never give up, follow your goals, keep going, you can do it."
Special thanks to Natalie Kobsa-Mark, Unaccomapanied Children Intern.