What is the East African Refugee Goat Project of Utah (Goat Project)?
Located just west of the Salt Lake City International Airport, the Goat Project's goat herd is moved between fields using high-intensity, low duration grazing techniques on invasive and overgrown weed patches.  Grazing is one source of revenue for the Goat Project: portions of the goat herd are rented to landowners to clear fields and manage weeds, not only ridding the land of the overgrowth, but also proactively preventing field fires.
In addition, the Goat Project sells goat meat commercially to the communities, fostering new economic opportunity by generating income for empowerment projects chosen by the refugee communities. 
Ismail Mohamed, advisory board president and Somali Bajuni community leader, recently spoke with Peter Rosen of KSL News about the Goat Project and what he sees in the project for his son and his community.  Watch the clip to see more about the work of the Goat Project!
Our Vision and Goals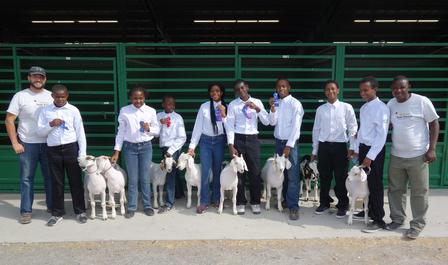 In 2016, the Goat Project worked with refugee youth to attend 4-H shows. Refugee youth gained skills relevant to future pursuits in education and careers, along with a knowledge of goat husbandry and the goat industry. By promoting team building and independent thinking, the Goat Project hopes to build a firmer foundation for refugee youth to succeed. Read more about this year's Goat Project youth who attended the Salt Lake County Fair!
Additionally, the Goat Project hopes to expand its grazing operations as the herd increases in size.  This will generate a new source of income for the project and will provide a sustainable source of weed management for local landowners.
Current Status
As of Fall 2016, the herd stands at 79 breeding does, 61 doelings, 52 wethers, and a guardian llama.  With the help of Sevier Valley Goat Ranch, we saw a very successful kidding season this past spring, with 127 goats born!  Be sure to watch for announcements in February 2017 as we recruit volunteers for next year's kidding!  It's a great opportunity for you to get a hands on experience working with the goat herd, you might even be able to help deliver a few kids!
Support the Goat Project!
How can I get involved as a volunteer?
The Goat Project can host volunteer groups throughout the year alongside individual opportunities seasonally. Contact us at VolunteerSLC [at] Rescue.org (subject: Goat%20Project%20Volunteer%20Opportunities%3F) for more information about our current Goat Project volunteer opportunities!
How can I contribute to support the work of the Goat Project?
You can support the Goat Project through monetary and in-kind donations:
Purchase items on our Amazon Wish List to support our work.
Contribute a monetary donation. After making a monetary donation, kindly contact us at

GoatProject

[at]

Rescue.org

to notify us of your generous contribution to ensure the gift is directed to the Goat Project.
How can I keep up with Goat Project activities?
Stay up to date with the Goat Project by following us on Facebook!
How can I learn more about the Goat Project?
Learn more about the Goat Project by reaching out to our staff at GoatProject [at] Rescue.org.
In the Media: