ATTENTION: The health of our volunteers, staff and all involved at the IRC in SLC is our first priority. In response to COVID-19, volunteer activities have temporarily been suspended. The Goat Project still needs support—and you can help! Your donation will go towards kidding supplies and high-quality hay. Donate to the East African Goat Project Fund today>
What is the East African Refugee Goat Project of Utah (Goat Project)?
The East African Goat Project of Utah is both a source of culturally appropriate goat meat and a place where refugees can continue cultural practices relating to goat husbandry. The Goat Project is a collaborative effort between the three community groups that started the project, the Somali Bajuni, the Somali Bantu and the Burundi communities of Salt Lake City and the IRC.  Our facilities have been located west of the Salt Lake City International Airport since 2013. The Goat Project's herd of more than two hundred goats and 3 guardian llamas, graze between fields filled with invasive weeds and salt marsh plants. All the project's goats are Boer goats, a popular breed for meat production.
Goat Project Activities
Food access
Culturally appropriate goat meat is made available affordably to members of the Somali Bantu, Somali Bajuni, and Burundi and the wider community through their service efforts at the ranch, the work of volunteers and generous community partners. Many of the community members served by the project practice Islam, which like many religions, has prescriptions on how food may be prepared and eaten. Our project allows Muslim clients to harvest their meat in a way considered halal, or permissible according to Islamic law.
Providing these communities with goat meat not only allows them to keep alive a unique aspect of their cultural heritage, but to incorporate a healthy, fresh source of meat into their diet. Sale goats not purchased by community members are sold at livestock auctions and the proceeds help fund the project.
Youth Programming
Each spring and summer the Goat Project works with refugee youth to raise meat goats for 4-H shows. Many of these youth's families have a rich heritage of goat husbandry, and Goat Club allows them to participate in that heritage as well. Youth in the Goat Club choose a young goat as their "show goat" and train their show goat to walk on a lead while caring for it throughout the season. In doing so, the youth learn about animal agriculture skills as well as the 4-H curriculum. In August, the youth show their goats at the Salt Lake County Fair, participating in market and showmanship competitions, and then sell their goat at the fair auction. Youth also gain skills relevant to future pursuits in their educations, careers, and financial literacy. Through experiential learning the program hopes to help refugee youth feel empowered, gain confidence, and learn team building and leadership skills that will help them build a foundation on which they can succeed. Read more about some of the Goat Project's 4-H youth here.
Cultural Continuity 
Many of the refugee founders of the Goat Project raised and harvested goats themselves back in Africa. The Goat Project serves as a unique opportunity for refugees to maintain their livestock rearing traditions in an urban environment where such opportunities are rare. Furthermore, the Goat Project enables intergenerational knowledge transfer about goat husbandry by bringing together youth and elders around the care of the herd. We hope to create a space where communities can continue to perform and teach their cultural practices and brighten our local landscape.
How can I get involved as a volunteer?
The ranch is always in need of people to lend a helping hand. Located far outside downtown Salt Lake City to provide the goats with plenty of room, the ranch is often difficult for community members to access. Volunteer to partner with members to drive to the ranch and work together regularly by following the link here.
One of the most exciting seasons at the ranch is kidding season each spring, where the project welcomes the newest members of the herd with the help of volunteers who assist staff around the clock to watch the expectant momma goats and the newborn kids. If you are interested in assisting with kidding season at the ranch, feel free to reach out to VolunteerSLC [at] Rescue.org. 
The Goat Project also hosts volunteer groups throughout the year who perform work service projects. Contact us at VolunteerSLC [at] Rescue.org if your group is interested in receiving more information about serving at the ranch. We are always looking for willing individuals in all sorts of capacities, from trimming hooves to building fences and play structures. We would love to have you at the ranch!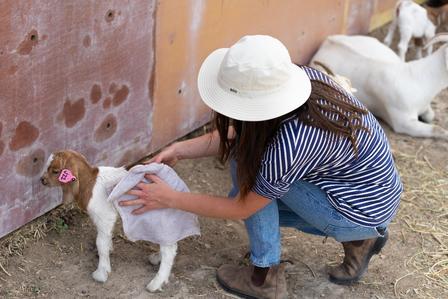 How can I contribute to support the work of the Goat Project?
Take a look at the project's Amazon Wish List, where the staff and the goats keep you updated on exactly what they need.
Contribute a monetary donation. After making a monetary donation to IRC, kindly contact us at GoatProject [at] Rescue.org to notify us of your generous contribution to ensure the gift is directed to the Goat Project.
How can I keep up with Goat Project activities?
Stay up to date with the Goat Project by following us on Facebook!
Where can I learn more about the Goat Project?
Specific inquiries can be made by reaching out to our staff at GoatProject [at] Rescue.org
Developing Projects
Additionally, the Goat Project's grazing operations generate a source of income for the project and provide a sustainable source of weed management for local landowners. This service is available on a limited basis. If you are interested in renting the goats to graze on your land, contact the project at GoatProject [at] Rescue.org.