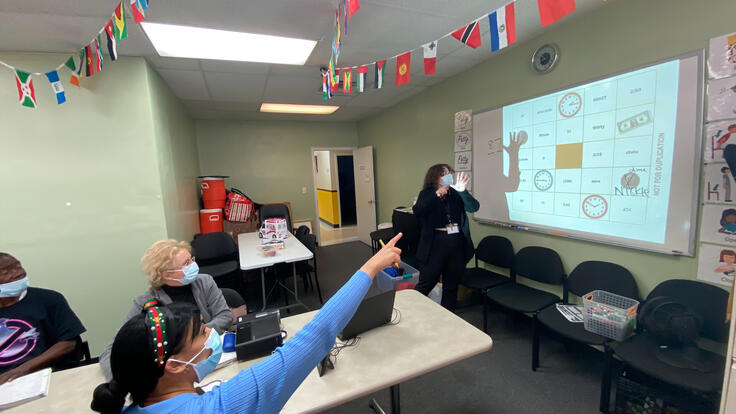 This fall, the IRC in NJ launched a series of ESL classes for adult clients. There is an average of 10 classes per session with all levels and different class schedules. Classes are two days a week, 1.5 hours per class, both in-person and online. Like family, the class came together and soon saw improvement in their confidence and openness to practice their English.   
Cohort 1 took place in August-September for eight weeks, twice a week, under a hybrid learning model. In the summer, a few in-person classes were held to support students with digital literacy. At first, open enrollment began with 3 students, but since increased to 10. Students were from Haiti, Cuba, Latin America, Ukraine, and Afghanistan.  
Cohort 2 Fall course started on October 17 and will run for 8 weeks, twice a week, until December 9.  
With the open enrollment structure, courses are very tailored and interactive. Class begins with a phonics and homework review. This review is critical for students to get comfortable with the basics. The IRC in NJ Education & Learning department aims to support students in meeting their learning goals. 

For many English Language Learners, it is very helpful to have in-person lessons. Welcome Home New Jersey has collaborated with the IRC in NJ many times. This relationship sparked the idea of running an in-person Pre-Literacy course. This essential course will take place in Jersey City to cater to the large community interested in in-person courses. The IRC in NJ will be co-teaching this course with Welcome Home New Jersey. The IRC in NJ is excited to get the ball rolling for our pre-Literacy course! 
The IRC in NJ hopes to gather more support from partners to expand in-person course offerings. The IRC in NJ is also doing outreach to higher education partners. Throughout 2022, the IRC in NJ has held over 10 classes with the support of our volunteer teachers and tutors. A special thank you goes out to all ESL teachers and volunteers whose work has tremendously supported virtual and in-person classes. The IRC in NJ is grateful! To volunteer with the Education & Learning department, click here!  
See below our offerings for Adult Education Programs at the IRC Elizabeth.
What ESL learning opportunities do we offer?
⋆English Courses at all Levels
⋆New pre-literacy course: October-December fall session: In-person with Welcome Home New Jersey & online.
⋆Weekly Conversation classes. There is also a women-only conversation class.
⋆Tutoring: Community partners RAP and 1W1L are providing tutoring services to clients.
⋆Courses on Academic English, GED, or citizenship test.