Thanks to the generous support of Florida community members, the IRC has already distributed Crisis Prevention Funds to ensure housing stability for 160 individuals across the state. These funds provide critical support to refugee families, survivors of human trafficking and other vulnerable immigrant populations and allow our clients to continue their journeys towards self-sufficiency. 
As Floridians continue to experience changes to their way of life, the entrepreneurial spirit of refugees and survivors continues to shine. Many of the IRC's clients have successfully gained employment and are adjusting to the new normal, while overcoming cultural and language barriers with help from our programs and services. Recently, four refugees – originally from the Democratic Republic of the Congo – started work at a factory that manufactures personal protective equipment (PPE) for front-line workers.  Another IRC client, 19-year-old Freddy Ntambwe, is now supporting his family—and serving the Tallahassee community—through his job at Publix. 
With grace and tenacity, refugees and survivors across the state overcoming, adjusting and thriving, just as many other Floridians have had to do. However, many of our clients continue to face housing insecurity due to the impact of COVID-19 on employment, school and childcare. We are grateful for the support the Florida Crisis Prevention Fund has received from the community. Together, we've raised $8,000 so far and you can help us reach our goal of $10,000!  
Today more than ever, we need the support of all Floridians to ensure our resilient new American neighbors can continue on their path to self-sufficiency and integration, and in turn, contribute to the communities that have welcomed them.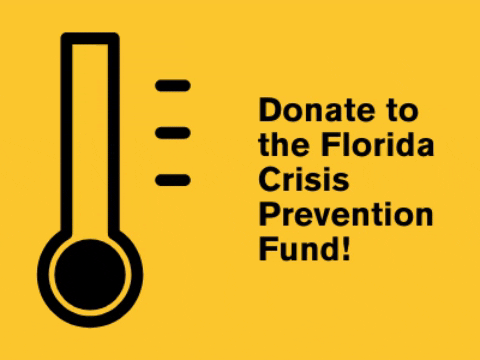 Help us reach our goal, so that we can extend a safety net for our neighbors as the coronavirus pandemic continues to impact our communities. No donation amount is too small! DONATE HERE.
To learn more about the work of the IRC in Florida and for information on how you can get involved with the IRC as a donor or volunteer, please contact Development Manager, JC Torres, at Juan.Torres [at] Rescue.org or 786-325-6257. 
Stay connected to the IRC in Florida! Like us on Facebook for announcements and upcoming events!