Originally from the Democratic Republic of Congo, IRC clients John, Beata, Furaha and Desire were recently hired by a local textile manufacturer that has switched gears to produce personal protective equipment (PPE) for local emergency services departments and front-line workers during the COVID-19 pandemic. Now in their third week on the job, these resilient new Americans are grateful for the opportunity to work and give back to the community that welcomed them.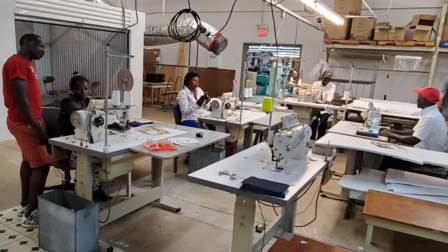 "I am so happy with this employment opportunity. Although the drive is a little far from our home, we are learning a new skill set in sewing and are appreciative for dependable income during these uncertain times. Both my husband, Desire, and I have been quickly learning how to use the company's sewing machines and feel very supported in our new positions," shared Beata.            
The IRC in Tallahassee reports that over 90% of refugees in the area have been laid off or furloughed, or their working hours have been reduced. Although assistance has been made available on local and national levels, many refugees are ineligible to receive these benefits; newcomers do not qualify for unemployment benefits or other COVID-19 employment-related benefits because they have not yet worked in the U.S. long enough.    
Our case management team is assisting clients who are eligible to file for unemployment and emergency rent and utility assistance offered by the city, and—with support from our dedicated team of interns—we are seeking job placements, assisting with job applications, updating resumes and conducting weekly follow-ups with employers.  
John, Beata, Furaha and Desire were supported by IRC intern and Tallahassee Community College student, Sean Rutten, who connected our employment team to his father – the owner of Visual Impulse, the factory where John, Beata, Furaha and Desire now work – and successfully facilitated the hiring process.  
The IRC in Tallahassee supports clients to secure employment through our Job Readiness Training. The training is structured to assist each client in not only developing English proficiency and job skills for the workplace, but also developing the soft skills required to obtain employment. These soft skills include identifying potential employers, creating resumes, performing effectively in job interviews, and completing and submitting job applications. 
While some Floridians—"old" and new alike—will need extra support to get through this crisis, some are also our helpers and heroes, working on the front lines in healthcare, manufacturing, food delivery, pharmacies and grocery stores. The IRC continues to provide critical services to our refugee clients remotely, including rental assistance made possible by the generous donations of Florida community members. You can stand with our refugee neighbors—essential front-line workers and those who have lost employment—by donating to the IRC in Florida's Crisis Prevention Fund HERE. 
To learn more about the work of the IRC in Florida and for information on how you can get involved with the IRC as a donor or volunteer, please contact Development Manager, JC Torres, at Juan.Torres [at] Rescue.orgor 786-325-6257.
Stay connected to the IRC in Florida! Like us on Facebook for announcements and upcoming events! ​