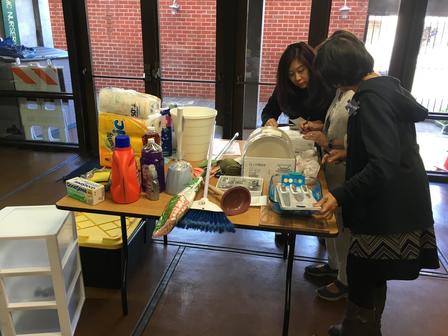 Having fled their home countries and languished in limbo for months, or even years, refugees arrive to the United States with next to nothing. Help restart their household by providing a Welcome Kit with everything a family needs. You can do this as an individual, as a family, or even rally a community group together to create many Welcome Kits! 
All items should be packaged together as much as possible in one large plastic tub (except the broom, of course!). Label the outside of the box with the number of family members the box is for, and then schedule a time with your local office to drop it off.
The number of some items varies depending on the size of the family, so be sure to reach out to your local contact before assembling the Welcome Kit(s).
Welcome Kit List Items denoted with an * must be new. All others may be gently used. Feel free to add a welcome note, local maps, or other small additions as you like, but the below list is required for each kit. 
Kitchen 
Four place settings of tableware (fork, knife, spoon)
Four place settings of dishes (plate, bowl, cup)
Pots/pans, including sauce pan, frying pan, and large cooking pot (stainless steel)
Baking Tray/ Cookie sheet
Glass dish(es)/ lasagna dish
Mixing/serving bowls
Can opener
Knife and Scissors
Cutting Board
Cleaning Supplies
Dish soap*
Bathroom/kitchen cleanser*
Sponges or cleaning rags* 
Paper towels* pack of 8 or more
Laundry detergent*
Two waste baskets
Mop*
Broom and dustpan*
Trash bags*
Toilet Brush and plunger*
Toiletries
Toilet paper*
Shampoo*
Soap*
Hand Soap*
One toothbrush per person*
Toothpaste*
Lotion*
Feminine Hygiene Products*
First Aid Supplies* (bandages, neosporin, Q-tips)
Linens & Other Household Items
Four bath towels* (30" x 54")
Two sets of queen sheets and comforter for each bed*
Two plush blankets*
Four pillows*
Alarm clock
Paper, pens and/or pencils
Light bulbs/ One lamp per room
Two Plastic 3-drawer storage bins
Local Contacts
Oakland - Kristen.Borash [at] Rescue.org (subject: Information%20on%20Oakland%20welcome%20kits) (Kristen Borash) 
Sacramento - Hannah.Messick [at] Rescue.org (subject: Information%20on%20Sacramento%20welcome%20kits) (Hannah Messick) 
San Jose - Michelle.Claros [at] Rescue.org (subject: Information%20on%20San%20Jose%20welcome%20kits) (Michelle Claros) 
Turlock - Kevin.Brooks [at] Rescue.org (subject: Information%20on%20Turlock%20welcome%20kits) (Kevin Brooks)  
Storage space is scare in all Northern California offices, so if your group is able to donate towards a storage unit, contact Maggie.Hicks [at] Rescue.org (subject: Information%20on%20Northern%20California%20welcome%20kits) (Maggie Hicks).