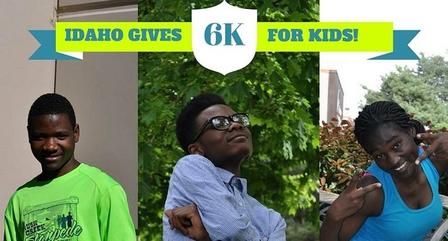 Each year in May, the state of Idaho engages in a single day of statewide donations towards non-profits in celebration of their charitable work. This year, the International Rescue Committee campaigned to raise "6K for Kids," aiming to fund a part-time Youth Services Coordinator for the summer. Thanks to the incredible generosity and activism of many Idahoans, the IRC in Boise was able to raise over $5,000, making our dream a reality to provide refugee youth with the summer they've always wished for. 
Throughout the day, the IRC Boise team and several refugee youth shared their stories or dreams for the future. Pahit, a high school senior and aspiring social worker, shared that she had wanted to join a volleyball team when she first arrived, but did not know who to ask. Baraka is a high school junior and aspiring saxophone player, and Francine a talented dancer who would love to get involved in choir and volleyball. Zombe, an industrious young man who has skills in carpentry, bike mechanics, and the installation of solar panels, desired to find a soccer team when he first arrived in the US. 
A Youth Services Coordinator will be able to help these youth connect with different clubs, teams, and organizations in Boise so that they can foster their passions and talents. Most importantly, it will help refugee youth better connect with kids and families in Idaho's community. As Zombe said, "sometimes it's difficult to make friends here in Boise, they need to really get to know you before you're friends." Thank you, Idaho, for helping refugee youth such as Zombe connect with his new community!