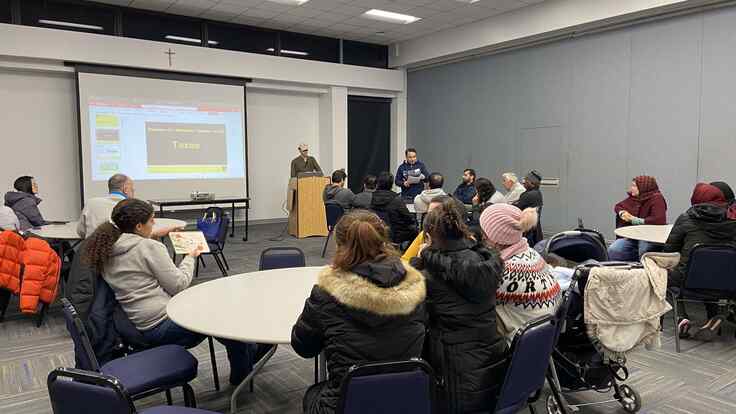 The IRC in NJ connected with a client of the Financial Capabilities program. She shares with us her experience in the program.  
She, along with her children, immigrated to the U.S. from Afghanistan with a Special Immigrant Visa (SIV) status. Despite the many challenges she has had to navigate, she expresses that it's important for her to focus on her financial wellness and to set that example for her children. Her toddler plays with the toys during the meeting as her mother discusses with the FinCap coach. Whether it is practicing her English through ESL classes or building credit, she has always sought help and knowledge when needed. The FinCap Team continues to meet her to map out two key priorities: income mobility, and financial education.  
During her intake, she had no credit score. With this in mind, she shares how she was eager to receive coaching and education sessions to strengthen her understanding of financial concepts and improving credit. The FinCap Team has also supported her in filing taxes through the Volunteer Income Tax Assistance (VITA) program during this time.  
In the past few months...
She has worked towards self-sufficiency, overcoming critical barriers explored in this FinCap 2023 Article,  such as income volatility and language. With the support of the Intensive Case Management (ICM) and the Education Department, she feels more confident speaking English and is now earning income to take care of her son who is disabled.
A big part of these efforts was mapping out a transitional budget to adjust her to the new earned income and reduced benefits. The FinCap Team also reviewed her credit report and informed her that she has improved her credit with on-time payments. She was eager to continue building credit and the FinCap Team helped her apply for the next step of the CEO's Credit-Building Ladder Loan. She shares:  
"The Financial Capabilities Teams always explain things to me, and it makes me very happy... I'm very happy you are helping me. I plan to continue to build my credit and maybe get a credit card"  
The continued support through the different services at the IRC, including the FinCap Team, over these three years has led her to where she is today. The IRC in NJ will continue to center the client's voice and needs to support the revision and expansion of FinCap programming and service delivery.