The IRC in NJ held its 7th annual Refugee Youth Summer Academy this year. The 3-week summer academy was held at Kean University, with over 100 newly arrived students in attendance.  
This year's theme was RAINBOW, "Like a rainbow, we shine together!" The main idea behind this theme is that everyone at RYSA - students, staff, and parents – have unique backgrounds, perspectives, and skills but can come together as one community to thrive. 
Colors of the Rainbow: Students and Staff 
A rainbow is made up of multiple distinctive colors and without even one of the colors it would not be recognizable. The same goes for the IRC in NJ's RYSA. Every RYSA participant brought their own value to the program and every conversation, relationship, and perspective was important to the overall outcome. 
This year 114 students attended RYSA. RYSA aims to support the newest arrivals to acclimate them to the public school system and prepare them for the school year ahead. 97% of the 114 students in attendance had either just arrived this year or had arrived in 2022! 
The student population of RYSA was very diverse this summer, with 12 different countries of origin being represented. 9 different languages were spoken, with a majority of students speaking either Spanish or Arabic. 
RYSA staff this year consisted of 4 full-time IRC staff members, 7 teachers, 8 teaching assistants, and 22 peer mentors and volunteers.  
To ensure that teachers and teaching assistants felt supported in the classrooms, peer mentors and volunteers were present to build close relationships with students and help them with the more social-emotional aspects of their RYSA experience. June Gill, a rising high school senior, was one of RYSA's peer mentors this past summer. She explains, "As a peer mentor, you're in the perfect position to build rapport with the kids by letting them see you struggle and try new things too. For example, it took me several tries to master the art of writing my name in Arabic, but my student was an amazingly encouraging teacher and we both enjoyed the process." 
This summer RYSA saw more staff than it had in previous years. Increased capacity ultimately allowed staff to be more responsive to each student's needs. Mehtap Akay, Ph.D., the Education Coordinator at RYSA observed,
"Almost all students had one staff member who looked like them, talked the same home language, and/or came from the same culture."
This representation, paired with more staff and volunteers, created a welcoming and supportive environment for students to learn, express themselves, and have fun. 
Sun and Rain: RYSA Curriculum and Activities 
A rainbow appears when the sun comes out after the rain, shining on the water droplets in the air. RYSA students often arrive with a unique set of stressors, as a result of migrating and resettling, which can impact their education. On top of this, students have to adjust to a new school system in an unfamiliar environment. The curriculum and activities at RYSA are designed to prepare newly arrived youth for the school year ahead and allow them to shine their brightest. 
RYSA Curriculum  
RYSA curriculum combines English Language Development (ELD) and Social Emotional Asset Development (SEAD) to meet its overall goal of school readiness. Mehtap explains that the curriculum follows these pedagogical strategies to better address and support students' diverse backgrounds: 
Differentiated instruction and grouping (individual work, pair work, small homogeneous and heterogenous grouping, and whole class activities) 
Culturally responsive, trauma-informed teaching 
Creating a welcoming and healing safe classroom space  
Multi-tiered support system  
To develop this curriculum, Mehtap collaborated closely with teachers and teaching assistants, offering constructive feedback on their lesson planning on a weekly basis, and providing timely and needs-based support and feedback on their curriculum and instruction. 
Field Trips and Extracurricular Activities 
Each week, students had the opportunity to go on a fun and educational field trip around the Union County area. The three field trips this year included the Liberty Science Center, Alstede Farms, and Turtleback Zoo. 
Mehtap reflects on these field trips:
"The trips not only support students' social-emotional well-being but also provided a pedagogically and age-relevant learning opportunity. Each week, teachers made sure that the week's lesson plans included the pre-vocabulary teaching and relevant activities for the upcoming field trip. This alignment between the trips and curriculum gave space for students to practice the new vocabulary and sentences they studied throughout the week, enjoy the space, and experience a sense of accomplishment by putting their learning into practice."   
Yoga and physical education classes were provided to students to focus on relieving any physical stress and staying present in their bodies. RYSA staff allowed students to opt out of anything they did not want to participate in or choose another activity instead. This was paramount to students' senses of agency. Allowing them to choose to participate increased their overall enjoyment of the activities! 
Unleashing Creativity: Art Therapy integrated into RYSA Programming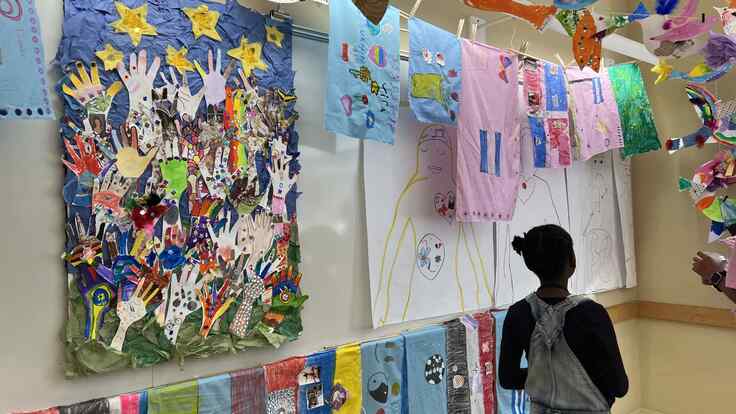 The IRC in NJ partnered with Creativity Connect, an organization whose mission is to increase the understanding of mental health through the creative arts. The art facilitators had students participate in a variety of projects related to self-expression. They facilitated both individual art piece creation as well as larger community pieces where students could contribute their individual art pieces to a larger mural, further emphasizing this year's theme. 
At the end of the summer academy, students took part in a parade to demonstrate their handmade crafts, waving their flags around the campus and celebrating their hard work! 
Pot of Gold: Successes and Highlights 
The IRC in NJ is proud to have found the pot of gold at the end of this year's RYSA Rainbow! Read below to hear some of our highlights from this summer and the importance of this wonderful program in supporting school readiness and fostering a sense of community. 
June also reflects on student highlights that she witnessed during her time as a peer mentor.  
I got to watch one of the girls run around with her 3 younger brothers each morning, playing tag to help them feel more comfortable at RYSA and easing their transition from the bus to the classroom. She never got tired and never acted like it was a chore for her.  
On the bus I chaperoned, I watched a 3rd grader let a kindergartener nap in her lap and shield the little girl's eyes from the sun coming through the window.  
A middle schooler heard that her classmate's cat had died and rushed to use Google Translate to offer her condolences.  
RYSA would not be possible without the sustained support from the Davis Foundation! Thank you for continuously supporting NJ's newest arrived youth and allowing them to learn and thrive. 
The IRC in NJ is proud of RYSA's successes this year and is looking forward to welcoming next year's students and continuing to improve and expand the program!