Thank you for your interest in contributing in-kind donations to the IRC! Community assistance with early resettlement in the form of donations is an amazing way to immediately impact the lives of newly arrived refugees, and we welcome your help.
The primary beneficiaries of IRC donated goods are refugees from all over the world who have fled their homelands after experiencing life-threatening persecution and are unable to stay or return to his or her home country.  The ability to provide a warm and welcoming home upon their arrival in the U.S. is paramount to their comfort and security. We ask that interested community members work within our capacity and requirements to ensure our resettlement efforts are comprehensive and equitable.
Donation Needs
Currently we are only able to accept household items that are new. We wish we could accept everything that is offered to us, but have extremely limited space and capacity. Please see the FAQ below for a list of other agencies that can accept gently used items.
Gift cards are our most helpful donation, as they can be delivered directly to our office and given to clients to purchase what they need. After years of being denied the freedom of choice, you are providing a welcoming gift that will also serve as a cultural experience for the refugee. We suggest gift cards to Target, Old Navy or Safeway in denominations of $25 or $50.
Please also view our Amazon Wish List to purchase items that refugees have requested directly. We are able to provide a donation receipt upon receiving the items.
The items that are greatly appreciated and can be accepted year-round include, in order of highest need: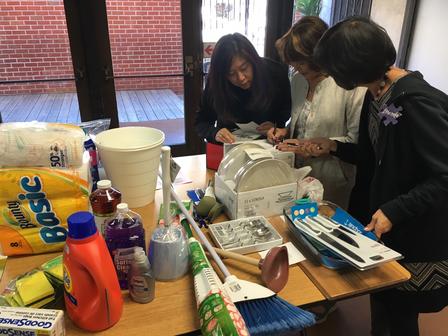 The IRC will only take items that are in NEW* condition. All items will be inspected upon drop off and we retain the right to refuse any items.
*By law, some items must be new.
Please fill out the In-Kind Donation form listing what you would like to donate to the IRC in Oakland. You should hear back within one week of submitting the form.
PLEASE NOTE:
Only approved items can be accepted by the IRC in Oakland. Our office has extremely limited storage space and we do our best to make sure we are collecting items that can be quickly distributed to clients for immediate use. In-kind donors are highly encouraged to not bring excess-items to drop-off. Extra items that are brought in for donation may be turned away due to a lack of space, lack of capacity to sort and distribute, and/or lack of immediate need by refugee families.
Prior to any donation drives, you must receive approval from the Volunteer Coordinator. Our goal is to make sure your donations are fully utilized, and to do so we must coordinate our efforts. The IRC retains the right to refuse any item procured without our knowledge.
IRC does not have the ability to pick up donation items. The IRC can only accept items dropped off at our off-site donation space at a pre-arranged time (Tuesday, Wednesday and Friday 10:00 a.m. to 3:00 p.m.) or delivered directly to a client's place of residence with the help of IRC staff facilitation.
The IRC is a 501c3, nonprofit organization, and as such donations can be tax deductible. After donating an item, the IRC will provide you with a receipt with our tax ID information and a record of the items you donated. The IRC cannot place a value on the items you donated, so there will be space on the receipt for you to input that information as you see fit.
STORAGE:
IRC has extremely limited storage space for in-kind donations. Help us expand our capacity - and distribute items to more families - by making a monthly contribution to storage fees! Kristen.Borash [at] rescue.org (subject: Storage%20Fee%20Contribution) (Email us) if interested in this type of donation opportunity.
Donations FAQs
Can the IRC accept clothing donations?
Unfortunately, outside of new men's/women's professional-wear (suits, blouses/button-up shirts, dress shoes, brief cases), we are unable to accept every-day clothing donations. However, during the winter season we can accept new or like-new winter coats, warm hats, scarves, and gloves.
Can the IRC accept toy donations?
The IRC cannot currently accept any toy donations. Due to extremely limited donation space, we encourage you to donate gift cards to department stores so children can pick out what they would like to play with.
Can the IRC accept furniture donations?
At this time we cannot accept furniture donations. We will make rare exceptions if the item is in excellent, like-new condition and the donor can arrange to deliver the furniture item directly to the refugee's house. We are only able to accept couches, table and chairs and bedframes. No used mattresses. Donor must be comfortable with a one to two week delay in arranging furniture drop-off.
Are there any items the IRC isn't able to accept?
Yes! Please view the entire list of items the IRC in Oakland is unable to accept below:
Mattresses/Box Springs
Bed Frames/Headboards
Sleeper Sofas
Futons
Refrigerators
Stoves
Glass-top Furniture
Wicker Furniture
Entertainment Centers
Large Desks
Large Dressers
Large Bookcases
Cabinets
Dish washers
VCR's
Sound Systems
We are unable to accept any of the following items USED:
Car seats
Stuffed animals
Helmets
Linens/towels
School supplies
Hygiene items
Clearning supplies
Bed pillows
Computers over 4 years old
Washers, dryers, and TVs over 10 years old
If we have collected items for kits, how should we go about delivering those items to the IRC?
Kindly fill out the In-Kind Donation form and a staff member will respond within a week to discuss logistics of a donation drop-off.
Where else can I donate gently-used items?
Outside of other Resettlement Agencies in the Bay Area, like Jewish Family Services, Catholic Charities and Laos Family, organizations that accept gently-used items are: Salvation Army, Bay Area Rescue Mission, Operation Dignity and Goodwill. Here is a list of items accepted by each organization.
For more information, feel free to contact the Volunteer Coordinator at Kristen.Borash [at] rescue.org or by phone at 510-852-8924.