The IRC in Silver Spring is committed to bringing our refugee clients from harm to home. As part of that commitment, we provide them with basic necessities – such as clothing and household items they need to start rebuilding their lives here.
To do this, the IRC relies on donated items from community partners that are passed onto our clients free of charge. 
Please find the list of items we are able to accept individual donations of immediately below. Then, please find the list of kits we are requesting. To help us with distribution, please donate all items of a kit together.
For more information and to make a donation, please fill out the IRC In-Kind Donation Form.
If delivery is a challenge, please consider purchasing needed items through our Amazon Wish List. 
Individual Donation List:
Gift Cards to Target, Walmart, or CVS
Pots and Pans
Computers (ready to use)
SmarTrip Cards
Diapers
Toys
Children's bikes/tricylces/scooters with helmets
Umbrellas
Microwaves
Vacuum cleaners
Adult bikes (with helmet, lock, and light)
Smartphones 
Car Seats (Must be brand new)
Medium and large boxes (for IRC storage use)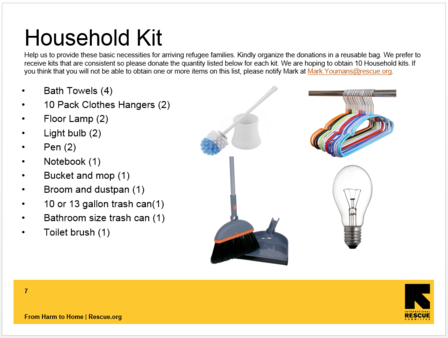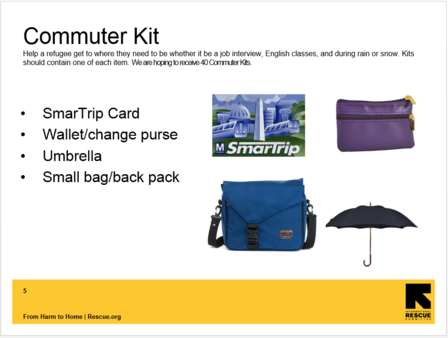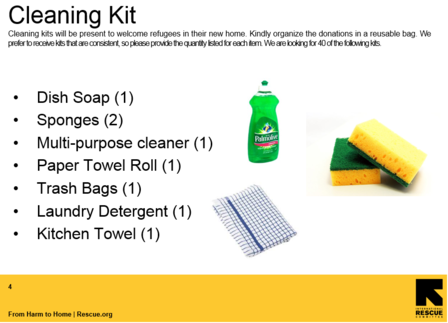 All-Star List:
•    Office or storage space
•    Financial Donations (Donate)
•    Gift Cards-(Target and Walmart most desired)-to allow clients to purchase food, clothing, and other critical items.
•    Strollers
Additional Help
The IRC in Silver Spring has limited space to store in-kind goods for refugees coming into the country in 2017. If you are interested in donating storage space to help hold these items for future refugee families, please email Mark.Youmans [at] rescue.org with the subject line "Storage Space."    
Please consider fundraising for refugees in the DC Metro area. You can receive IRC materials for your fundraiser. Sign up to fundraise here.
Don't have any of these items?  Email Mark and let him know that you would like to be included on a listserv for updates on in-kind needs!
If you have any questions or concerns, please contact Mark at Mark.Youmans [at] rescue.org (subject: Donation%20Question)