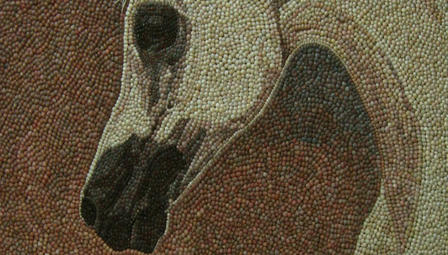 On the Great Seal of the United States is the Latin phrase e pluribus unum—"out of many, one." Like a mosaic, the unity of the nation is made possible by the diversity of its people, each part contributes to the whole. So, it is not surprising that Akeel Zarkany's intricate mosaics speak both to the refugee experience and American culture.
Akeel's wife started collecting sea shells for decorative boxes while they were still in Iraq. Akeel, who was already an accomplished painter in Iraq, was struck by the diverse colors, shapes, and textures of the shells. He began collecting his own shells, sorting them by color, and creating elaborate mosaics—a slow and painstaking process. This was the beginning of a new phase in his artistic expression. He left Iraq with his family in 2005, seeking a more peaceful life in Oman where he could focus on his art.
In Oman, Akeel developed his use of sea shells further, creating a mosaic portrait of the King of Oman that took six months to complete. Later, he created the largest mosaic of the Mona Lisa in the world that used 100 pounds of sea shells and took two years to complete. Akeel was clearly distinguishing himself as an important international artist. Akeel's art mixes darkness and light to reflect the struggle and hope of the refugee experience. But there is more. As Akeel puts it, he wants his art to communicate that "the Iraqi people love peace, art, and liberty, not war." Akeel's mosaics enrich the American understanding of Iraq and its people. For Akeel, who is passionate about his art, the IRC was an indispensable partner in bringing this message to the US by introducing him to the Dallas art community. "I'm grateful to the IRC in Dallas for helping me bring my art from Oman to the US."
When Akeel left Oman in 2015 and arrived in the US, the IRC in Dallas quickly recognized his talent. Sarah Elshanshory, Employment Specialist in the Economic Empowerment department, intuited that Akeel would need a unique employment strategy that could offer his art the exposure it deserved. Sarah took Akeel to the Dallas Design District to introduce him to gallery owners and interior design houses. The enthusiastic response to Akeel's mesmerizing mosaics created key contacts that have allowed him to flourish in the Dallas art community. As his recent exhibition at Texas Woman's University indicates, Akeel's art has become an indispensable part of the mosaic of Dallas art and culture, and the IRC in Dallas is proud to have contributed to his inevitable success.
For more information Akeel's art, please visit his site. 
For more information on how to employ our refugee clients, please contact Dallas [at] Rescue.org (subject: Information%20on%20employee%20refugees)  
John Douglas Macready/IRC