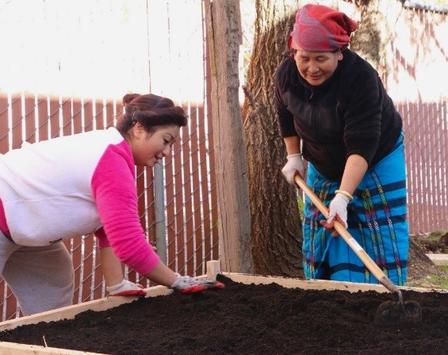 The IRC in Sacramento's New Roots program has had a busy 12 months since last spring. Over the last year, the has supported over 1,000 refugees: 40 households participate in the IRC community gardening program; eight countries are represented at the refugee farmer training program, and 100+ refugees each month are participating in nutrition workshops. Below are a couple big updates from the team!
Trussel Garden: 
The IRC Sacramento New Roots program builds community gardens in refugee communities, and currently supports 40 families. Last fall, the IRC worked together with gardeners to build a garden within their apartment complex. Since then, the gardeners have filled the gardens, growing a wide variety of winter vegetables, including mustard greens, onions, lettuce, broccoli, and cauliflower.
Shipping Container Donations: 
IRC Sacramento New Roots program received two donated shipping containers thanks to a generous Sacramento resident! Both containers have built-in shelves and are just what we need for storing farm tools and equipment. One will act as a tool shed, and the other is being converted into a coldroom for produce storage.
Huge thanks to Mama's Towing, who worked hard and skillfully to maneuver both containers through the donor's yard with lots of obstacles, onto their trucks, and to the farm.
Farm Groundbreaking:
IRC Sacramento New Roots program recently broke ground on our 5-acre urban farm. We hosted a tractor workshop, taught refugee farmers about tractor operation, and then proceeded to plow the field.
Compost:
The IRC Sacramento New Roots farm was the fortunate recipient of a 100-ton compost donation! This compost will help enrich our soil, provide vital nutrients to plants, and help retain water as we prepare the land to plant this spring.
If you would like to help support our farm or learn more about the New Roots program, please contact Thomas.Stein [at] Rescue.org (subject: Information%20on%20new%20roots%20program%20in%20Sacramento) (Tom Stein).