Add some global fresh flavors to your next party or meeting...or everyday! Now with 100% locally-grown fruits and vegetables.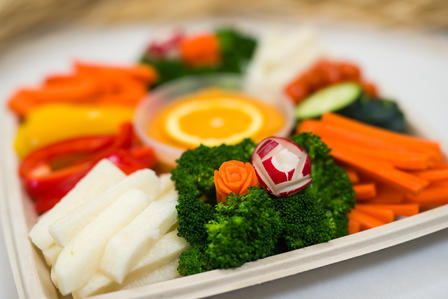 By purchasing a Project CHOP party platter, you can feel great eating healthy, supporting local farmers and helping refugee women on the road to economic self-sufficiency. Each Project CHOP party platter comes with a unique, hand-crafted dip that combines the rich, ethnic flavors of refugee cultures with locally-grown fruits and vegetables from San Diego farms. 
Your purchase of a Project CHOP party platter helps some of IRC's most vulnerable refugee clients gain critical employment skills. 100% of Project CHOP sales goes to operating costs so that IRC will not be reliant on grants to sustain the program in the future.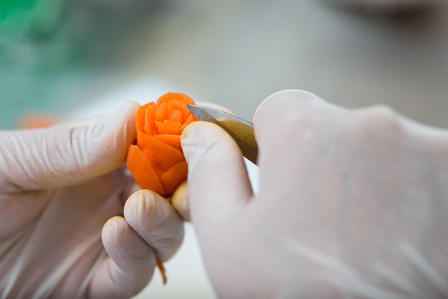 4 Easy Ways to Support Project CHOP:
Buy salads and party platters (small only) anytime at Parkside Market (3209 Thorn Street). Make it even more fun and enjoy them across the street to Thorn Street Brewery or Grand Ole BBQ y Asado.
Order online and pick-up at Cardamom Café and Bakery (2977 Upas Street)  and pair it with some delicious sandwiches or baked goodies! We need orders by Wednesday 9am pick-ups after the following Tuesday. Easy parking in rear off alley with mermaid mural. Pick-up times are Tue, Wed, Sat and Sun between 7am-2pm.
Order online and pick-up directly at the Project CHOP kitchen between 12noon – 1pm on Mondays and Fridays (4300 El Cajon Blvd, City Heights). Orders in by 9am Wednesday for pick-up the following Monday.
Gift a CHOP party platter to a refugee family just arriving to the U.S. You can even include a personal welcome message and our resettlement team will deliver it with your platter. 
Menu
NEW - The CHOP Super Bowl
The CHOP Super Bowl includes:
24oz bowl
3oz. of organic free range chicken
Tumeric infused basmati rice
African inspired peanut sauce with lemon grass, cayenne and honey
Locally grown green onion, carrots, sweet potato, kale and other seasonal vegetables
$5.99 Vegetarian/$7.99 with chicken
The Mezze Party Platter
Say hello to our newest party platter from Project CHOP! The Mezze platter is a Middle Easter-style appetizer platter loaded with a balance of sweet and savory tastes. The CHOP Mezze Platter includes:
Roasted garlic hummus and flatbread crackers
Lightly-salted walnuts and almonds
Fresh feta and caraway mozzarella
Black and green olives
And some dates and dried apricots when you want a dash of sweet!
Small 13.99 / Large 24.99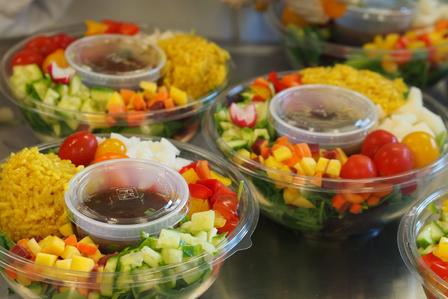 The CHOP Super Salad 
A large chopped salad mixed with organic greens, local carrots, peppers, jicama, other veggies, and protein-packed with locally-sourced, free-range eggs, garbanzo beans and saffron rice or couscous.
Handmade basil balsamic vinaigrette dressing
$6.99 each
The "Locavore" Party Platter 
All locally-sourced, sustainably grown fruits and vegetables
Small, $14.99 includes 1 free dip, generously serves 5-7 people
Large, $24.99 includes 2 free dips, generously serves 10-14 people
Vegetable Dip Choices (View ingredient lists):
Garlic, Herbs and Yogurt: locally-grown, seasonal herbs from IRC Youth FarmWorks, Penzey's spices, fresh California-grown garlic
Smoky Orange Carrot Hummus: sustainably-grown oranges and lemons from Eli's Farm and R&L Farms, roasted organic carrots from Stehly's Farms, all organic extra virgin olive oil and premium Penzey's spices
Traditional Roasted Garlic Hummus: organic extra-virgin olive oil, organic California-grown garlic, and premium Penzey's spices.
Party Ready Kit $5
Includes disposable bamboo plates, wooden forks and spoons and napkins for 10 people.
You can learn more about the amazing refugee women in Project CHOP as well as follow us in the kitchen by following us on Facebook and signing up for our eNewsletter.
Email us with suggestions, questions, or custom catering requests:l Anchi.Mei [at] Rescue.org (subject: Project%20CHOP%20Web%20Inquiry) .
In the News
Edible San Diego: IRC Introduces Project CHOP for Refugee Training
Success Story: In the Kitchen with Leila
Project CHOP Featured Supplier: Copper Fox Farms
Our Partners: