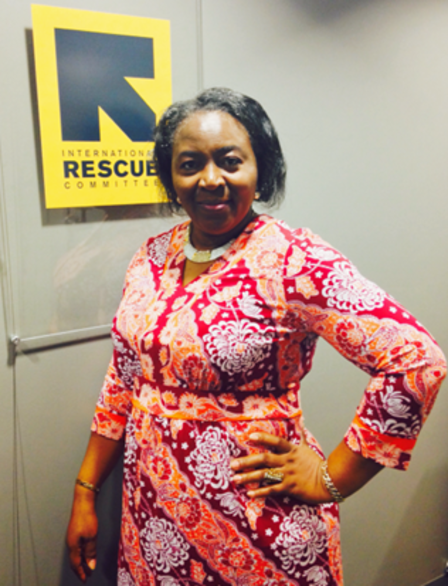 For many refugee women, the expectation of life in the US is a sharp departure from the challenges that accompany the resettlement process. Many newly arrived refugee women experience culture shock, language barriers, and resulting feelings of isolation that limit their ability to navigate life in the US. Josephine Bonkongya, from the Democratic Republic of Congo, exemplifies the perseverance and strength shown by many of the women resettled by the IRC in Silver Spring. Her story shows how refugees can not only succeed in the United States, but can become assets to their communities and help other new arrivals adjust and integrate. 
Refugees from the Democratic Republic of the Congo like Josephine are frequently displaced for as long as 16 years before resettling in the US. The country has been embroiled in a regional conflict since the mid-1990s which fueled massacres, starvation, and disputes over natural resources at the expense of civilians. The resulting instability created a large-scale and ongoing refugee crisis. 
In November of 2008, Josephine arrived in the US as a refugee with her three children. While reflecting on her first days in the US, she recalled, "My first dream was to improve my English [and] to find a good job. Then go back to university to pursue my education and be sure that my kids go to school and learn American culture." Within her first four months of arrival, Josephine found work as a part-time IRC interpreter and a homecare nurse for clients in the DC metro area. 
 Now, Josephine works with the IRC in Silver Spring as a Community Health Promoter (CHP). Through the CHP Program, women who speak both English and the native languages of IRC clients are trained in community health topics including grocery store orientations, women's health, financial management, and self-advocacy. CHPs are then matched by language with newly arrived women who need additional support adjusting to life in the US. 
As a CHP, Josephine emerged as a community leader and provided numerous refugee women with health education. Her role as a CHP also benefitted Josephine professionally in her job as a homecare provider. She mentioned that, 
"This program has helped me in my full time job. For example, I'm taking care of patients that suffer from mental illness and obesity. Now I can help them better with their diet because of what I learned during my training and the time I have passed as an IRC Community Health Program educator".
While discussing the women she works with in the program, Josephine noted, 
"With the community health program, day-by-day, they become positive, start to open up, and their worry about tomorrow has gone away and they began to love the [program]. When they see me, I shared my own experience with them and they are able to have someone to advocate for them as I am doing. Today, I see most of my clients working and have found jobs and then become financially independent." 
Josephine's pride both in herself and her clients is self-evident and well-deserved. Through the CHP program, women are empowered to help others in their community and given the tools to improve their futures. The importance of the program is clear in Josephine's reflection about her relationships with clients,
"Once I started with this program, people were just surprised that we were in the same community and I was speaking all the languages that I can speak, and some were even surprised that I am from Africa! They would stop me, some would call me if they can't see me on a scheduled day and they ask about the issue they are having with their health and family. It can be very difficult to talk about private health problems [but] they trust me and call me TEACHER! I'm just glad to see that I can help my community and be a leader."